Heath Block
Introduction
The Heath Block was constructed in the late 1860s in the French Second Empire style. The building contained a bank operated by John Heath, a wealthy local man. The building has housed a candy store/ ice cream parlor since 1912, when Lee Glatz opened Glatz's Candy. Ivey McCord came to the company as a candymaker in 1917 and bought the store in 1947. McCord Candies still occupies the building, with a restaurant, candy store, and soda fountain on the first floor. Candies are still being handmade on the building's third floor in the traditional way; their candy canes and shipped all over the world. The McCords owned the structure until the 1980s.
Images
Doctors' offices & barber shop in Heath Building in 1899; brick (red) with stone (blue) facade (Sanborn Map Company, p 11)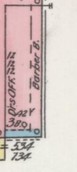 Heath Block at far right (east) end of 500 north block of Main St. in 1885: Cigar business (Sanborn Map Company, p. 4)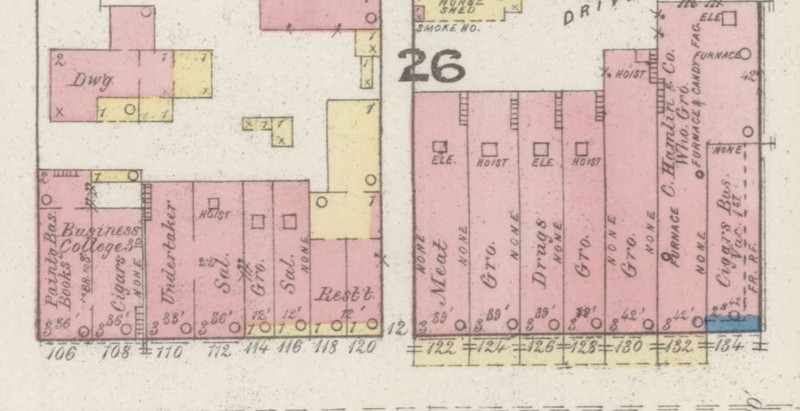 Backstory and Context
John W. Heath was born in Lafayette in 1839. He attended Indiana Asbury University (now DePauw University) in Greencastle, Indiana, where he was a member of Phi Gamma Delta fraternity. Heath graduated in 1860 and received a graduate degree from the same institution in 1863. He married Mary A. Hanna in 1869. Heath and a Mr. Perrin were both attempting to obtain a charter for a national bank in Lafayette. Mr. Perrin won, and his Indiana National Bank moved to the Heath Building (built by Heath) in 1872. Heath founded another bank, Lafayette National Bank, in 1875 with himself as bank president; it was located elsewhere in town. The merchant and banker served as a trustee of his alma mater from 1878 to 1881, and controlled the Lafayette, Muncie, and Bloomington Railroad for a time. By the time he died at age 50 in Lafayette in 1890, his bank had gone into liquidation.
The Heath Block's ground floor was vacant in 1885; the second story housed a cigar business. The ground floor contained a barber shop in 1899, below doctors' offices (see the clips of the Sanborn maps below). In the early twentieth century, the second floor of the Heath Block was reached by stairs and held Lee Glatz's candy shop. A barber shop was in the first floor and a millinery shop occupied the third floor. Street levels were raised to help reduce effects from flooding. Half of the former first floor became a crawl space and the candy shop was then at ground level. A balcony or mezzanine level was added to the candy shop in 1919. The downtown area was bustling with streetcars, theater-goers, and businesspeople in the 1920s, and the candy shop was open every day of the week from morning to evening. After Mr. Glatz died in 1928, his widow continued the business. She sold the operation to Ivey McCord in 1947.
Mr. McCord worked at the store until suffering a stroke in the mid-1970s. He had a habit of eating an ice cream sundae after every meal. His son, Jack, sold the building in 1984 to Bob and Judy Spitalniak of Frankfort. The building changed hands a few more times until Mike Becker bought it in 2005. New owners, Ken and Denise Bootsma, bought McCord Candies in 2017 from Becker and purchased the building from Bruce Logan. The Bootsmas refurbished and repainted the shop. They kept the candy, ice cream, and soda fountain but changed the Coca Cola themed wallpaper. They planned to update the menu by adding panini sandwiches, premium drip coffee, and doughnuts.
The machines on the second floor candy cane factory feature a gas flame that heats the sugar solution into a red and white striped "blob." The blob is pulled onto the cooling tables and twisted into ropes before being formed into the cane shape. The finished canes are packaged by hand, too. In 2016, the McCord Candies operation handmade 47,000 candy canes. They are one of a handful of stores in the U.S. that handmake candy canes.
Sources
DeHart, Richard Patten. Past and Present of Tippecanoe County, Indiana. Volume 2. Indianapolis, IN. B.F. Bowen & Company, 1909.
Paul, Joseph. "New Owners Preserve McCord Candies Tradition." Journal & Courier (Lafayette, IN) December 27th 2017. online ed.
Phi Gamma Delta. Lambda Chapter at Indiana Asbury, Archives of Phi Gamma Delta. Accessed April 22nd 2020. https://www.phigam.org/b9-pages/about/history/indianalambda.
Sanborn Map Company. Sanborn Fire Insurance Map from Lafayette, Tippecanoe County, Indiana. Sanborn-Perris Map Company, New York, New York. 1885 and 1899.
Wilkins, Ron. "New Owners fro McCord Candies." Journal & Courier (Lafayette, IN) June 16th 2017. online ed.
Image Sources
https://www.loc.gov/item/sanborn02386_003/

https://www.loc.gov/item/sanborn02386_001/

Additional Information