Earl and Hatcher Block
Introduction
The structure from 2 to 12 N. Third Street was built in 1865 to house Earl and Hatcher Wholesale Grocers, owned by Adams Earl and William Hatcher. The Italianate style brick building is noted for its limestone facade, arched windows, and elegant bracketed cornice. The space was divided into four separate commercial spaces, one of which was still a wholesale grocers in the late nineteenth century. Others included shops selling shoes, dry goods, and furniture. In 1995, it was renovated into offices with some businesses above. The Earl and Hatcher Block is a contributing structure in the Lafayette Downtown Historic District, in the oldest part of town. When listed in the National Register in 1980, the district contained 86 buildings constructed before 1930.
Images
Earl and Hatcher Block (lower right) at 2 to 12 N. Third St. in 1899 (Sanborn Map Company p. 14)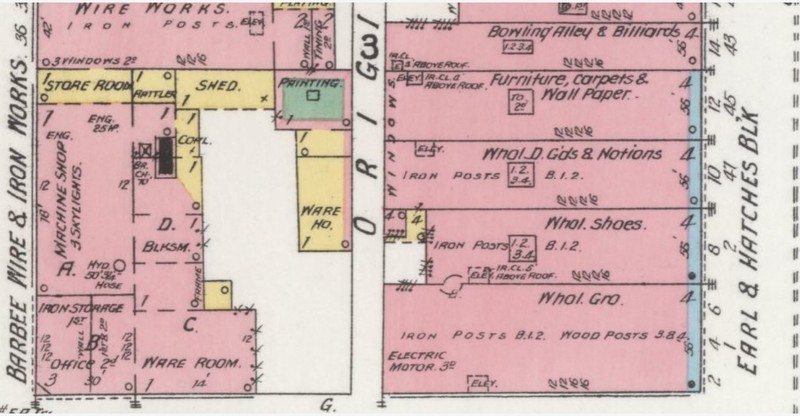 Earl and Hatcher Block (lower right) at 1 to 4 N. Third St. in 1885 (Sanborn Map Company p. 2)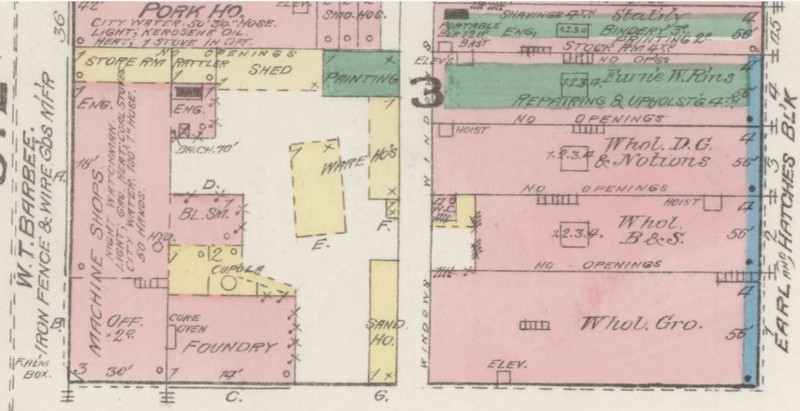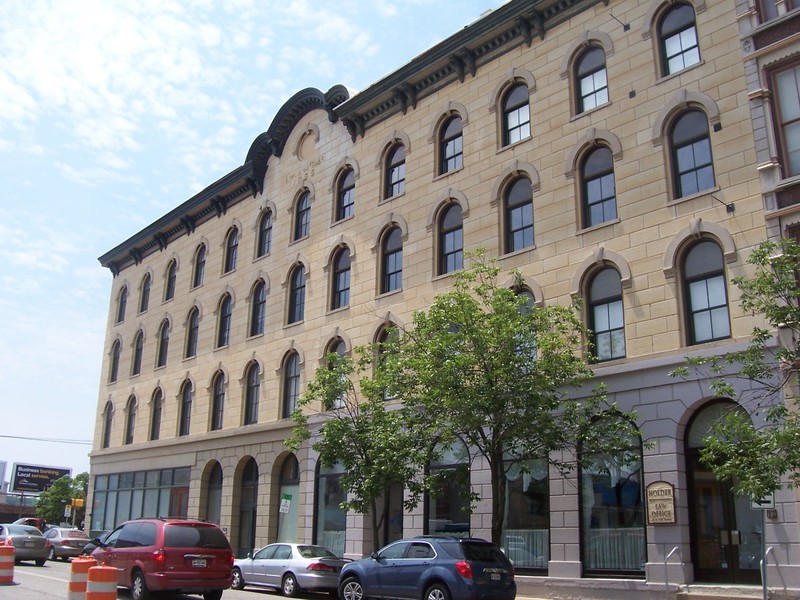 Backstory and Context
Adams Earl was born in 1819 in Ohio and moved with his parents to Tippecanoe County, Indiana in 1836. He began farming and later built flat-bottom boats on the Wabash River to transport local foodstuffs to New Orleans. Earl moved to Lafayette in 1848 and formed a partnership with James G. Carnahan to sell general merchandise under the name Carnahan & Earl. He sold out his interest in that business and became a wholesale grocer in 1853. He also partnered with others to operate another general store and to form a bank. In 1860 Earl went into the meat-packing business and built a large packing-house in Lafayette under the name J.H. Telford & Co. He partnered with others in the meat-packing industry in Chicago until 1867. Earl partnered with a Mr. W.H. Hatcher and A.J. Carnahan to form Carnahan, Earl & Co., dealing in wholesale boots and shoes; the enterprise lasted from 1862 to 1865. Earl went on to be involved in dry goods stores, cattle ranching, grain farming, railroads, and ice companies. He and his wife and two children lived in Lafayette on a ten-acre estate, Fountain Grove. He is known for importing fine Hereford cattle from England after a visit to the country in 1880, and established a herd of over 200 at his Shadeland Farm, four miles from Lafayette.
The Earl and Hatcher Block occupies the northwest corner of the intersection of Columbia and N. Third Streets. It was built in 1865 to hold some of the growing businesses of Earl. The grocery business had outgrown its space in the Perdue Block on Second Street, and was moved to the new building in 1866. The four-story brick structure was faced in stone. The building was divided into four separate spaces fronting on N. Third Street. Mr. Hatcher died in 1869, and Earl formed a grocery wholesale partnership with Charles W. Bangs as Adams Earl & Co. The grocery business expanded into one of the largest in Indiana and also served Illinois.
In 1885, the street addresses of the Earl and Hatcher block from south to north, were 1 to 4 N. Third Street. A wholesale grocers occupied #1; wholesale boots and shoes were in #2; #3 contained wholesale dry goods and notions; and #4 housed a furniture repair and upholstery enterprise. By 1899, the Earl and Hatcher Block contained a wholesale grocers on the corner (now addressed as #2-4-6 N. Third St.). To the north, the businesses were: a wholesales shoes store (#8); wholesale dry goods and notions (#10); and furniture, carpets and wallpaper (#12; see images below).
In the 1980s, Neuwelt's Fabric Center and the Republican party were two of the tenants. The modern-day establishments in the Earl and Hatcher Block include Passageways Collaboration Software and a child advocates organization, CARA. Condominiums occupy some of the upper floors. One above 12 N. Third was advertised for sale and featured twelve-foot ceilings, exposed brick, and 12-inch thick brick walls between units.
Sources
Lewis Publishing. Biographical Record and Portrait Album of Tippecanoe County, Indiana. Chicago, IL. Lewis Publishing Company, 1888. Adams Earl biography reprinted online: http://ingenweb.org/intippecanoe/Bio_AdamsEarl.html. Accessed April 25, 2020.
Mohler, Harry. Bula, William. Kent Schuette. NRHP Nomination Form for Lafayette Downtown Historic District. National Register. Washington, DC. National Park Service, 1980.
trulia. 12 N. 3rd St. #301, trulia.com, Sold, IN, Lafayette, 47901. March 20th 2020. Accessed April 30th 2020. https://www.trulia.com/p/in/lafayette/12-n-3rd-st-301-lafayette-in-47901--2120893478?rd=1.
Western Biographical Publishing Company. A Biographical History of Eminent and Self-Made Men of the State of Indiana. Volume II. Cincinnati, OH. Western Biographical Publishing Company, 1880.
Image Sources
https://www.loc.gov/item/sanborn02386_003/

Additional Information