Trent Bridge Cricket Ground
Introduction
Trent Bridge Cricket Ground is located in West Bridgford, Nottinghamshire, England, just across the River Trent from the city of Nottingham. It serves as the home ground and headquarters to the Nottinghamshire County Cricket Club and is mostly used for international cricket matches across all formats of the game. With a seating capacity of 17,500 people, Trent Bridge is considered to be the best grounds in the world to watch cricket.
Images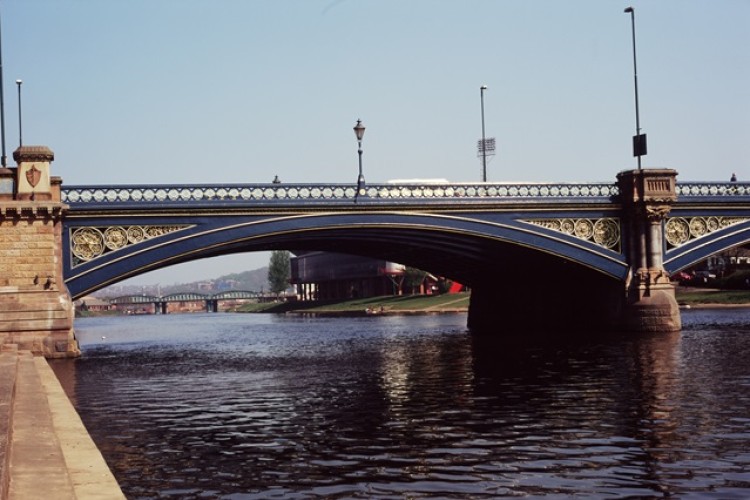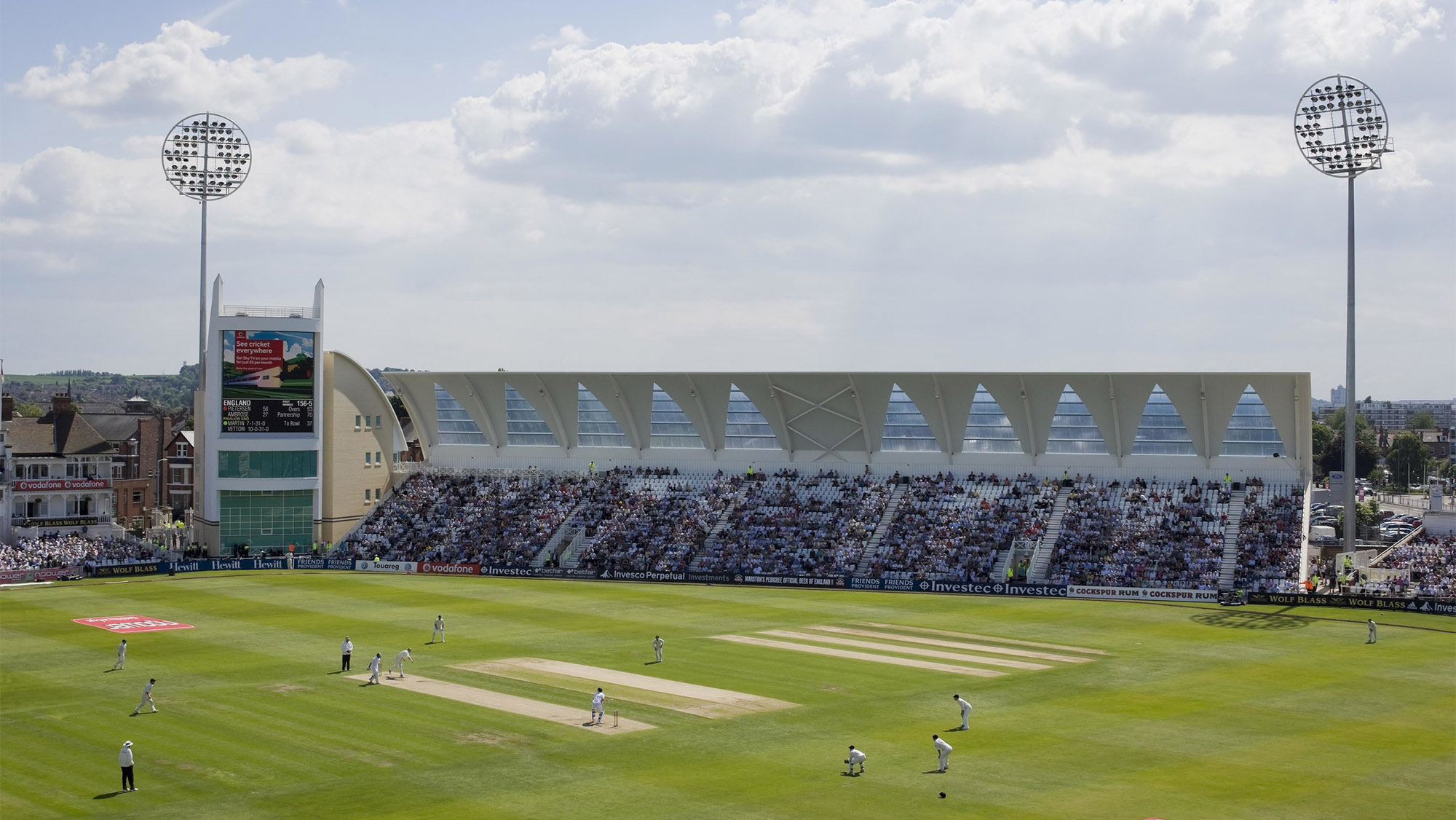 Stands under Construction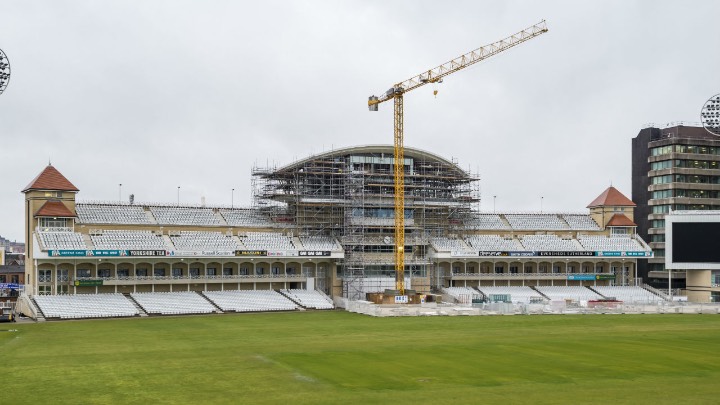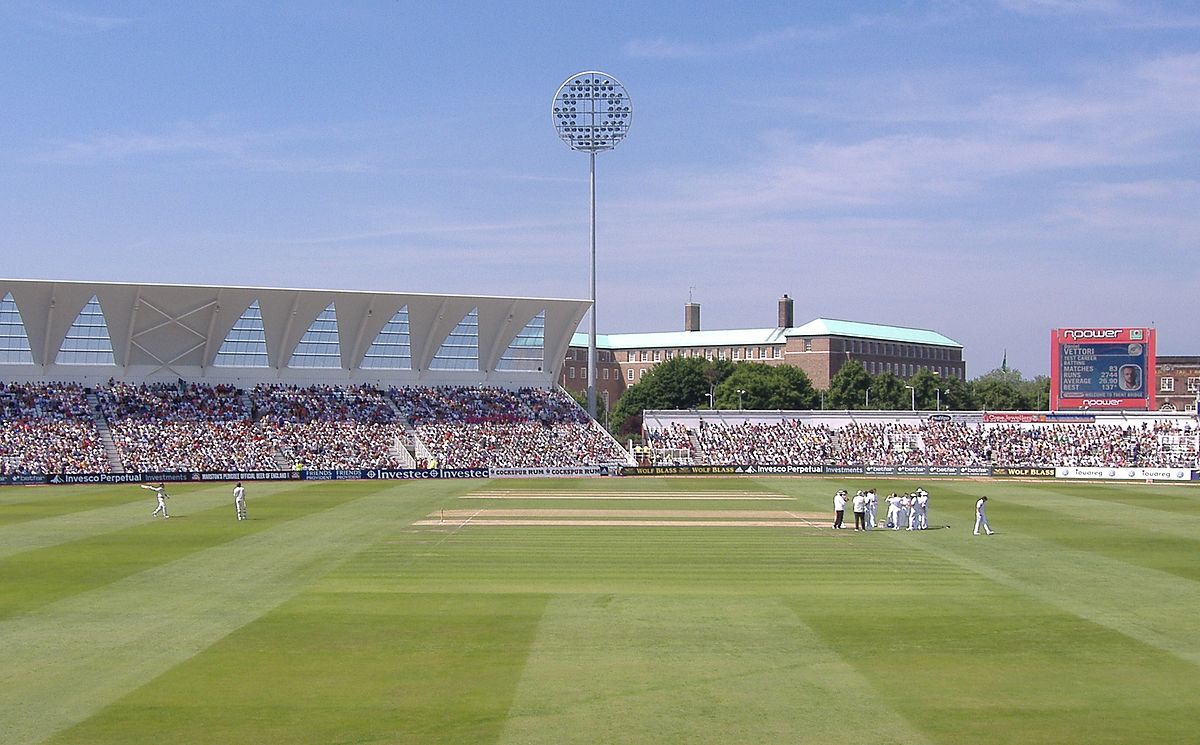 Backstory and Context
Trent Bridge was first used as a cricket ground in the 1830s. The first recorded cricket match was held on an area of ground behind the Trent Bridge Inn in 1838. The stadium was inaugurated by William Clarke, the then captain of the All England Cricket Team and husband of the owner of the Trent Bridge Inn. He was commemorated in 1990 by the opening of the new William Clarke Stand which incorporates the Rushcliffe Suite. Trent Bridge hosted its first Test match in 1899, for England playing against Australia. The grounds also have a history of hosting football matches as well, starting in the 1860s starting with the Notts County Football Club.
The Grounds have hosted numerous games and tournaments such as the 2009 ICC World Twenty20 where all three games in Group A, which consisted of India, Ireland and Bangladesh, two games of Group C consisting of West Indies, Sri Lanka and Australia and three in the super 8 stage of the tournament were hosted. It hosted the semi-finals which was played between South Africa and Pakistan. In Test matches held at the Trent Bridge, the highest team total is 658 for 8 declared, scored by England against Australia in 1938 and the lowest team total is 60, scored by Australia against England in 2015.
Trent Bridge is considered to be one of the best grounds in the world to watch cricket. Trent Bridge's pavilion, kept inside the design parameters of its 1889 establishment, is thought of as one of the most famous trademarks of cricket. Over the years Trent Bridge has gone under major constructions adding more to their Grounds, such as the £7.2 million Radcliffe Road Cricket Center and the state of the art £1.9 million Fox Road stand. By 2007, construction of new stands to replace the Parr Stand and West Wing and adding one to five rows of extra seating at the front of several of the other stands. This increased capacity from 15,358 to 17,500
Sources
(n.d.). Retrieved from https://www.trentbridge.co.uk/trentbridge/history/index.html
Trent Bridge Cricket Stadium. (n.d.). Retrieved from https://www.sportskeeda.com/cricket/trent-bridge-cricket-stadium
FactSnippet. (2018, November 22). 4 Facts About Trent Bridge. Retrieved from https://www.factsnippet.com/site/facts-about-trent-bridge.html
Image Sources
https://www.google.com/search?q=trent+bridge+cricket+ground+construction&rlz=1C1EJFC_enUS877US894&source=lnms&tbm=isch&sa=X&ved=2ahUKEwj_6NfJ_ePoAhULG80KHZ_MBK0Q_AUoA3oECBEQBQ&biw=1504&bih=892#imgrc=n8L9GL-dj0FTBM

https://www.google.com/search?q=trent+bridge+cricket+ground+construction&rlz=1C1EJFC_enUS877US894&source=lnms&tbm=isch&sa=X&ved=2ahUKEwj_6NfJ_ePoAhULG80KHZ_MBK0Q_AUoA3oECBEQBQ&biw=1504&bih=892#imgrc=-jPnIhlyWLZd1M

https://www.google.com/search?q=trent+bridge+cricket+ground+construction&rlz=1C1EJFC_enUS877US894&source=lnms&tbm=isch&sa=X&ved=2ahUKEwj_6NfJ_ePoAhULG80KHZ_MBK0Q_AUoA3oECBEQBQ&biw=1504&bih=892#imgrc=M6IW7Y1BCBChHM

https://www.google.com/search?q=trent+bridge+cricket+ground+construction&rlz=1C1EJFC_enUS877US894&source=lnms&tbm=isch&sa=X&ved=2ahUKEwj_6NfJ_ePoAhULG80KHZ_MBK0Q_AUoA3oECBEQBQ&biw=1504&bih=892#imgrc=A4RmMw3D1ru_zM

Additional Information