Angel Stadium
Introduction
Angels Stadium has been home to the now Los Angeles Angels since 1966 where they played their first game against the Chicago White Sox. The stadium took two years to build and has been the home of the Angels ever since. This ballpark has undergone many renovations, one of which required due to an earthquake, as well as name changes. The L.A. Rams called this field home as well for a number of years when the stadium was built for multi purpose sporting events. Since the Rams left in 1994, Angel Stadium has been home to only the Angels. This ballpark also features two very unique pieces of architecture, the "Big A" and the "California Spectacular" and was home to the 2002 MLB World Series which saw their home team win their first and only World Series.
Images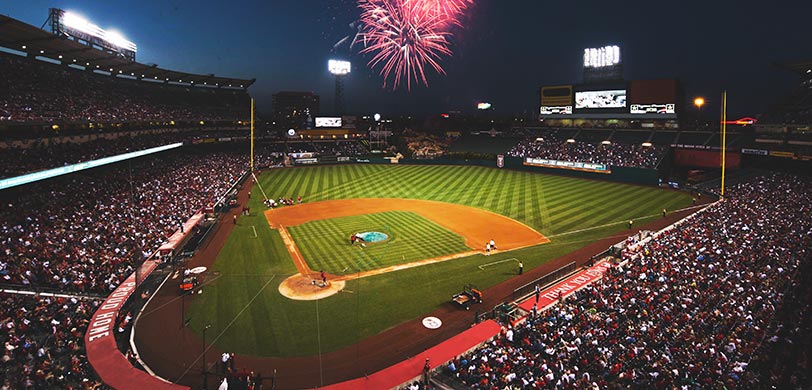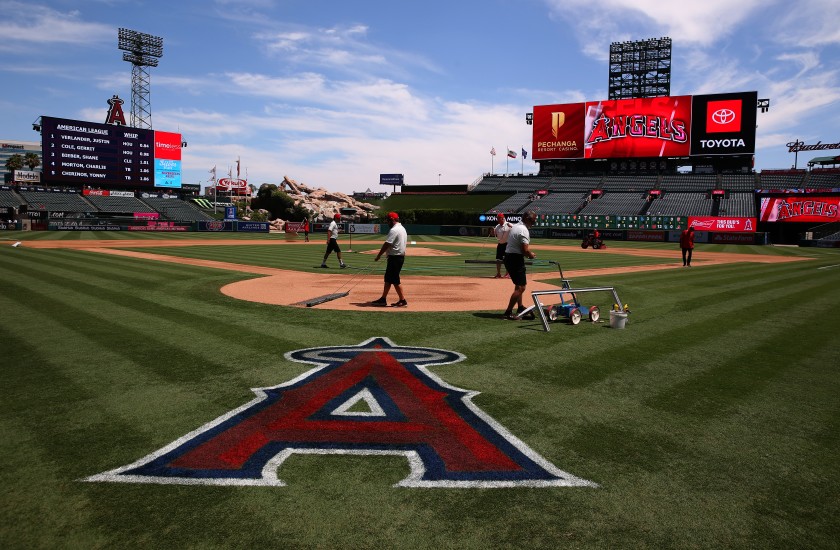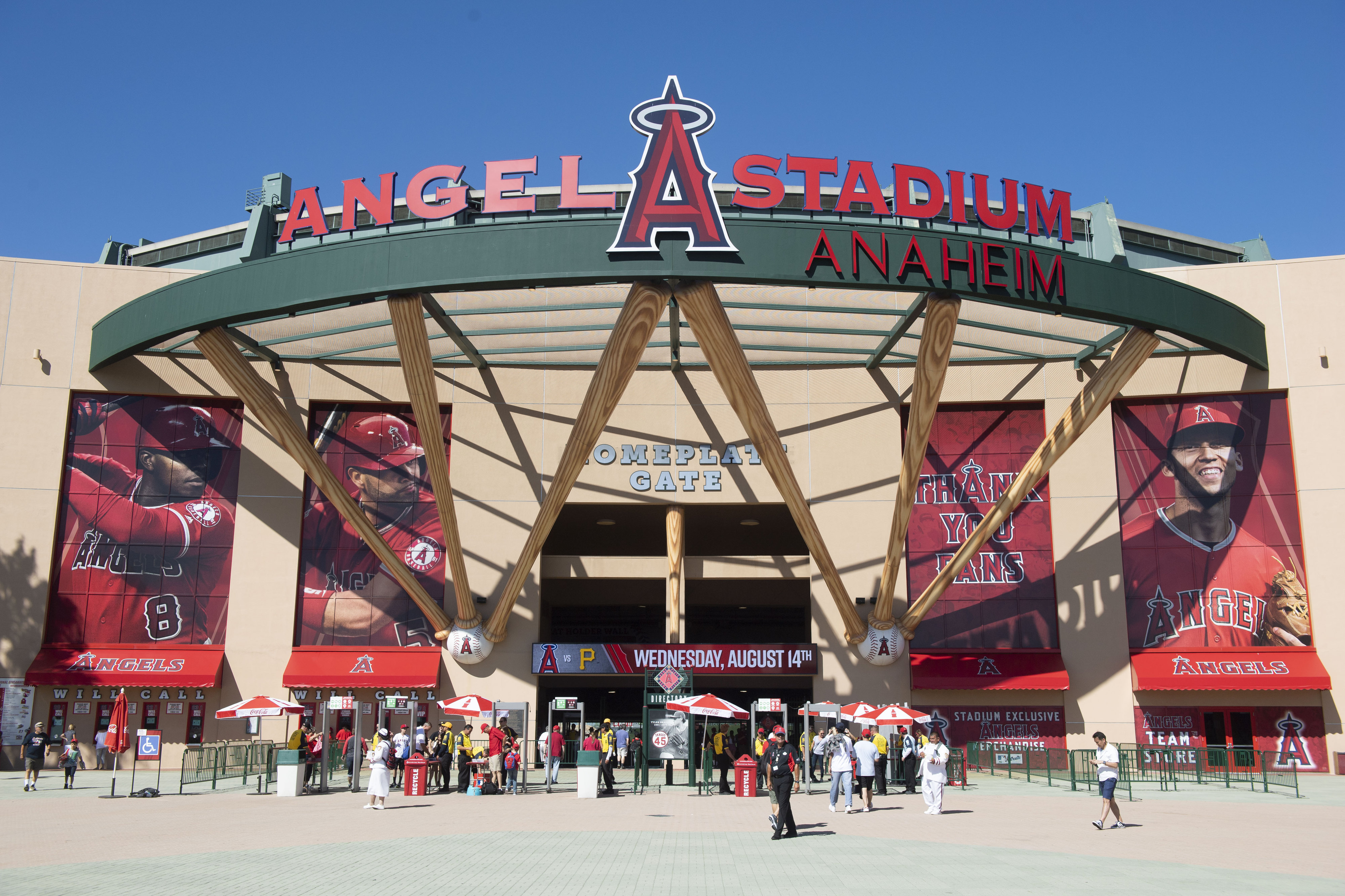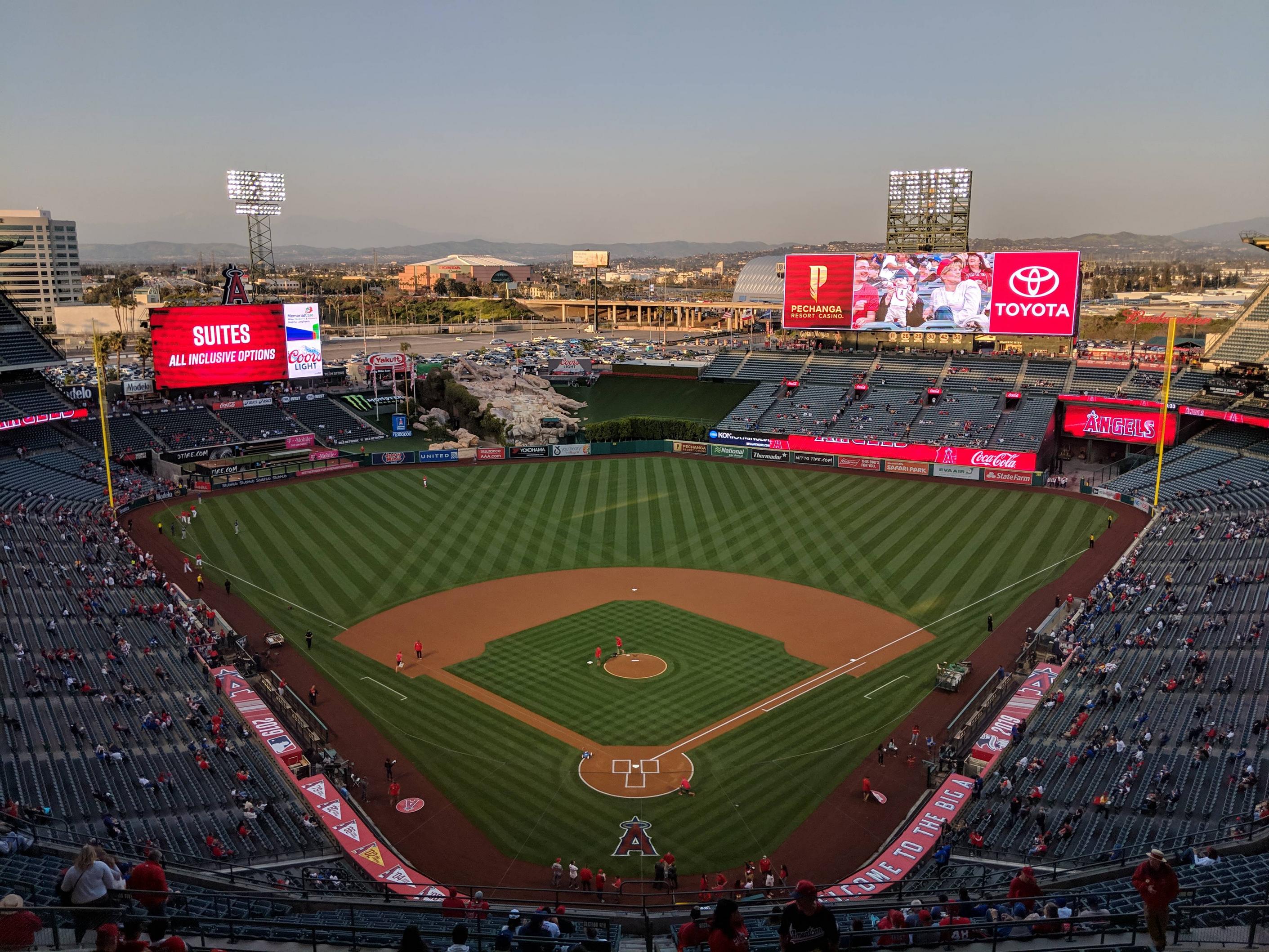 The "California Spectacular" spraying water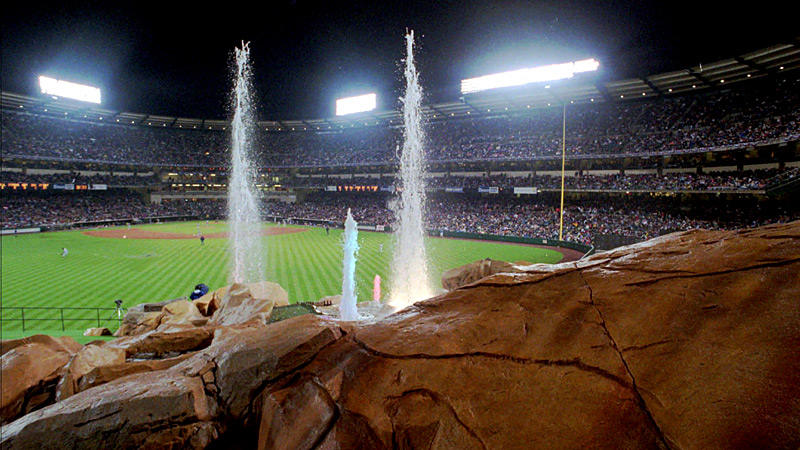 Backstory and Context
The Angels weren't always called the L.A. Angels and Angel Stadium wasn't always called Angel Stadium. In 1966 the California Angels played their first game at Anaheim Stadium on April 19th against the Chicago White Sox in front of 31,660 fans. The stadium broke ground two years prior in 1964 and it originally cost $24 million to build. 
It has undergone a few renovations, the first being in 1979 to be turned into a fully enclosed, multipurpose stadium to also be the home of the L.A. Rams that also added roughly 23,000 seats. Another renovation had to occur when the Northridge Earthquake leveled the stadium in 1994. This same year the Rams moved to St. Louis which allowed the stadium to be reverted back to just a baseball stadium. Even though the earthquake hit in 1994 it wasn't until 1996 when they began the renovation. The 1997 MLB season was played with only about half of the prior seating capacity but most were put back by April of 1998 and now has roughly 45,000 seats. In 2003 the stadium was given the name that is used now, Angels Stadium, and in 2005 the Angels changed their name to the Los Angeles Angels of Anaheim and later changed it to just the Los Angeles Angels in 2016 which is the name used now.
After remodeling the ballpark, what used to be in the outfield seating area, the "Big A" statue can now be found in the parking lot. This statue is an extremely tall red metal "A" with a halo that circles the top of it. Another aspect that makes Angels Stadium so unique is the "California Spectacular" in the outfield. This is a mini mountainside with real living trees and artificial rocks that is located in the left outfield seating area. In this "California Spectacular" are geysers that spray water high into the air to celebrate home runs and victories.
Angels Stadium has plenty of history and memorable events to its name. Some big moments for individual players include two no hitters from Nolan Ryan in 1974 and 1975, Reggie Jackson's 500th career home run in 1984, Don Sutton's 300th career win in 1986, George Brett's 3,000th hit in 1992, and most recently Albert Pujols 600th home run in 2017. The stadium has also been home to three MLB All Star Games in 1967, 1998, and 2010, and the 2002 World Series where the Angels won their first and only World Series. 
Sources
Angel Stadium, Ballparks of Baseball. Accessed April 12th 2020. https://www.ballparksofbaseball.com/ballparks/angel-stadium/.
Reicard, Kevin. Fifty Years Ago: Designing Angel Stadium, Ballpark Digest. April 14th 2016. Accessed April 12th 2020. https://ballparkdigest.com/2016/04/14/fifty-years-ago-designing-angel-stadium/.
Angel Stadium of Anaheim, Ballparks. Accessed April 12th 2020. https://ballparks.com/baseball/american/anahei.htm.
Angel Stadium, MLB. Accessed April 13th 2020. https://www.mlb.com/angels/ballpark.
Additional Information