SoFi Stadium
Introduction
Breaking ground in 2016, SoFi Stadium located in Inglewood, California is set to be the new home stadium for both the L.A. Rams and the L.A. Chargers. After not having an NFL team for over two decades, the Rams and Chargers sharing a stadium is set to be a hub for sporting events in one of the greatest cities in America as well as being the most expensive stadium in NFL history at close to $5 billion. Construction has had some major setbacks such as a rainy 2017 and the CoronaVirus that has caused the stadium to take just about 4 years to build. However, a roof made of glass and shaped like a sail, SoFi Stadium is set to be another state of art sports venue in California.
Images
View from above during construction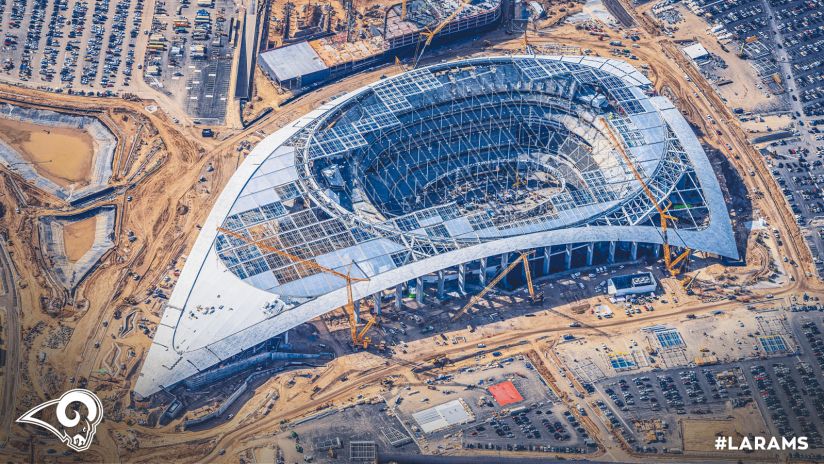 What SoFi Stadium is planning on looking like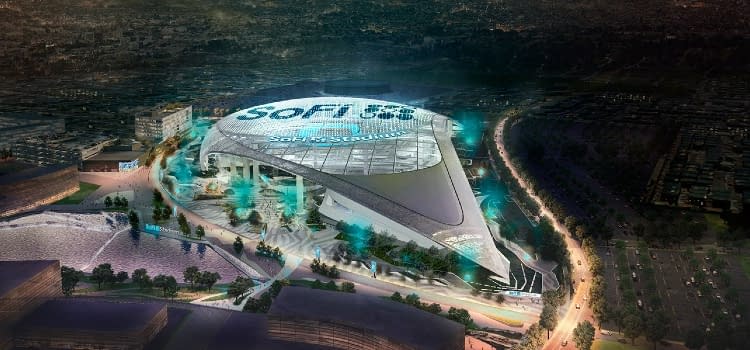 View of construction from inside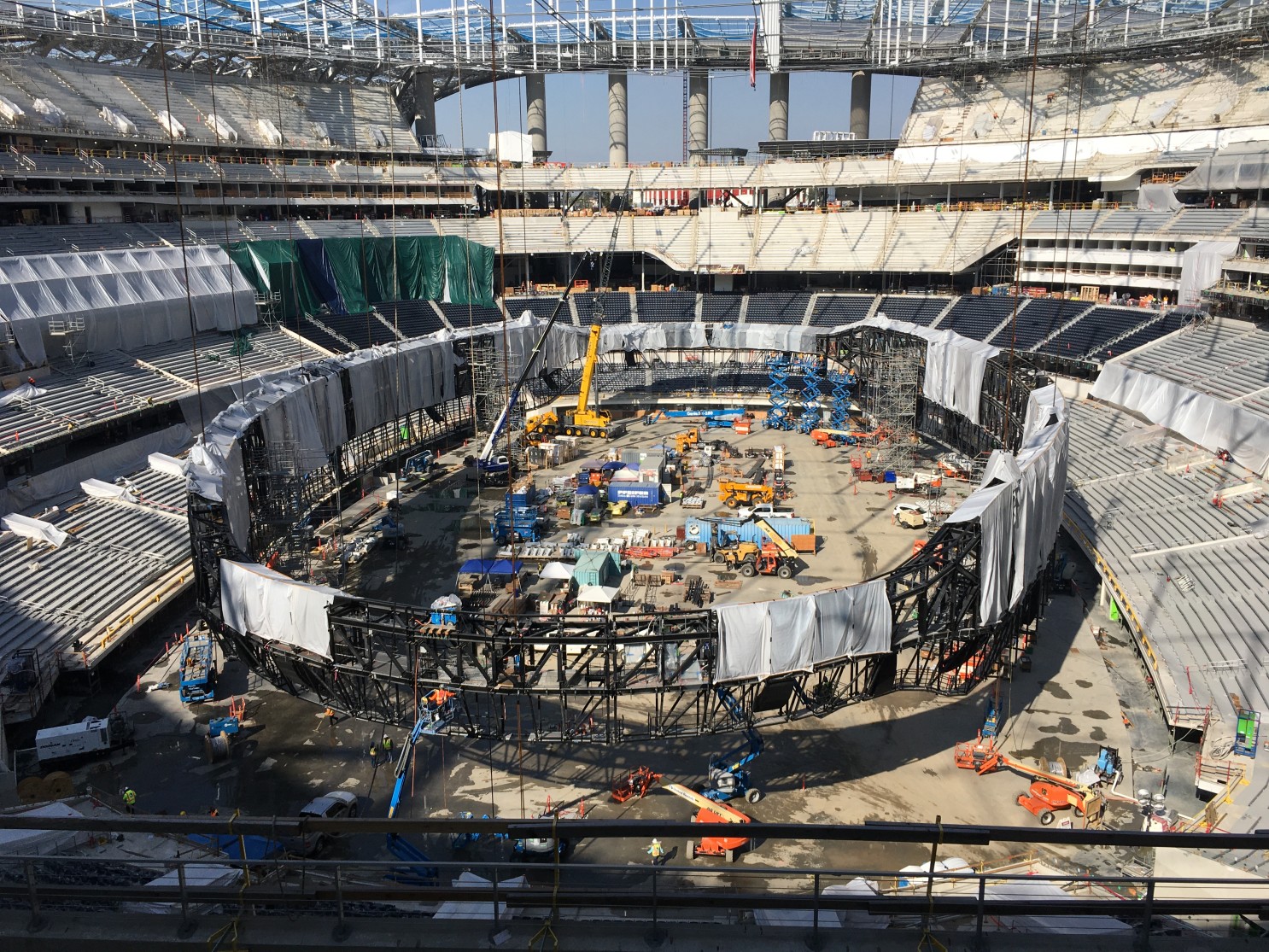 View of construction from inside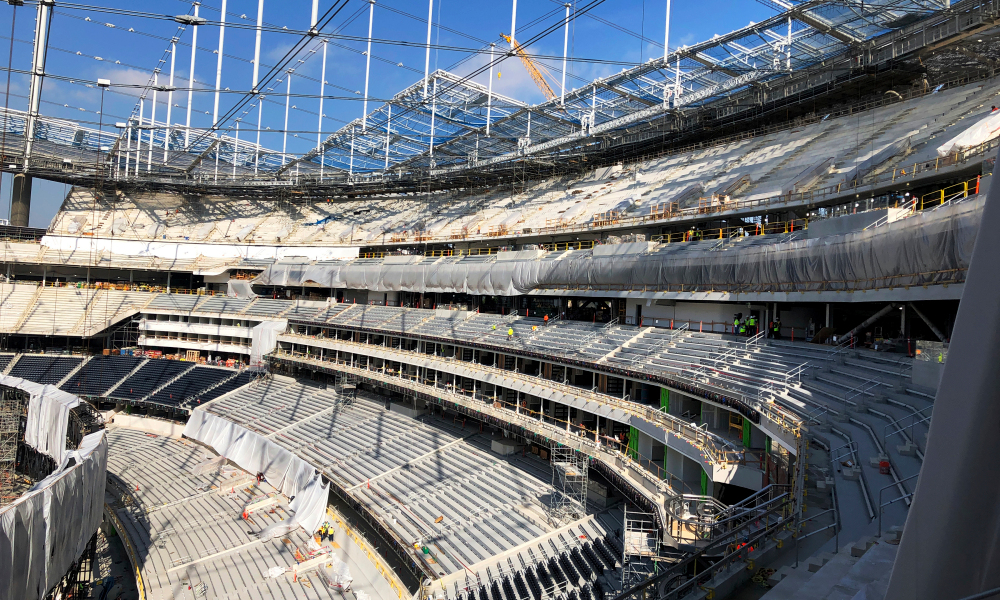 Backstory and Context
Los Angeles didn't have an NFL team for a while. The now Los Angeles Rams were the St. Louis Rams for 20 years before moving back to L.A. where they would play in the Los Angeles Memorial Coliseum from the 2016 season to 2019. The Los Angeles Chargers were actually the San Diego Chargers for over 50 years until they moved to L.A. for the 2017 season. The past three seasons they have played at the Dignity Health Sports Park. L.A. decided to follow other major sports towns with multiple professional sports teams and decided to make a stadium that could be the home to multiple teams. On November 17th, 2016 the construction for SoFi Stadium broke ground in Inglewood, California. The stadium is to be the home field for both the L.A. Rams and the L.A. Chargers. 
SoFi is the name of an online finance company that purchased the naming rights for over $30 million a year for over 20 years. The cost of this new field is one that will come in at the top of the record books as the most costly stadium in NFL history at just under $5 billion. The stadium was supposed to be built by the start of the 2019 season but in 2017, L.A. had an unexpected and oddly large number of rainy days that caused the construction to halt for a lengthy period of time. The stadium is supposed to be opening in the summer of 2020, however with the CoronaVirus pandemic affecting now two of the construction workers, the site could be shut down shortly. 
The privately funded SoFi Stadium is set to have a seating capacity of around 70,000 seats and will be expandable to over 100,000 seats. There are going to be 250 luxury suites and 13,000 premium seats. The roof will be made of glass to allow natural light and the sides will be able to open up to allow a breeze. The roof has also been designed to look like a sail to reflect it's coastal location. 
Not only will this stadium be the home of the Rams and Chargers but many large events have already been scheduled there such as Taylor Swift's two day concert/festival on July 25 and 26th which is first on its event calendar and a Guns and Roses concert. There are also many sporting events on the calendar as well such as the L.A. Bowl which will feature a collegiate game between a Mountain West and a Pac-12 team, a WrestleMania event in 2021, the 2022 Super Bowl, the College Football Championship in 2023, and the 2028 closing and opening ceremonies of the Olympics.
Sources
Paris, Jay . SoFi Stadium, So Far, Is Still Scheduled To Be Ready For NFL, Forbes. February 29th 2020. Accessed April 12th 2020. https://www.forbes.com/sites/jayparis/2020/02/29/sofi-stadium-so-far-is-still-scheduled-to-be-ready-for-nfl/#dd1e876a6d32.
Wilson, Dave. LA Bowl at SoFi Stadium Added to Postseason Slate in 2020, ESPN. February 26th 2020. Accessed April 12th 2020. https://www.espn.com/college-football/story/_/id/28786747/la-bowl-sofi-stadium-added-postseason-slate-2020.
SoFi Stadium. Accessed April 12th 2020. https://www.sofistadium.com.
SoFi Stadium, Stadiums of Pro Football. Accessed April 12th 2020. https://www.stadiumsofprofootball.com/stadiums/sofi-stadium/.
Additional Information