Saranac Laboratory Museum
Introduction
Built in 1894 to replace Dr. E.L. Trudeau's original laboratory which was destroyed in a fire, the Saranac Laboratory immediately was on the frontlines of the battle against tuberculosis upon completion. Built to be fireproof, the laboratory was a cutting-edge facility and was the first laboratory in the country that specifically studied tuberculosis. The building was designed by J. Lawrence Aspinwall, and fully funded by a friend of Dr. E.L. Trudeau. The left wing of the building was added in two stages in the 1920s to add more office space and a research library. This addition was funded by the family of John Baxter Black, a wealthy patient who came to Saranac Lake for treatment from intestinal tuberculosis. The laboratory was in operation at this site until 1964, when they moved to a modern facility on the edge of town. The Trudeau Institute is still in operation today. Historic Saranac Lake acquired the property in 1999; it had been modified when it was in service as dorms used by Paul Smith's College students. In 2007, a massive project was undertaken by Historic Saranac Lake to restore the laboratory back to its original state. Following the completion, the Saranac Laboratory Museum was opened in the building.
Images
Saranac Laboratory (c. 1907)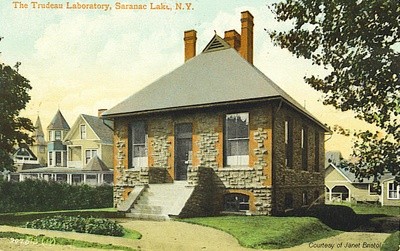 Near the back of the laboratory (c. 1907)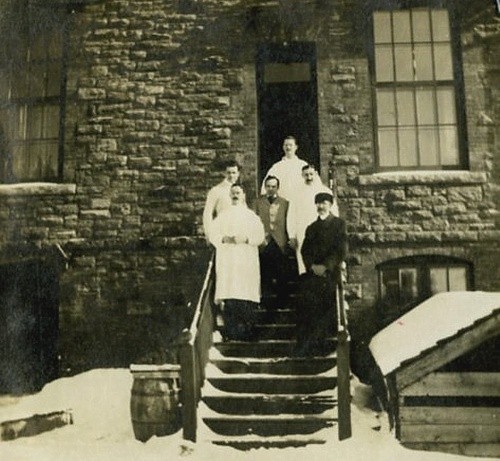 Tony Delahant, right, at work in with fellow laboratory technician, Robert Liddy, on left (c. post-1934)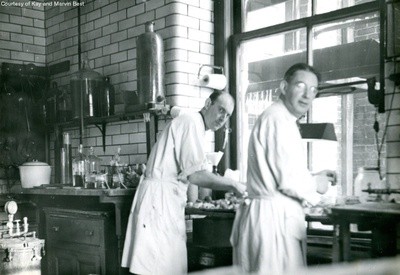 Sources
Saranac Laboratory , Historic Saranac Lake Local Wiki. Accessed April 9th 2020. https://localwiki.org/hsl/Saranac_Laboratory.
Image Sources
Courtesy of Kay and Marvin Best

Additional Information