Church of St. Luke the Beloved Physician
Introduction
The Episcopal Church of St. Luke the Beloved Physician, built in 1878, is Saranac Lake's first church. The church was established in 1877, with services held in the Berkeley House by Reverend John Lundy, who began a fund drive to raise money towards a building. The plans were a gift from Richard Mitchell Upjohn (1828-1903), son of the architect of Trinity Church in New York City. The church was built — at today's 136 Main Street — by local contractor R. Eugene Woodruff; construction began in May 1878 and was completed in January 1879. The church was expanded in the 1890s with the addition of a rectory and a parish hall that served as the village library for fifteen years starting in 1892. In 1938-39, the sanctuary was enlarged, and new paneling, altar and reredos, and the windows in the chancel were rearranged creating a side chapel and a new sacristy.
Images
Church of St. Luke the Beloved Physician (c. 1879)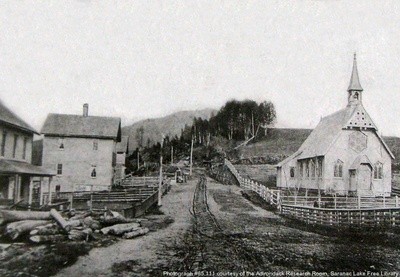 Church of St. Luke the Beloved Physician (c. 2009)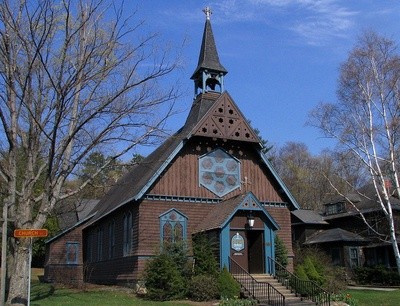 Sources
Church of St. Luke, the Beloved Physician, Historic Saranac Lake Local Wiki. Accessed April 9th 2020. https://localwiki.org/hsl/Church_of_St._Luke%2C_the_Beloved_Physician.
Image Sources
Adirondack Daily Enterprise

Additional Information