Fort Mill Ridge Civil War Trenches
Introduction
Located in the eastern panhandle of West Virginia, the trenches of Fort Mill are considered by many to be the best preserved trenches constructed during the American Civil War. These trenches were built and utilized by Confederate artillery in 1861 and then later used by Union troops in 1863, demonstrating how control over this region and West Virginia was hotly contested in the first three years of the war. This historic site was listed on the U.S. National Register of Historic Places in 2014.
Images
Map of the grounds of the trenches.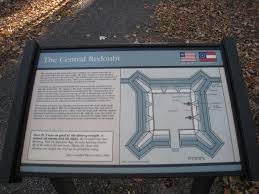 A walking trail in Fort Mill Ridge Wildlife Area takes visitors to this well-preserved Civil War trench system.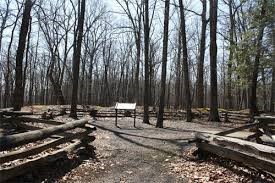 Backstory and Context
The Fort Mill Ridge trenches are among the best preserved reminders of the American Civil War in West Virginia. Built initially by Confederate partisans, these trenches were used to protect and guard key routes as well as to defend the B&O Railroad when the Confederacy and the Union controlled the region.
The trench is located along a walking trail in Fort Mill Ridge Wildlife Management Area that offers signage and brochures that offer context about the history of the area. Romney is the oldest town in what is now West Virginia, established in 1753. The city is home to Taggart Hall, a small museum that also houses the Romney Chamber of Commerce and the Convention and Visitors Bureau. This small museum includes artifacts from the Civil War.
Additional Information