Leonard's Department Store
Introduction
Peddler William C. Leonard, upon having success with his first department store, constructed the building that would be Saranac Lake's only full size department store on the lot at 83 Main St., between his first store and the Coulter Block. Leonard's Department Store offered a wide variety of merchandise at reasonable prices. This, along with a pneumatic tube delivery system that connected the store's four floors of departments to a central cashier made the store an attractive and integral part of Saranac Lake. The store remained in the Leonard family until Mildred Leonard Baker sold it to Mark David Associates, Inc. in September, 1965. However, it had been leased to other companies since the mid-1940s. In October, 1973, National Army Stores Corporation chain obtained the property. In 1982, the owners of the buildings restored the second and third story facade to its original (as nearly as possible) condition. The building is currently the location of Surgical Eye Care (2020).
Images
Leonard's Department Store (c. 1906)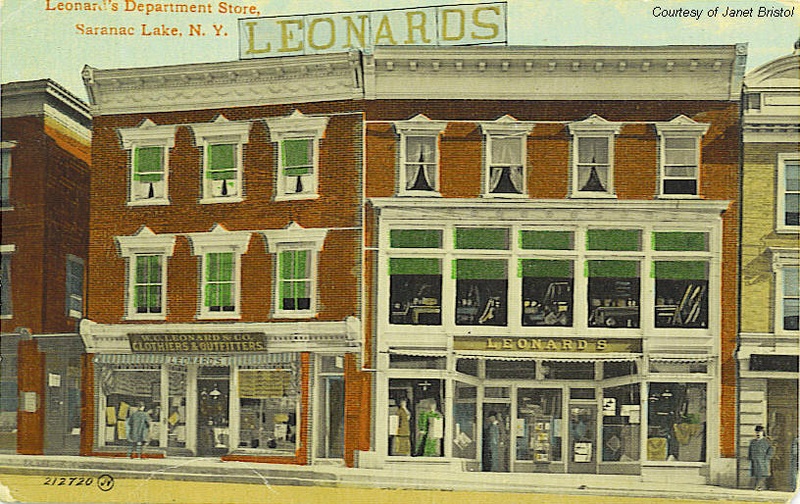 Leonard's Department Store (c. 2009)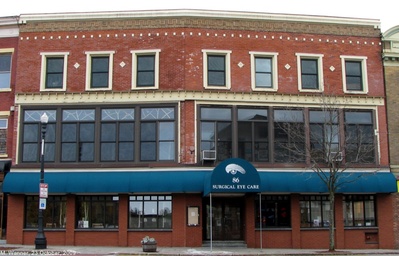 Sources
Leonard's Department Store , Historic Saranac Lake Local Wiki . Accessed April 8th 2020. https://localwiki.org/hsl/Leonard%27s_Department_Store.
Additional Information