Fowler Block
Introduction
Built by W. S. Fowler in 1900, the building at 76 Main Street was the first structure in Saranac Lake designed by architect William H. Scopes. By 1909, W. Smith and Jessie Fowler sold the Fowler Block to William J. and Matthew M. Munn, who opened the Munn Brothers' Grocery, a very successful store. When the building was bought by John S. Ridenour, publisher of the Adirondack Daily Enterprise, in 1926 an extension was added to the building. Designed by William G. Distin, Sr., it was built to withstand the weight and vibrations of hot-type newspaper printing equipment. Ridenour was a forward-thinking publisher and tested many cutting-edge newspaper technologies, including the Wood Bee-Line Press. It had a capacity of 12,000 newspapers per hour, but its operators could not keep up with its output and it was only ever run at half speed. In 1965 the building was sold to Tubby and Loeb's Adirondack Publishing Company. After the 1973 purchase of the building by William Doolittle, all of the printing equipment was scrapped. In the years since, many businesses have called the Fowler Block home, with Origin Coffee Co., Human Power Planet Earth bike shop currently operating in the building (2020).
Images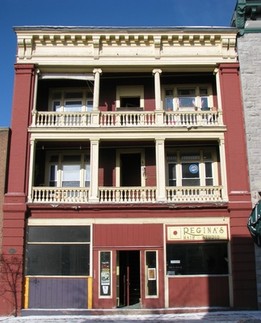 Fowler Block (middle, c. 1900)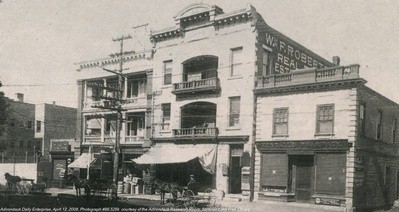 Sources
Gallos, Philip . Fowler Block , Historic Saranac Lake Local Wiki. Accessed April 8th 2020. https://localwiki.org/hsl/Fowler_Block.
Additional Information