Chief Pocatello Monument
Introduction
This monument commemorates Chief Pocatello (1815-1884), the Shoshone Indian leader who became known around the country for resisting settlers who encroached on traditional tribal lands. He earned a reputation as a strong leader who helped his people survive what was then an uncertain and often dangerous period in American history for native peoples. The city of Pocatello, which was established in 1889, is named after him. It should be noted that he is also known by another name, Tonaioza ("buffalo robe"), which some consider was his actual name. The monument is located between 4th and 5th Avenues, near the Visit Pocatello Idaho Tourist Information Center. A number of interpretive markers describing his life and legacy are just a few steps from the monument.
Images
The Pocatello Monument honors the Shoshone leader Chief Pocatello (1815-1884), whose real name was probably Tonaioza.y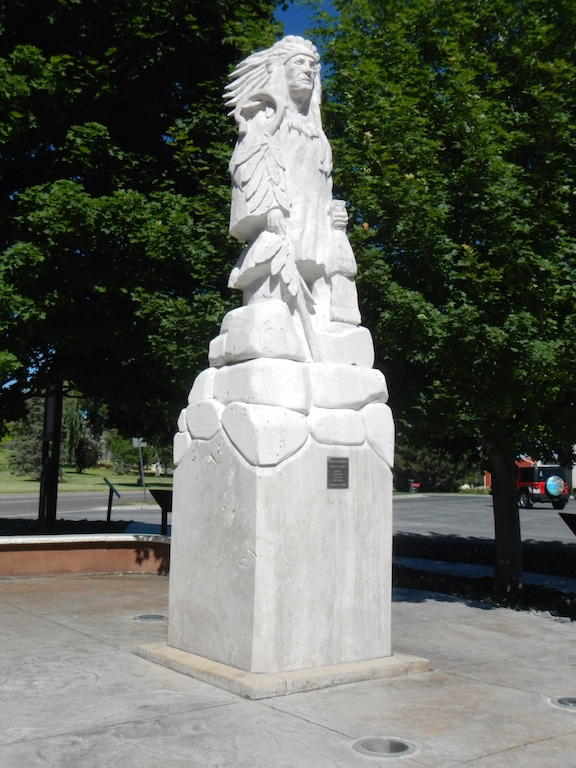 Backstory and Context
Chief Pocatello was born in the northwestern Utah in the Grouse Creek Valley. It is not certain exactly when he was born but is estimated to be around 1815. His tribe's traditional lands encompassed an area that extended from the Snake River south to the Bear Lake Valley and west to the present-day Nevada/Utah border. In his formative years, Pocatello and the tribe began to encounter fur traders and settlers coming from the east on the Oregon Trail. Pocatello also emerged as a leader, eventually becoming chief.
The arrival of settlers had a profound effect on the tribe's way of life. The biggest impact was the increased competition for food, as settlers hunted game and allowed their livestock (cattle, sheep, horses, goats and other farm animals) to roam and graze on grasslands. Given this tension, conflict between the tribe and settlers (many of whom at the time were Mormons) was inevitable.
In the 1850s, Pocatello and his warriors attacked settlers on a number of occasions. In response, the U.S. Army was sent into the region in 1858 to enforce American control and bring peace between settlers and tribes. In August 1862, Pocatello led attacks on two wagon trains, killing ten white men (the site of one of the attacks is preserved as Massacre Rocks State Park). To retaliate, the Army attacked a Shoshone settlement in January 1863, killing around 400 men, women, and children. That incident became known as the Bear River Massacre. Pocatello got word of the impending attack and moved his tribe to the Malad Valley, which is located along the Idaho and Utah border.
Eventually, Pocatello realized that fighting the U.S. Army was no longer feasible; his ultimate goal now was to save his people. In 1863, he, along with several other northwestern Shoshone chiefs, signed the Box Elder Treaty. Pocatello agreed to cede most of his tribe's traditional hunting grounds and territory in exchange for $5,000 worth of supplies and food every year. He also agreed not to attack settlers crossing through the tribe's territory. The U.S. government largely failed to provide this money, which compelled Pocatello to raid wagon trains once again to procure food. In 1868, the government, Pocatello, and several other tribes, signed the Fort Bridger Treaty. The tribes agreed to move their people to the Fort Hall Indian Reservation and the government promised to supply more food. Again, however, the government did not meet its obligation.
Pocatello and his tribe resorted to roaming the region again. They also asked Mormons for food. In exchange, however, the Mormons asked the tribe to convert and many of them did, including Pocatello. Eventually, by 1875 Pocatello relocated his tribe to the reservation. He remained there for the rest of his life. He died in 1884 and was buried in spring with a number of personal belongings as well as 18 horses.
Sources
"Chief Pocatello - The Indian Chief for whom Pocatello was named." Pocatello.net. Accessed April 8, 2020. https://pocatello.net/chief-pocatello.
"Chief Pocatello." The Historical Marker Database. Accessed April 8, 2020. https://www.hmdb.org/m.asp?m=108286.
"Chief Pocatello." The Latin Library. Accessed April 8, 2020. http://www.thelatinlibrary.com/chron/civilwarnotes/pocatello.html.
"Chief Pocatello statue." Visit Pocatello. Accessed April 8, 2020. https://www.visitpocatello.com/chief-pocatello-statue.
Hancock, Jimmy. "Who was Chief Pocatello?" Idaho State Journal. October 13, 2010. https://www.idahostatejournal.com/news/online/who-was-chief-pocatello/article_653cad6e-d752-11df-b5a1-001cc4c03286.html.
Image Sources
The Historical Marker Database

Additional Information