Shortridge High School
Introduction
This school has been the site of significant educational progress and achievement. Shortridge was originally called Indianapolis High School when it opened on the Circle in Indianapolis in 1864 as the state's first free public high school. After a second high school was opened in 1897, the school was renamed after Abram C. Shortridge, the first superintendent of IPS, who while facing a variety of social and economic challenges, greatly expanded IPS. The school from its beginning had several extremely progressive policies. However, at times it faced harsh criticism for its racial policies such as admitting African American students and allowing German to be taught during the beginning of World War I. Although it was shut down in 1981 and for a time served as a middle school, Shortridge today is once again an IPS high school, having reopened as a magnet school in 2009.
Images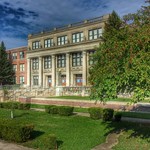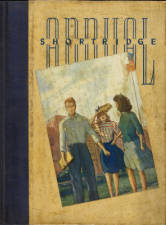 Button from failed campaign by alumni to prevent school closure in 1981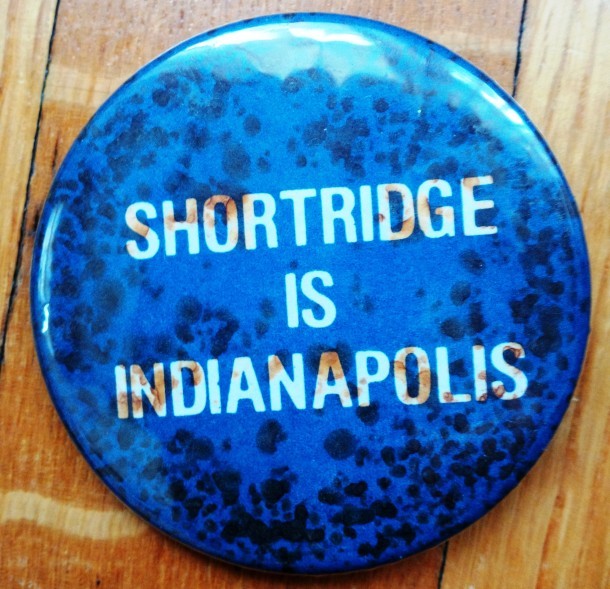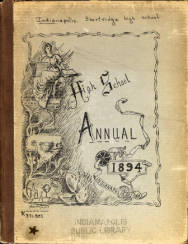 Indianapolis High School, built in 1885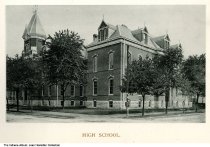 Backstory and Context
Although the 1851 Indiana state constitution required tuition-free common schools, the Indianapolis city-wide school system that was established in 1852 had to shut down due to lack of funding in 1859 after an 1858 state Supreme Court decision prohibited local property taxes from being used to fund public school tuition and the approximately $2 per student state funding proved insufficient. With increased albeit limited funding, Abram Shortridge was hired as the IPS superintendent in 1863 and he reopened the high school. He made several unusually progressive moves, including expanding the school year from 4 to 9 months, hiring female teachers, and admitting African American students despite an 1869 state law that created segregated schools. In 1876, Mary Alice Rann became the first Black student to graduate from Shortridge and many others followed in her footsteps until Crispus Attucks High School opened in 1927.
Unfortunately, Shortridge didn't always overcome ethnic prejudices. Despite its large population of German heritage, Indiana joined the anti-German movement that swept the U.S. during World War I and included calling for the end of German language instruction and the shuttering of German newspapers. Both had previously been common, especially in Midwestern states like Indiana with a history of German immigration.
Due to Indianapolis' substantial German population, IPS had long included German-language instruction. While the school board had voted in 1890 to end the program, it was maintained after German-Americans took the decision to the Indiana Supreme Court. Shortridge became a site of controversy in 1918 when the German classes were not cancelled despite growing social pressure. Following criticism, German classes were replaced by Latin classes and the school offered what it claimed to be the first military history course in the United States. Meanwhile, the school became involved in a variety of war support efforts. After the end of World War I, the Indiana state legislature in 1919 banned the teaching of German to children, although they were overturned in 1923. Today, German is once again allowed to be taught in Indiana schools (although it is no longer emphasized at Shortridge), but it is taught as a foreign language rather than a heritage language commonly spoken in Hoosier households and businesses.
Sources
Cierzniak, Libby. 2013. "Indianapolis Collected: The Shortridge Vision." Historic Indianapolis, July 6, 2013. Accessed April 7, 2020. https://historicindianapolis.com/indianapolis-collected-the-shortridge-vision/
Indianapolis Public Library Digital Indy. n.d. " Shortridge High School." Accessed April 7, 2020. http://www.digitalindy.org/cdm/landingpage/collection/shs
Ramsey, Paul J. 2002. "The War against German-American Culture: The Removal of German-Language Instruction from the Indianapolis Schools, 1917–1919." Indiana Magazine of History 98, no. 4 (2002): 285-303. Accessed April 2, 2020. www.jstor.org/stable/27792420.
Taylor, Steven J. 2015. "WHEN INDIANA BANNED THE GERMAN LANGUAGE IN 1919." Hoosier State Chronicles: Indiana's Digital Newspaper Program, August 26, 2015. Accessed April 2, 2020. https://blog.newspapers.library.in.gov/dachshunds-and-deutsch-banning-german-in-indiana-in-1919/
Image Sources
https://flic.kr/p/DVKKRP

http://www.digitalindy.org/cdm/ref/collection/shs/id/5987

https://historicindianapolis.com/wp-content/uploads/2013/07/Shortridge-button-610x589.jpg

http://www.digitalindy.org/cdm/ref/collection/shs/id/65

https://indianaalbum.pastperfectonline.com/photo/FF85B43D-BA8F-4541-A57B-885925317080