Eleutherian College
Introduction
Eleutherian College served as one of the earliest educational opportunities for African Americans and women before the Civil War. Thomas Craven and other anti-slavery advocates created this institution that supported education for all race and genders. It was built in the 1850s for classes and chapel. In the beginning, there were 18 black students, 10 of them were born slaves.
Images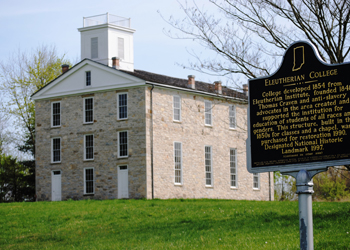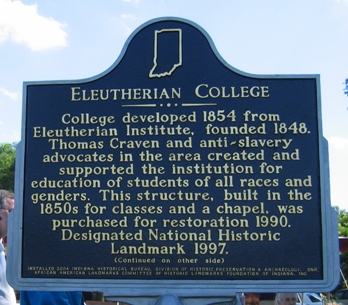 Backstory and Context
The college was founded by Reverend Thomas Craven, from Oxford, Ohio. Thomas Craven came to Lancaster as a guest speaker at the Neil Creek Abolition Baptist Church. Craven had a dream of where all people, no matter their race or gender, would attend classes together. Many of residents of the area offered to help and work together in building the school. The people who helped build this college were abolitionists. This school was dedicated to freedom and equality. The school was built on a hill overlooking the community. The name came from the Greek word eleutherous, it meant freedom or equality. In 1860, 200 students were enrolled in the college. The college was made out of stone. The rooms were built to fit 200 to 300 students.
Within two years of the college opening, the college was able to a primary education. The college was also able to give a successful college curriculum. In 1860, two hundred students attended the integrated college. At this time, 50 blacks from as far as Mississippi and Louisiana attended the college. The building functioned as a school until 1937. Eleutherian College plays a key role in bringing the Underground Railroad in Indiana to light.
Sources
Historic Eleutherian Inc. (n.d.). Retrieved May 03, 2020, from https://eleutherian-college.org/history.html
Ksander, Y. (n.d.). Eleutherian College. Retrieved May 03, 2020, from https://indianapublicmedia.org/momentofindianahistory/eleutherian-college/
Image Sources
"History". Eleutherian College, 2014. Link: http://www.eleutheriancollege.org/Index%20Page/Index_page.html

Additional Information