GM Fort Wayne Assembly
Introduction
The General Motors Fort Wayne Assembly is a massive facility just outside the southwest side of the city. The plant plays a large role in the local economy, as well as the larger context of automobile manufacturing in Indiana. One of the most productive plants of its kind in the country, understanding this facility's significance in important in understanding Indiana's relationship with cars.
Images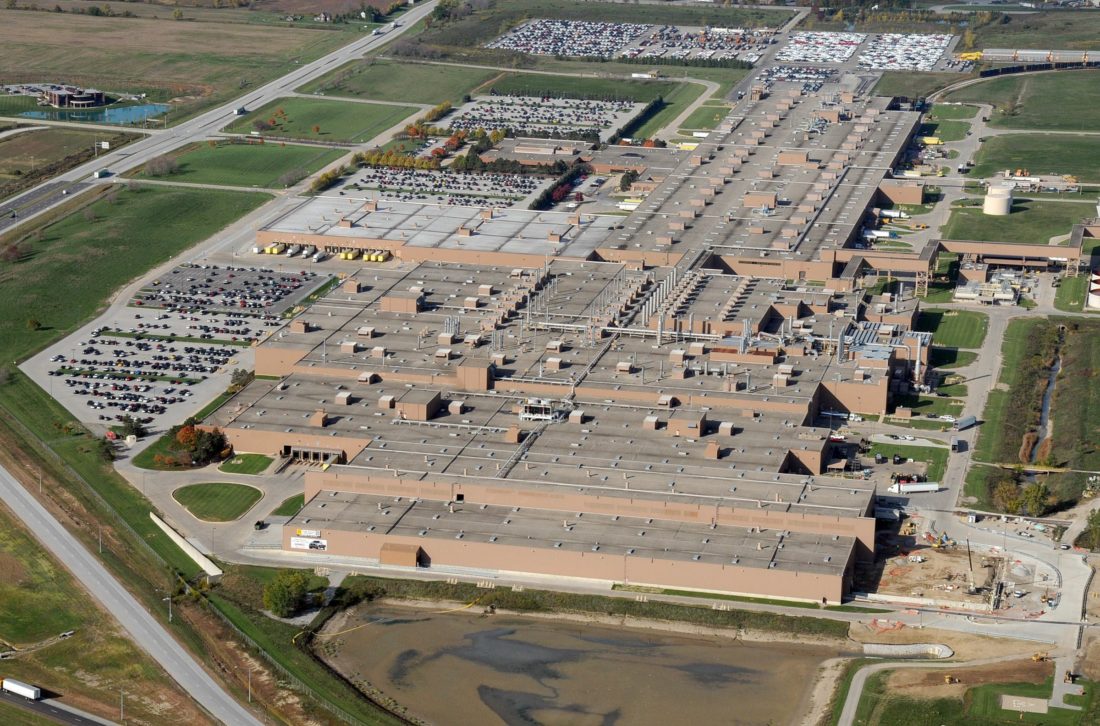 Backstory and Context
This facility is an example of the current state of Indiana's relationship with the Auto Industry. The manufacturing plant opened in 1986 and has been open ever since, though it has been shut down temporarily in the past. Interestingly, the Facility is outside of the Fort Wayne city limits but it still is a vital source of jobs for the city, building more than one thousand trucks per day. According to GM, the company's economic impact in 2018 totaled over four hundred million dollars in state wages, clearly a major aspect of the State's economy (GM). The facility has existed in a less-stable era of American Automobile manufacturing, having to close down temporarily during the 2008 recession and during other times of economic uncertainty in the region. Additionally, the content produced by the facility reflects a change in the industry in Indiana. Producing exclusively pick-up trucks, the products made by this plant differ starkly from the luxury cars associated with the early automobile industry. This reflects not only a shift in what cars are being made in Indiana, but also the various changes the state and the nation has experienced to shift demand toward more working-class-oriented vehicles.
The Fort Wayne Facility is one of a handful of similar facilities in Indiana (seen in Mishewaka, Layfayette, Princeton, and Greensburg), massive campuses dedicated to producing a specialized vehicle in stark comparison to the dozens of smaller auto factories that manufactured a plethora of vehicles in the first half of the 20th century in Indiana (Schellinger). Indiana has changed a lot since Elwood Haynes invented his "Pioneer", and so has the national auto industry. Sites like this represent the current state of the industry both in Indiana and the nation as a whole, however they are by no means the final step in that transformation. The auto industry will change, and our state will change with it, just as it always has.
Sources
"GM Corporate Newsroom - United States – Fort Wayne." media.gm.com. April 2, 2020. https://media.gm.com/media/us/en/gm/company_info/facilities/assembly/ftw.html.
Schellinger, Jim "Indiana's Booming Auto Industry: How it Happened". Inside Indiana Business. March 16, 2016.
https://www.insideindianabusiness.com/story/31484464/indianas-booming-automotive-industry-how-it-happened
Wildey, Morris D. "Fort Wayne's Courtship of GM". Indianapolis Star. July 22, 1984.
https://search-proquest-com.proxyiub.uits.iu.edu/hnpindianapolisstarshell/docview/1893819641/51A8A201E83848CCPQ/2?accountid=11620