Fort Wayne Central High School
Introduction
This former school is a prime example of how public schools changed (and change) in response to social and demographic shifts in their communities. It was originally the only public high school in Fort Wayne before population growth made it insufficient. At its inception, it had an emphasis on manual (i.e. vocational) training reflecting the educational philosophy of the era. Central High School was closed when Fort Wayne integrated its high schools, illustrating how racial inclusion and integration changed community landscapes.
Images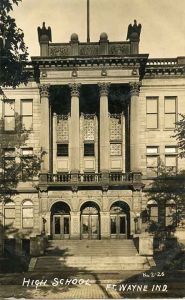 School trophy case that remains in the Anthis Career Center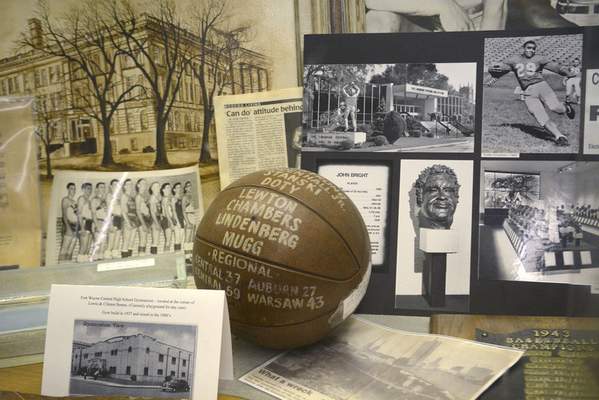 Backstory and Context
This building was once the site of Central High School. When it opened in 1904, it was the first public high school in Fort Wayne and as the only one, it was commonly called the Public High School. Initially, the school had a focus on vocational training and was officially known as Fort Wayne High & Manual Training School. This emphasis reflects the industrial mindset of the time and a common contemporary perspective of the purpose of education being the improvement of the labor force.
When the school opened, it had 480 students and 17 teachers. As the city grew, so did secondary student enrollment, and South Side was opened as the second public high school in 1922 to meet demand. At this point, the first public school was renamed Central High School since it could no longer be referred to as the Public High School.
Despite its history and strong school spirit (in part due to its athletics), the school was closed in 1971 as part of the city's plan to desegregate Fort Wayne Community Schools. It then once again became a vocational school while students were redistricted to the newly formed Wayne and Northrup high schools. This integration went considerably smoother than attempts to address the city's segregated elementary schools, which remained contested even two decades after the Brown v. Board of Education Supreme Court Ruling. Black parents filed complaints with the Department of Justice and took the Department of Health, Education, and Welfare to court for not completing investigations and beginning enforcement of civil rights, which the Office of Civil Rights had begun investigating Fort Wayne schools for in 1968 for potential violations of Title VI including how teachers and students were assigned. Fort Wayne Community Schools was also sued in 1974 in state court for discriminatory practices against Blacks, women, and Spanish-speaking students as well as staff with Spanish surnames.
While secondary schools in Fort Wayne made progress in integration, segregation actually increased among elementary schools, with the Indiana Advisory Committee on Civil Rights noting that "the proportion of minority students at racially identifiable elementary schools increased from 67 percent in 1970 to 78 percent in 1975." Thus, the school superintendent proposed a school reorganization plan in 1977. Black parents and school board members were highly critical of his plan since "all busing would be one way, involving busing of Black students out of the central city, and that a new high school would be built in a predominantly white area while several schools in the central city would be closed," and to many, it seemed that "the onus is being put on the minority community again." Some 1500 Black parents signed a petition against the plan and criticized the failure to address elementary school segregation. The latter may have been due to the strong opposition of many white parents to proposed integration plans--despite the majority of the first class of integrated high school seniors saying elementary integration was desirable when they were surveyed by the Urban League in 1976.
In 1990, the Fort Wayne Regional Vocational High School became the Anthis Career Center. However, the building still retains school image boards and memorabilia from its time as Central High School. The repurposing of the school also indicates the relative lack of political influence among the Black community who were often unable to preserve their own schools when integration was pursued.
Sources
Francisco, Karen. 2018. "Getting the balance right." The Journal Gazette, February 4, 2018. https://www.journalgazette.net/opinion/sunday-centerpiece/20180204/getting-the-balance-right 
Harter, Randy. 2017. "Central High School circa 1912." Fort Wayne Reader, January 24, 2017. http://www.fortwaynereader.com/story.php?uid=3144
United States Commission on Civil Rights. Indiana Advisory Committee. (1977). Equal opportunity in the Fort Wayne Community Schools: a continuing struggle : a report. Washington: Commission on Civil Rights.
Image Sources
http://www.fortwaynereader.com/story.php?uid=3144

https://121-jgweb.newscyclecloud.com/storyimage/JG/20141225/ARTICLE/312259945/EP/1/7/EP-312259945.jpg&MaxH=400