Washington Baseball Park (site)
Introduction
While today Washington Baseball Park no longer exists, its history for the state of Indiana is far from forgotten. It would serve as home to several minor baseball teams within the city, and later as the site of Wonderland Amusement Park. However, it is also remembered for a tragic moment in the early 20th century, and it is this tragedy that is most relevant to our story.
Images
The original Washington Baseball Park as depicted on a postcard in the possession of Rex Hamann. The park was in use from 1900-1905.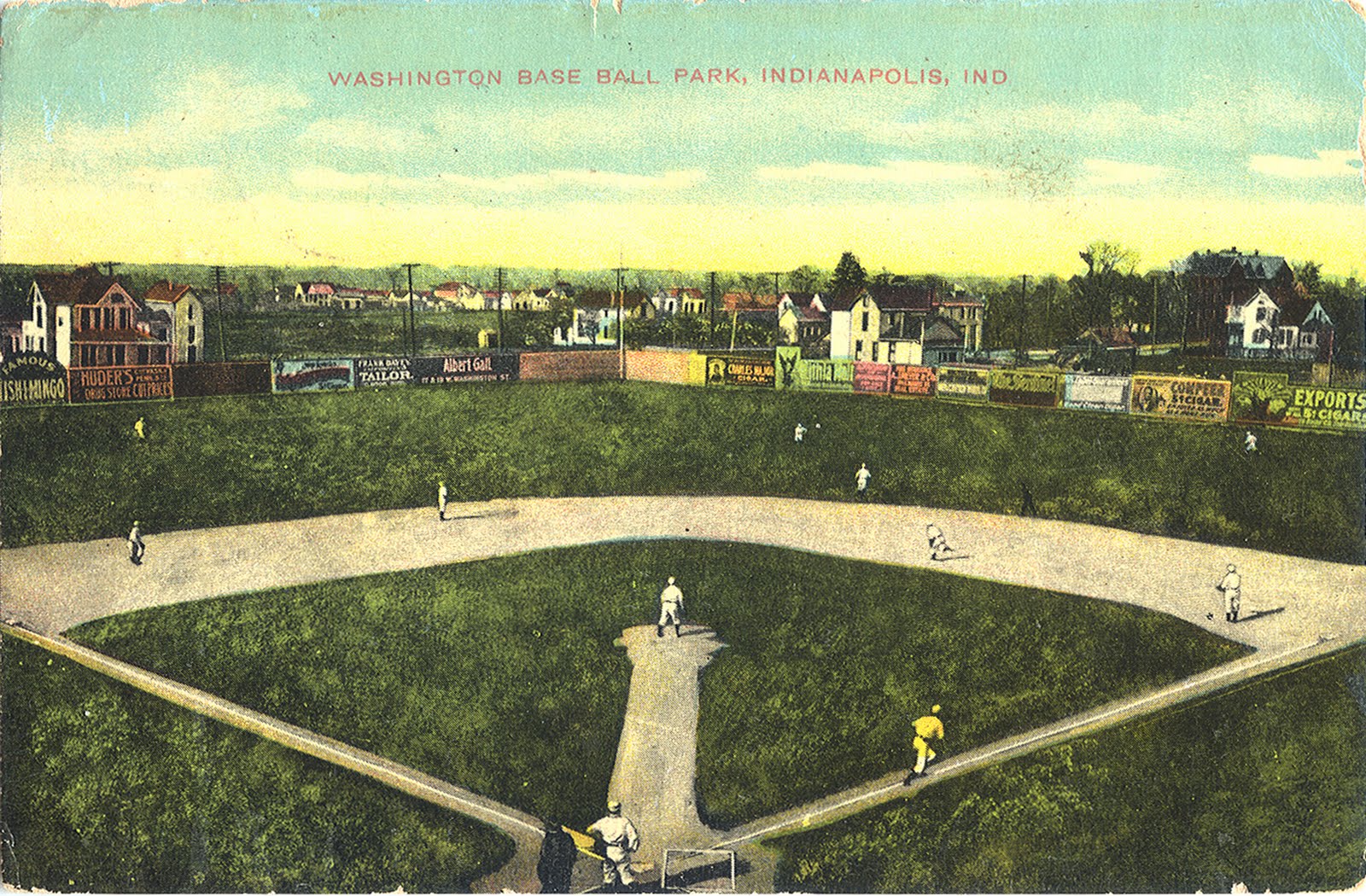 Backstory and Context
The competition of the Indiana/Purdue rivalry has provided generations of Hoosiers with wonderful memories, but there have been several tragedies along the way. None was more tragic than the "Purdue Wreck" of October 31, 1903. The Hoosiers and Boilermakers had been scheduled to play on a neutral field halfway between the respective campuses[1]. The site chosen was Washington Park in Indianapolis, the state's capital. Sadly, the team's train collided with a coal train near 18th street, killing seventeen of the train's passengers, fourteen of whom were Boilermaker football players[2]. The game was cancelled. Today the park no longer exists, but the site in many ways feels unsettled, haunted by the game that was never played, and of the young men who lost their lives on their way to doing something that they loved. The tragedy has added an extra layer to the rivalry in the ensuing century, with both fan bases and both teams treating the match up as a bowl game, regardless of how each team plays throughout the year. The crash both reminds us of how small sports are in the grand scheme of things, and also how much they can mean to people, as well as how much can be added to our daily lives and camaraderie as fans. We celebrate together, suffer together, and sadly in this case, mourned together.
Sources
1] "Fifteen are Killed in Crash of Speeding Football Train," Indianapolis Star, 1 November 1903.
[2] Miller, Travis. "Remembering the Purdue Wreck of 1903," Hammer and Rails, 'Purdue Football,' 31 October 2012. https://www.hammerandrails.com/2012/10/31/3581744/remembering-the-prudue-wreck-of-1903
Hamann, Rex, http://3.bp.blogspot.com/_Nxvjm3f9va8/TDHwbwhgJEI/AAAAAAAAAFM/9cckaVKGJEE/s1600/EastWashingtonStreetPark.jpg
Image Sources
Hamann, Rex, http://3.bp.blogspot.com/_Nxvjm3f9va8/TDHwbwhgJEI/AAAAAAAAAFM/9cckaVKGJEE/s1600/EastWashingtonStreetPark.jpg

Additional Information