The Princess Theater
Introduction
Our tour begins in Bloomington, Indiana at the historic Princess Theater. This seems an appropriate location to begin our journey as the Princess reflected the style of most theaters around Indiana during the early 1900s, both in architecture and in the types of shows produced. The Princess Theater was built in 1913 by architect Robert Harris. The theater was a popular site for vaudeville performances, minstrel shows, and movies. In 1923, the theater was remodeled by John Nichols, doubling the size of the auditorium and designing the facade with glazed terra cotta. The theater remained in business until 1981 and eventually collapsed in 1985. Later, the building was renovated into an Italian restaurant.
Images
The Princess Theater 1913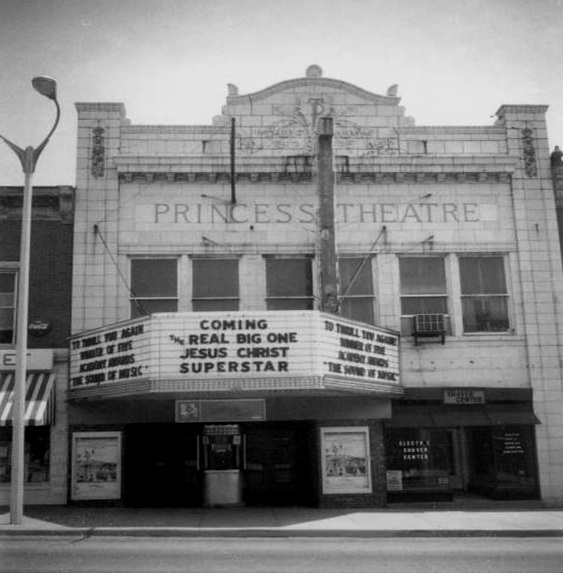 The Princess Theater Auditorium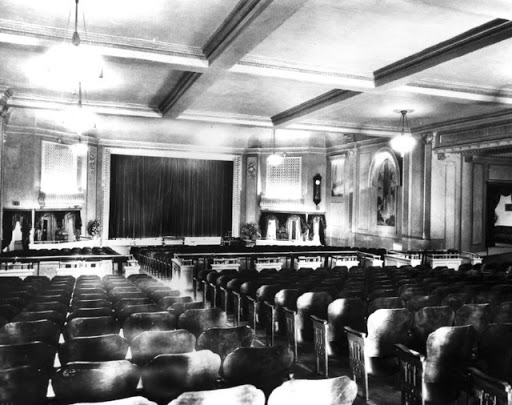 Backstory and Context
The Princess Theater, due to its rise to popularity in the between 1910 and 1920, was a performance site for minstrel shows and later a variety of vaudeville acts. Minstrelsy as an art form rose to prominence in the early 1800s, when a man named T.D. Rice took to Blackface, imitating the caricature of Jim Crow. Rice was coined the father of minstrelsy. Audiences noted how, "there was something in his delineation of… Jim Crow that took with the people" (Kiefer 2). The public became enthralled in this type of performance, which prompted viewers to justify some of their racist actions and feelings. This site is significant as it exposes Bloomington, Indiana's participation in the theatre arts throughout history. The Princess specifically and accurately represented theaters across Indiana in its design and production offerings. Despite its immoral and inhumane nature, minstrelsy was one of the first truly American forms of theatre that was not adapted from European style of performance. It was a significant period in theatre history. The Princess Theater helped to bring this new, popular, American style of performance to Indiana, as minstrel shows became a popular style of performance. In addition to minstrel performances, the Princess Theater became a popular site for vaudeville and feature films. Residents reminisce on how "for 25 cents an adult could see a feature film, a two-reel comedy and a four- or six-act vaudeville show" (Ivins). Popular theatrical entertainments characterizing theatre history in the early 20th century were brought to Indiana in this historic theatre. At the Princess as well as at its sister theater the Harris Grand, notable performers such as Will Rogers and Charlie Chaplin were seen on the stage. 
Sources
A. Kiefer, "Burnt Cork." Terre Haute Saturday Evening Mail, August 23, 1879, https://newspapers.library.in.gov/?a=d&d=SEM18790823&e=-------en-20--1--txt-txIN-minstrelsy------
Laura Ivins, "Bloomington Sister Cinemas," Indiana University Cinema, June 14, 2018, https://blogs.iu.edu/aplaceforfilm/2018/06/14/bloomingtons-sister-cinemas/