Germantown & Berks, CO, PA
Introduction
In 1683, "a group of 13 orthodox Quaker families from Krefeld [Germany] left for New England, where they founded Germantown, the first closed German settlement... (Deutschland.de)" This settlement would begin a foundation of German culture and society within Pennsylvania that lasts until this very day. Besides Germantown, about 65 miles west lay the county of Berks, which too became a hub of German settlement. As I have researched my family and others of German origins, it never ceases to amaze me how many times I come across Berks, CO., PA in family trees. While countless families, including mine, have connections back to the German settlements of Pennsylvania, the town remains significant for other reasons as well. "During the Revolution, the Battle of Germantown was fought up and down the main street, with muskets firing from house windows. The first American Bible was published [in Germantown]...(ushistory.org)" As Pennsylvania was already a hotbed of revolutionary sentiments, Germantown was engulfed in all sorts of action throughout the Revolution and throughout history to come.
Images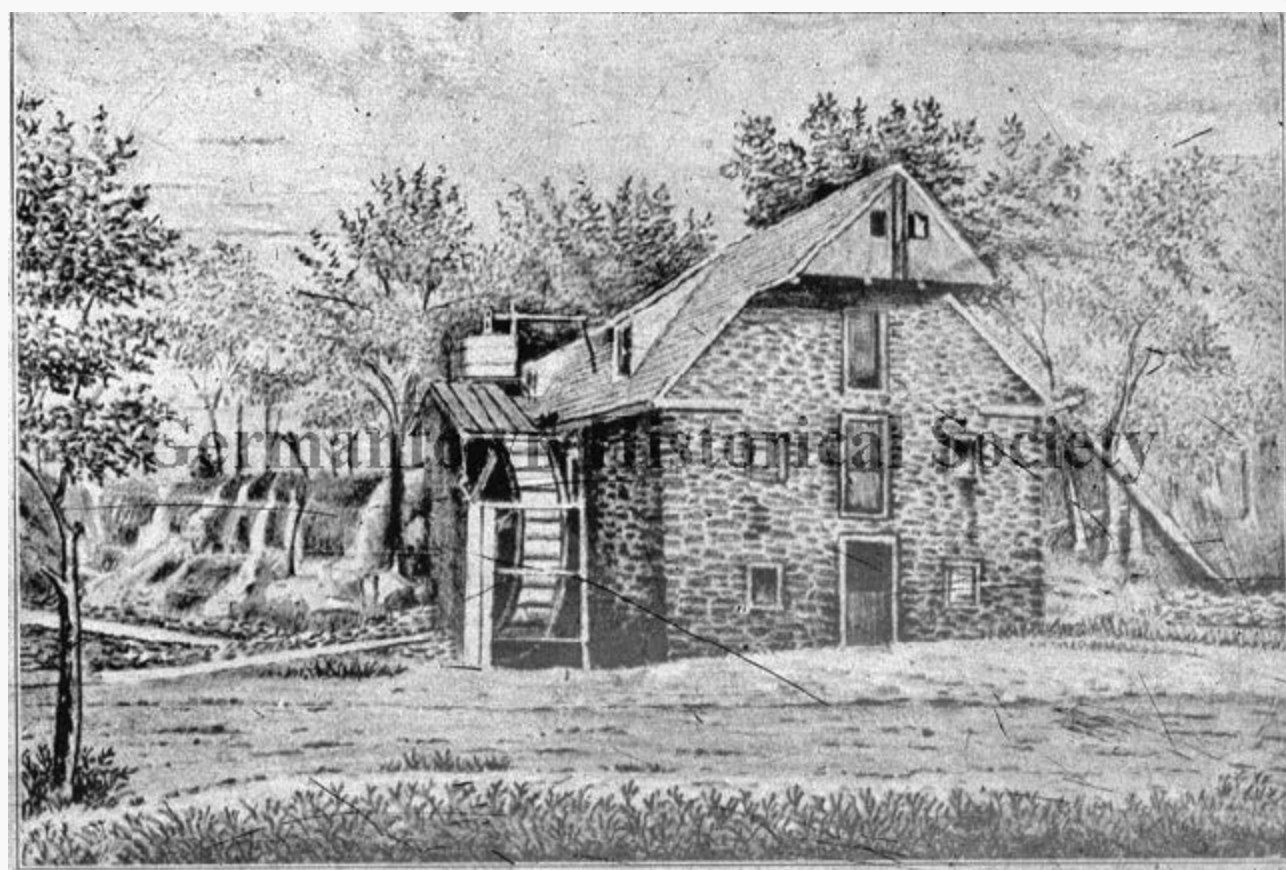 Painting of Tenant House No. I, attributed to Charles C. Hofmann, Berks County, 1870–80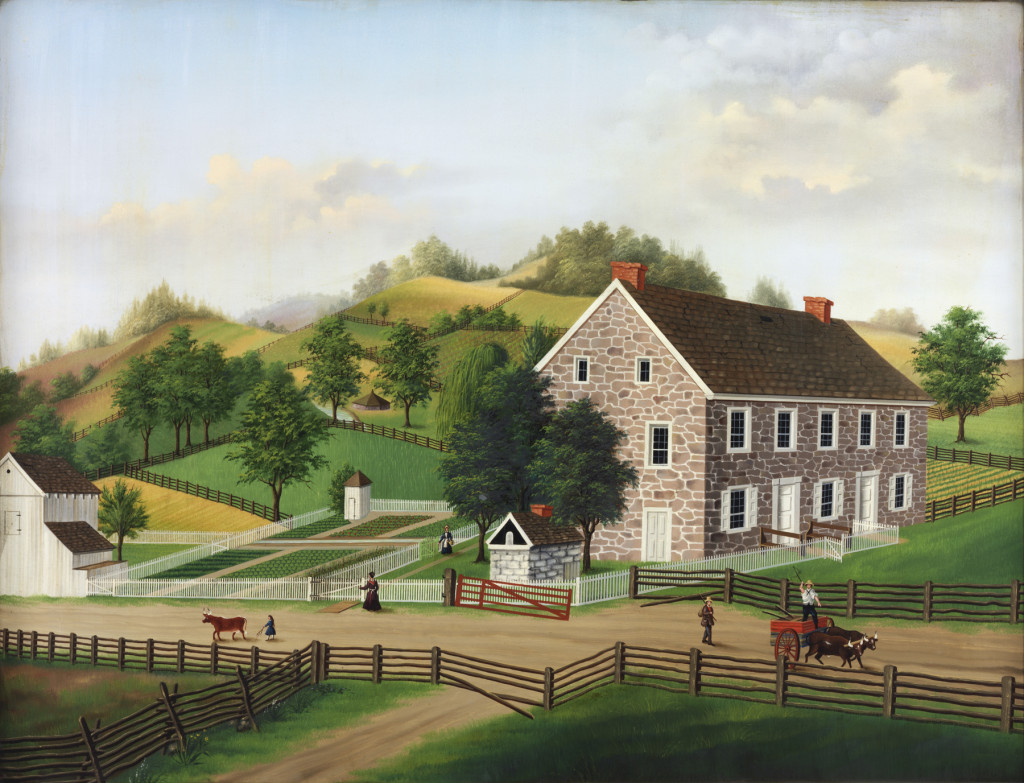 Backstory and Context
Germantown was the first closed settlement of Germans as well as Dutch within the colonial United States. It has played a significant role throughout the history of America and has been the birthplace of many movements throughout history. Within its borders are many National Historic Landmarks such as the Colonial Germantown Historic District. This location is central to my History Trail because it is the beginning of German influence in the United States and the homeland so to speak of many midwestern families with German origins. Whether those ancestors lived or just passed through the greater Germantown region, it is likely to have played a roll. The original migrating families were followed in 1709 by the Palatine Germans but the majority of Palatines settled in Albany, New York.
"The Pennsylvania Germans, many of whom had been persecuted in their native land, were attracted to Pennsylvania by the liberal and tolerant principles of William Penn's government. Their immigration began with the Mennonite Francis Daniel Pastorius, who in 1683 led a group of German Quakers to Philadelphia, where they founded Germantown, the pioneer German settlement. The early German settlers were for the most part Mennonites, Amish, Dunkers (or German Baptists), Schwenckfelders, and Moravians. After 1727 the immigrants were mostly members of the larger Lutheran and Reformed churches." (Britannica)
These German settlements in the region became highly influential and significant and "by the time of the American Revolution they numbered about 100,000, more than a third of Pennsylvania's population." (Britannica) After the Revolution, "the new German immigrants came from northern and eastern Germany whereas the Pennsylvania Germans tended to come from the southern German principalities. Also, many of the new immigrants were Catholic as opposed to Lutheran or Reformed. Although many fled Germany during the 1840s and 1850s, most German immigrants did not come to Pennsylvania because its farmland had become too expensive. Therefore, Germans tended to settle in New York and the lands opening in the Mid-West such as Illinois and Wisconsin. The term "Forty-eighter" refers to a particular class of German Americans who were participants in democratic revolutions in Germany and therefore left for political reasons." (HSP.org) 
The greater region is relevant to the history of the Bottorff family because after originally landing in New York in 1710 they eventually moved to Berks, County, PA ten years later along with 150 other Germans. These Germans were invited by the Governor of PA to move to his state and while Berks, Co is west of Germantown, it is safe to assume that Germantown laid the foundation for future German settlements throughout PA. The 150 Germans, roughly 33 families, settled on nearly 10,000 acres of land throughout counties nearby Berks.
As it is now known, Pennsylvania had and continues to have some of the highest ethnic German citizens, and thus it continues to play a role in the story of the German America. Some of the settlers who turned Pennsylvania into a prospering region would eventually begin to move West at the turn of the 19th century, as my ancestors did. They would have likely moved through the Cumberland Gap and into the Northern South and Southern Midwest, which is where our next part of the tour will continue.
Berks County was the home of one of my most extraordinary ancestors, John Henry Bottorff Sr. who was born in 1754. John Henry fought in the Revolutionary War begining at Bunker Hill and then along side George Washington at Vallet Forge. Once the war came to an end, John Henry and his family became some of the earlier settlers of Jefferson, Co, KY. He was a reverend and late one night in 1806 he was returning home from performing a last minute wedding when he was attacked and killed by what are assumed to have been wild animals. Although his life was cut short, he would be the father of the Bottorff's in the Midwest. Yet the first Hoosier Bottorff would be his son, John Henry Bottorff Jr. who was born in 1777 back in Berks, CO, PA and would eventually settle in Clark Co, IND. John Henry Jr. fought along side William Henry Harrison at the battle of Tippecanoe. The story of my family would not exist if it were not for Berks County, PA and the German settlements of the area.
Sources
https://www.deutschland.de/en/usa/us-immigration-americas-german-roots
Britannica: https://www.britannica.com/topic/Pennsylvania-German
HSP.org: https://hsp.org/sites/default/files/legacy_files/migrated/germanstudentreading.pdf
Photo: https://germantown.pastperfectonline.com/photo/DE634F44-456E-483E-A77B-276818269633
https://www.ushistory.org/germantown/
Image Sources
https://germantown.pastperfectonline.com/photo/DE634F44-456E-483E-A77B-276818269633

http://www.berkshistory.org/exhibit-pennsylvania-german-gallery/