Standrod House
Introduction
Built in 1902, the Standrod House is one of the most beautiful and unique homes in Pocattello. It is also considered one of the most historic homes in the state. It is significant for its architecture and its association with its builder, Drew W. Standrod. Standrod served in a number of prominent positions including district attorney. As for its architecture, the house was designed in the Chateauesque style and bears a castle-like appearance. Notable features include a rusticated grey and red sandstone exterior, two stone towers (the large one has a cone roof, and the smaller tower has a metal cone on top), and a large veranda with decorative woodwork that wraps around a the southern corner. Inside, the home features a floor with geometric designs, leaded glass windows, and glazed tile. A private home today, Standrod House was added to the National Register of Historic Places in 1973.
Images
The Standrod House was built in 1902 by Drew and Emma Standrod, who were prominent figures in Pocatello during the early 20th century.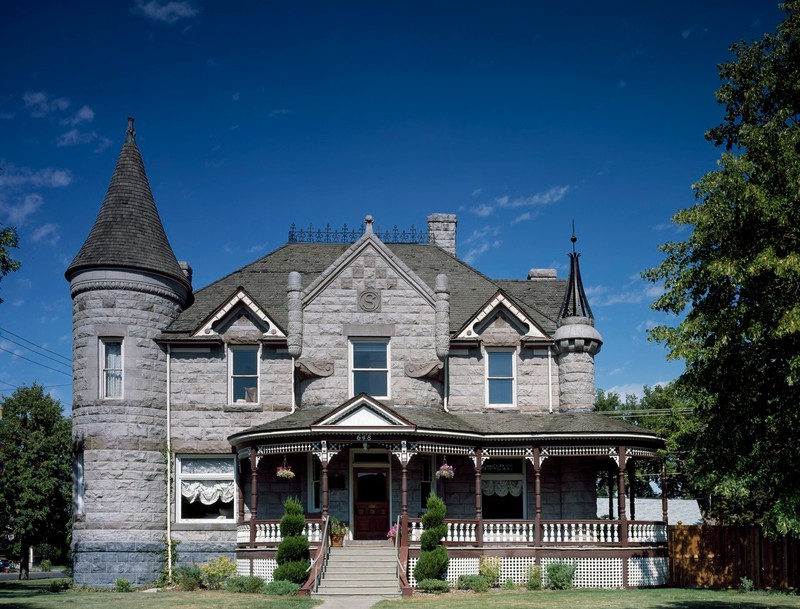 Backstory and Context
Drew W. Standrod was born on August 12, 1858 in Kentucky. In 1873, after his mother passed away from cholera, his father relocated the family to Malad City, Idaho. As a young man, Standrod returned to Kentucky to study law school and graduated in 1880. He then moved back to Malad City where he started a private practice. He was elected district attorney in 1886 and two years latter married his wife, Emma. In 1890, he became a member of the Idaho Constitutional Convention and was elected to Fifth Judicial District State Judge. Five years later, he and Emma moved to Pocatello, which was a more convenient location for him to travel in his role as district state judge. He served in this position until 1899 when he returned to private practice.
In addition to law, Standrod had other interests as well. He was successful financier and held a number of positions in banks, including as president of D.W. Standrod and Company Bank, which was based in Blackfoot. He also supported water and irrigation projects and was appointed to the state's first Public Utilities Commission.
Emma was a prominent figure in the community as well. She served in a number of roles including as principal of schools in Malad City and Bellevue, Idaho; Chapter Regent of the Wyeth Chapter of the Daughters of the American Revolution (she also founded the chapter) from 1915-1917; State Vice Regent from 1922-1924; and for eleven years served as Regional Vice Chairman for an organization called Historical and Literary Reciprocity.
The Standrods had children (a son and daughter) but they died at a young age. Their daughter, Cammie, passed away of illness when she was 16. Their son, Drew Jr., died when he was 45. Drew Sr. died in 1942 and Emma passed away in 1946.
The house passed to Drew's widow, who lived in the house for a few years before moving away permanently. After a series of private owners, the city acquired the house in 1974 and restored it. The house still retains much of the original woodwork and lighting. Until 1995, the house was open for tours and used for private events. It has been a private residence since then.
Sources
"Drew William Standrod - Attorney, Judge and Bank President." Idaho State of Mind [Facebook group]. Post reference: Idaho State Historical Society Reference Series - D. W. Standrod's Mansion, Number 965 July 1972. https://www.facebook.com/groups/1543487682542764/permalink/1917100631848132.
"Pocatello Standrod Mansion For Sale." KPVI News. March 8, 2018. https://www.kpvi.com/news/local_news/pocatello-standrod-mansion-for-sale/article_1cca686a-2339-11e8-84d9-033338cfedcc.html.
"Standrod House." Idaho Heritage. Accessed April 7, 2020. http://idahoheritage.org/assets/popups/se/se_standrod.html.
"The Standrod Mansion." Vist Pocatello. Accessed April 7, 2020. https://www.visitpocatello.com/stanrod-house.
Wells, Merle. "Standrod House." National Park Service - National Register of Historic Places Nomination Form. January 18, 1973. https://npgallery.nps.gov/GetAsset/b2bd795a-6cfd-484b-82b0-70582fbc4740.
Additional Information