Buffalouie's/ The Book Nook
Introduction
Originally an off-campus book store, The Book Nook was the hub for student life in the early 20th century. It featured soda fountains and booths for students to complete their work or socialize with friends. In 2006, the site became the popular resuraunt "Buffalouie's at the Gables" where it's still one of the most popular student hubs on the Bloomington campus.
Images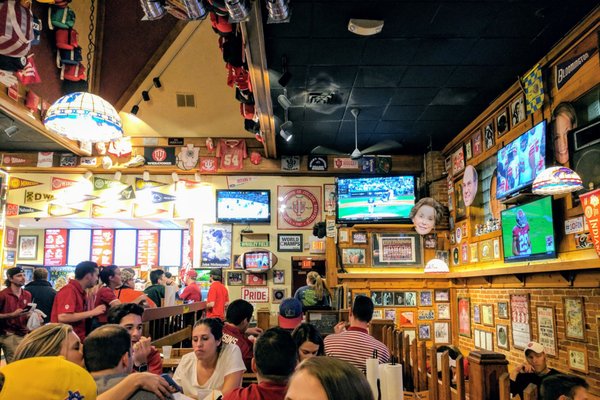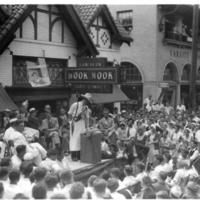 Backstory and Context
In around 1907, the first Book Nook was established on Indiana Avenue, it was a simple school supplies store. In 1914, it was torn down to make room for a new version of the Book Nook. From there, it became intertwined with student life. Between 1927 and 1931, Pete Costas hosted the "Book Nook Commencement" ceremony, a mock graduation program that handed out fake degrees like "Master of Hearts" and "Doctor of Physique". The Book Nook was frequented by artist Hoagy Carmechel and it's said he wrote his famous "Stardust" while sitting at one of the booths.  Furthermore, future President of Indiana University, Herman Wells was also a frequent patron of the Book Nook. He writes in his autobiography Being Lucky, that since there wasn't a union building or something similar, extracurricular activities were held at the present day Buffa Louie's at the Gables. Wells writes "At night with studies completed, 'boress' sessions, the rap sessions of today, formed around the den fireplace at the fraternity house, at the Book Nook, or elsewhere…" (Wells, Being Lucky, 1980). 
While it seems the college students of the early 20th century may have had fundamentally different views of fun than students in the early 21st century, for instance attending a crowded mock graduation ceremony for silly degrees. Since there wasn't any particularly fun thing to do by yourself in the early 20th century, your friends and your public life served as their way to let off steam. However, versions of rap battles still lend themselves to prevalence today. I guess the great feeling of lyrically out maneuvering your rival is a timeless one.
Sources
Bloomington and Indiana University. Chicago: Arcadia Publishing, 2002
"Indiana University Bloomington." Omeka RSS, collections.libraries.indiana.edu/iubarchives/exhibits/show/iu-student-traditions/book-nook-commencement.
Wells, Herman B. Being Lucky. Indiana University Press, 2012
Image Sources
https://www.yelp.com/biz/buffa-louies-bloomington-2?start=140

https://blogs.libraries.indiana.edu/iubarchives/2014/05/07/booknook/