Poneto Interurban Waiting Station
Introduction
Waiting stations like this one in Poneto dotted small towns across the state of Indiana during the interurban period. The sturdy wooden single story bungalow structure withstood almost a century of exposure, from around 1905 to 2013, after being finally struck down by a windstorm. Small towns like Poneto utilized interurban lines to get to county seats to buy and sell land, a null marriages, and file birth certificates.
Images
Interurban Waiting Station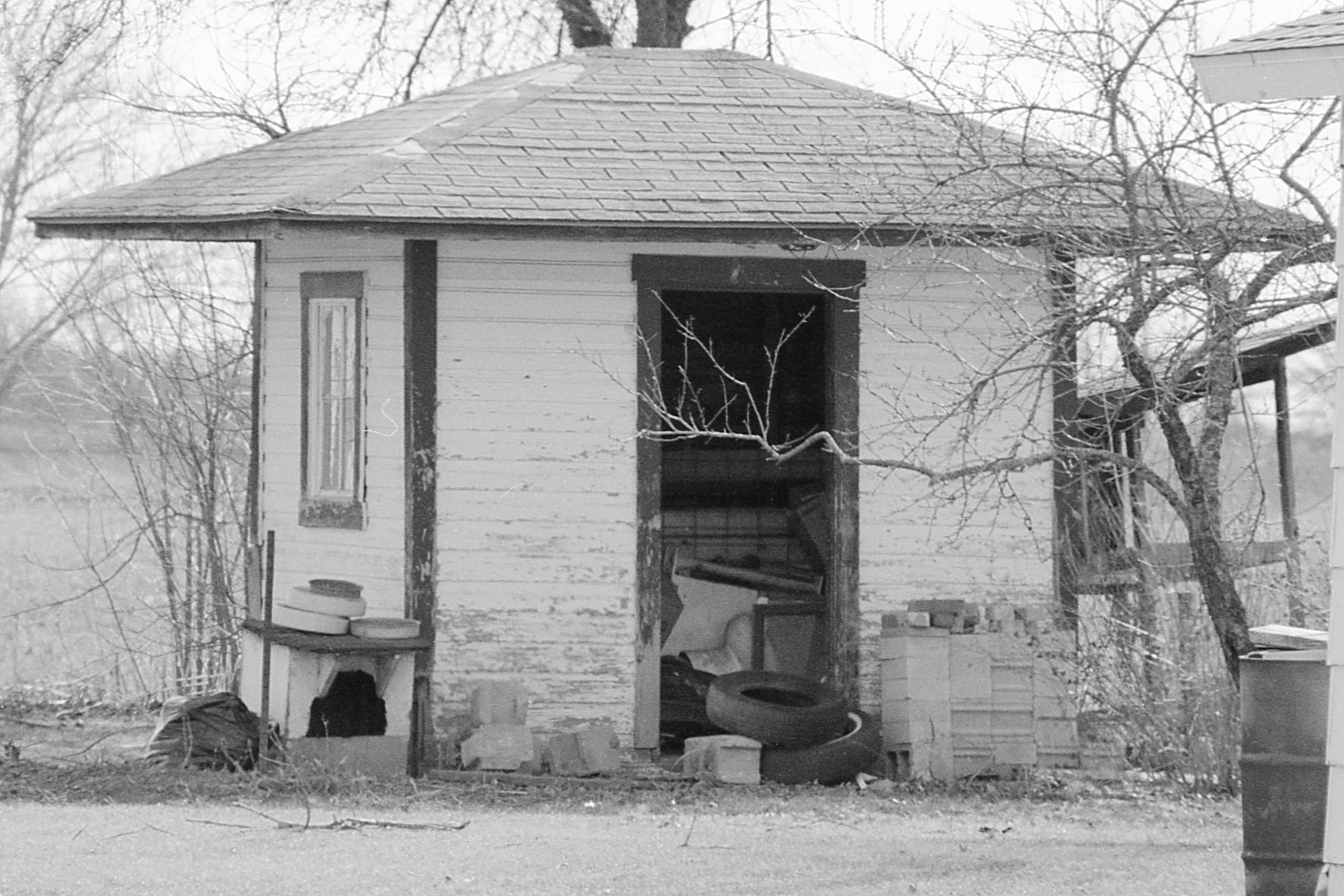 Backstory and Context
Founded a decade after the civil war, Poneto was built just off of several railroad tracks as an incorporated town of a coaillition of independent farmers and businessmen. At less than a square mile large, the town's economic prospects outside of farming were slim until the interurban line. This waiting station, nestled at the junction between main street and the state road 218, over what was once railroad tracks, helped connect the town to its county seat at Bluffton and other small cities throughout the surrounding counties. It is unknown just how many of these waiting stations were built throughout Indiana, but very few remain. This wooden waiting station was destroyed sometime between 2009 and 2018, before the request for historical site status could be vetted and processed. The unfortunate loss of sites like this one showcases just how temporary history can be. But the effects the interurban line had on a small town like Poneto are still visible today. Poneto, although not the smallest town in Wells county, has always had a population below 350 and in fact did not appear on census records until 1900.
The interurban waiting station here contrasts heavily with that in Frankfort, which had a far greater population and more tracks for railway lines. After a small series of tornadoes in the 1950's the former interurban line was used to transport and relocate nearly 45 people from the surrounding area into Wells county and Poneto itself. The town has not seen much economic benefit from its place on the interurban line. Those who were picked up at this waiting station often moved to other parts of the state for economic opportunities not available in a small farming community.
Eric Fischer, an economist in 1914, defined the different classifications of passengers on interurban lines. Primary population passengers are those from the main economic hub which the line services and maintains its own private entry and turnaround just outside of city limits. Secondary passenger types were populations from the territory serviced outside of cities and towns. The tertiary passenger group consists of towns like Poneto, small farming communities who do not consistently contribute to the revenue of the line but lay between and beyond categories one and two, and must service the line due to little alternative. (Fischer 12).
Despite its location on state road 218, Poneto did not see any population increase from the transition from train travel to highway travel. The town's population has been in decline almost every year in its history. Economic and social opportunities found in larger urban areas often draw individuals away from the small communities like Poneto and convience of travel doesn't seem to change that movement of people.
Sources
"Interurban Waiting Station." Welcome to SHAARD. IHSSI County Survey, 2009. https://secure.in.gov/apps/dnr/shaard/structural_surveys.html?_flowExecutionKey=_c87A8130C-5998-812D-6198-0CC5B1EDDFFE_k974F6ED3-3E81-E0E2-F981-1B0Cn.d.28E48. 
Marlette, Jerry. 2001. "Trials and Tribulations: The Interurban in Indiana." Traces of Indiana &
Midwestern History 13 (3): 12–23. https://search-ebscohost-com.proxyiub.uits.iu.edu/login.aspx?direct=true&db=ahl&AN=46968242&site=ehost-live&scope=site.
Fischer, L. Engelmann. (1914). Economics of interurban railways. New York [etc.]: McGraw-
Hill Book Company, inc.