Regions Field
Introduction
After the Bulls became champions for the 3rd year in a row in 1993, Jordan's father was murdered. Upon this, Michael decided to retire from basketball and switch over to baseball. He made his debut on April 8, 1994 with the Birmingham Barons in his one and only season of professional baseball. Jordan last time playing baseball before this was in high school. When he made his official professional baseball debut. He wore No. 45, his old Laney (North Carolina) High number. The then 31-year-old from basketball drew a crowd of 10,359, as well as 130 members of the media. They watched him fly out in his first at-bat against Chattanooga starter John Courtright. For the night, and for the record, he went 0-for-3 in a 10-3 loss to the Lookouts. The crowd went home disappointed. In a late April game, Birmingham had an early 11-0 lead over Chattanooga. Three weeks into his pro baseball career, Jordan was starting to get the hang of things and ripped a double in the eighth. With the pitcher not paying much attention, he took off and stole third.
Images
Michael Jordan with the Birmingham Barons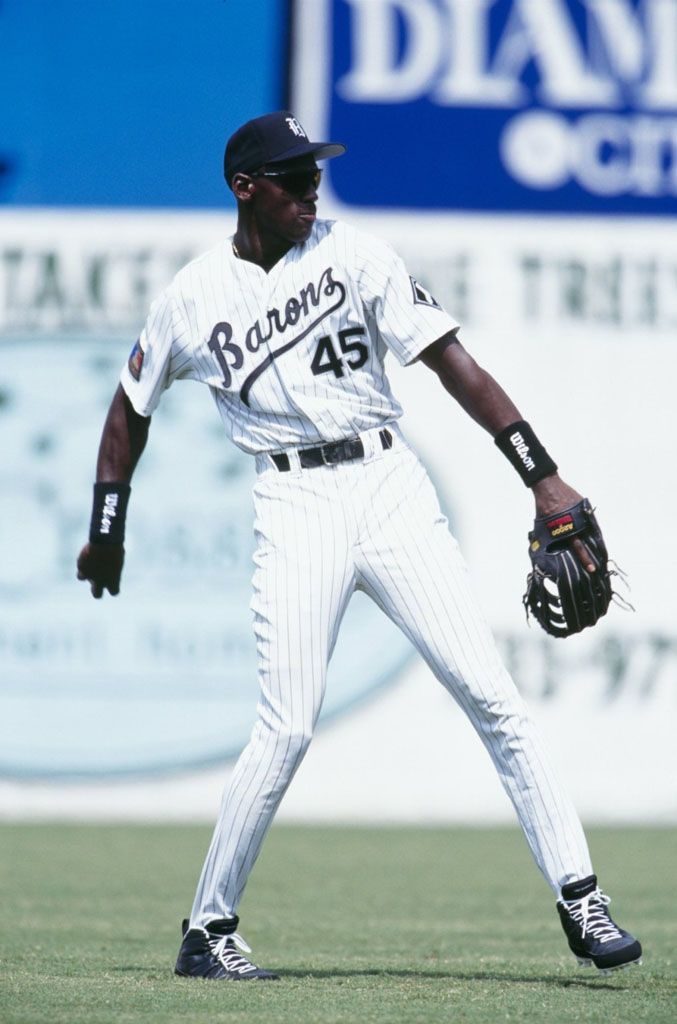 Michael as he is throwing the ball.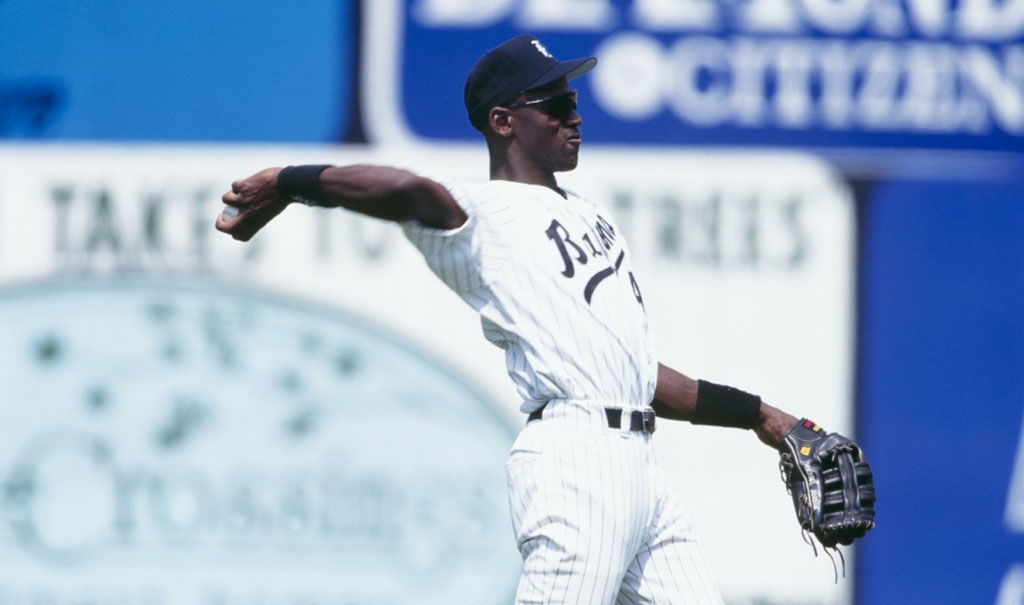 Jordan as he hustles to grab the ball during.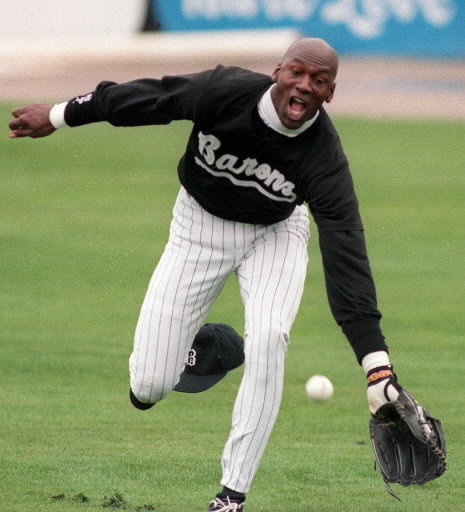 Here is Michael as he is listening to music before a game.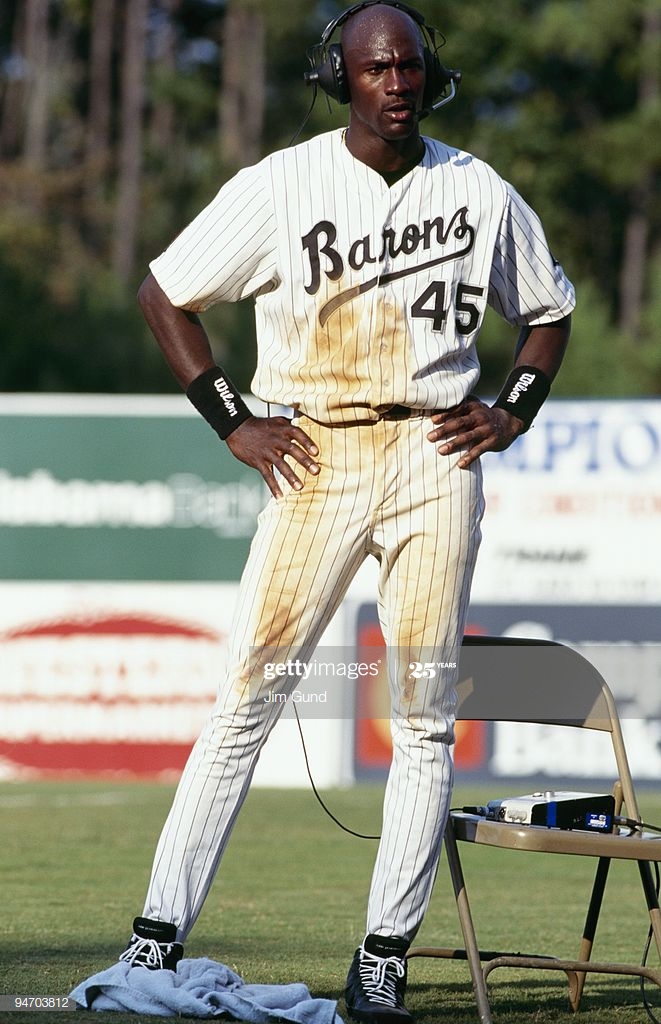 Backstory and Context
It was always James R. Jordan Sr. dream to see his son Michael play baseball. It was a game that they both shared. Michael hadn't played since high school and wanted to show that he can play baseball. Jordan went 0-for-3 with two strikeouts and a flyout in his debut for the Birminham Barons who were a minor baseball team. They became known as the Borans in 1985. When Michael hit his 1st home run, Jordan kissed his fingers and pointed to the sky paying tribute to his deceased father when he crossed home plate. Jordan's batting averaged increased then decreased in a couple of months. In his only season with the Barons, Jordan finished with three home runs, 17 doubles and had a .289 on-base percentage in the 127 games he played. He showcased his speed with 30 steals, he may have only hit three homers in his career, Jordan was belting 10-12 long balls a night in batting practice.
In 1994, the MLB went on strike and the Borans was the biggest team in baseball. Jordan drew national attention all season long, the attention reached another level when Major League players went on strike. Celebrities like Charles Barkley would show up and fans wanted to see Jordan in uniform playing baseball.
Jordan finished that summer with a .202 average, 21 extra-base hits, 51 RBIs and 11 errors in 127 games. He went on to play in the Arizona Fall League, where he became close with Derek Jeter and hit .252 in 120 at-bats. The following spring, Jordan announced he was returning to basketball with a famously brief two-word press release "I'm back." Then he filmed "Space Jam," with one last nod to his baseball career. Jordan went on to win three more NBA championships and two more MVPs when he returned to the NBA.
Sources
Heneghan, Kelsie. A look at Michael Jordan's MiLB career, milb.com. April 8th 2019. Accessed April 11th 2020. https://www.milb.com/news/a-look-back-at-michael-jordan-s-chicago-white-sox-career-305988732.
Solomon, Jon. 20 years ago, Michael Jordan came to Birmingham. 10 memories from the Summer of Jordan, April 8th 2014. Accessed April 6th 2020. https://www.al.com/sports/2014/04/20_years_ago_michael_jordan_ca.html.
Wulf, Steve. The true story behind Michael Jordan's brief-but-promising baseball career, www.espn.com. March 31st 2020. Accessed April 11th 2020. https://www.espn.com/mlb/story/_/id/26449232/the-true-story-michael-jordan-brief-promising-baseball-career.
Additional Information