Northern Indiana Power Company Interurban Station
Introduction
Located in Frankfort, Indiana between Indianapolis and Lafayette, this single story brick structure was once a hub for public transit across the state. After defeating the Central Union Telephone Company of Chicago in federal court for the right-of-way electric lines over streets in Lafayette into Chicago and Frankfort into Lafayette, the Northern Indiana Power company constructed several stations in cities throughout the region. At the height of its usage in the 1910's this station serviced thousands of commuters heading north into Chicago by way of Lafayette and southeast to Indianapolis. In the 60's, this station on main street was converted into a commercial building and many businesses have kept the building in use.
Images
Northern Indiana Power Company Interurban Station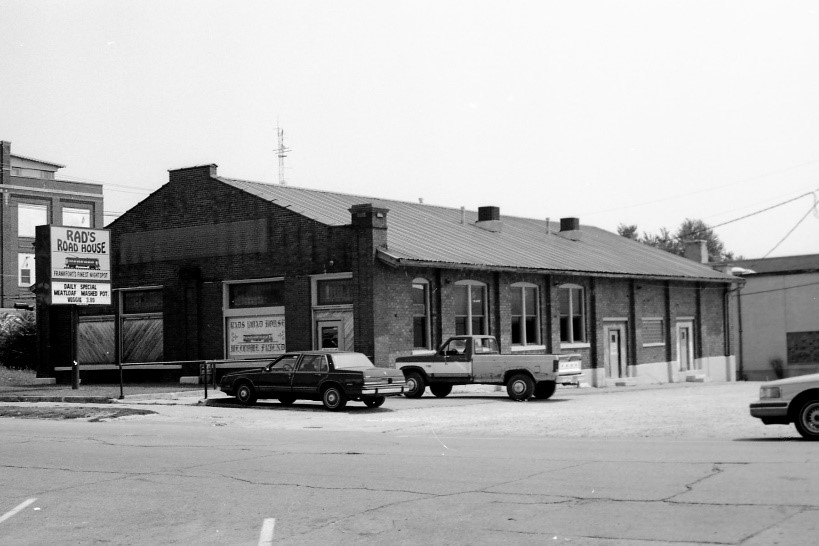 Backstory and Context
The interurban railroad systems which stretched across the state for much of the early 20th century, began in approximately 1902 as electricity from hydro electric plants began to sell off the excess power to other businesses. Trolleys connected to a line strung above and metal (sometimes steel) rails below to keep a current and propel itself forward. Turnarounds were needed just like those which served larger long distance trains. By the 1910's almost every city in the state had inner city and interurban (between cities) lines. Smaller suburbs or towns on the outskirts of developed areas now had hourly public transportation which was relatively safe. A farmer could make a trip to buy new equipment take a half day instead of several days. County seats had more business and many of the power stations expanded and became collectively owned by the biggest line companies. Traction companies owned their own power and often bought up other lines. Telephone and telegraph companies took many railway interurbans to court alleging that the electric currents would disrupt service for customers; many of the communities which benefited from interurban lines did not have telephone services and telegraph access was rare as well. Small towns experienced both economic booms when close to larger primary service areas and population decline as many young people migrated to other communities for work. Tickets were cheap and often were ten or twenty cents with an added five cents per mile after 100.
As time went on, the power plants survived the economic stress of the Great Depression but many interurban stations fell into disrepair and abandonment. The companies faced monopoly lawsuits and forced sell offs under public utility laws. The depression more than halved the amount of customers able to pay the 10 cent ticket price. Main non-electric railroad lines hosted transient workers trying to find jobs. Companies could make much more consistent profits from selling the electricity alone and allowing the cities to take up the role of public transportation. By 1938, the interurban trolleys had run the Indianapolis – Lafayette line for the last time as many lines were converted to bus lines when the national highway network expanded. Other lines were sold off in compliance to the 1935 Public Utility Act and the Securities Exchange Act of 1934 which prevented utility companies from monopolizing power, transportation, etc. Many tracks for interurban lines ran alongside the existing roads and were dug up and sold when the highways expanded.
Frankfort, founded in 1829, quickly grew into a small city due to its location as a junction for new railroad lines that soon began cutting through the state. The many passenger lines which passed through town included the Monon, the New York line, the Chicago and St. Louis railroad, and the Pennsylvania railroad. Six interurban lines also ran through the city during its height in the early twentith century. From 1910 to 1920, Frankfort experienced its largest population boom in its history, a gain of almost 3000 people, which is attributed to the flow of people brought by train through the city. This decade was also the highest popularity of interurban transport across the state, reaching its peak passenger use in 1916. Eric Fischer, an economist employed by the state, defined interurban lines, opposed to suburban and superurban lines, as:
" an electrically operated railway connecting two or more independent distant communities and organized and operated to carry passengers, baggage, US mail, express and freight in broken shipments" (Fischer 7-8).
Frankfort served as the primary population hub through which this line operated and the station here on main street would have been the center of interurban activity in the city.
Today Frankfort has four state routes running through town is nearby a I-65 bypass. Unfortunately, after the shift from trains to cars in the 1950's, Frankfort's population has been in general decline. Many small cities throughout Indiana are experiencing issues as businesses lose customers to bypassed highway traffic and the town population loses economic and social opportunities as well as some if its political power as their numbers decline.
Sources
Grant, H. Roger. "Indiana Railroad Depots: A Threatened Heritage." (1990): 316-318.
Marlette, Jerry. Electric railroads of Indiana. Hoosier Heritage Press, 1980.
"Northern Indiana Power Company Interurban Station." Welcome to SHAARD. National Registry of Historic Places, 1998. https://secure.in.gov/apps/dnr/shaard/structural_surveys.html?_flowExecutionKey=_c8463FE37-8AD1-D6D3-9627-A6C13AA81D82_k58E07A6F-8666-9E83-032D-7B879E9BBEA4.
Sulzer, Elmer Griffith. Ghost Railroads of Indiana. Indiana University Press, 1998.
Fischer, L. Engelmann. (1914). Economics of interurban railways. New York [etc.]: McGraw-
Hill Book Company, inc.
Image Sources
"Northern Indiana Power Company Interurban Station." Welcome to SHAARD. National Registry of Historic Places, 1998. https://secure.in.gov/apps/dnr/shaard/structural_surveys.html?_flowExecutionKey=_c8463FE37-8AD1-D6D3-9627-A6C13AA81D82_k58E07A6F-8666-9E83-032D-7B879E9BBEA4.

Additional Information