Dean E. Smith Center
Introduction
During the summer before Michael Jordan's senior year in high school, he attended the nationally renowned Five-Star Basketball Camp, where he met UNC's head basketball coach Dean Smith. Smith began recruiting Michael to play for the Tar Heels, and in November of 1980 MJ signed a letter of intent to attend UNC. Upon High School graduation, Jordan was heavily recruited by numerous school including: Duke, North Carolina, South Carolina. Syracuse, and Virginia. Michael chose UNC and was coached under the late great Dean Smith. He majored in cultural geography and started a great career at UNC. In 1981 Michael Jordan accepted a full basketball scholarship to play for the University of North Carolina, in the state where he was raised. Michael was only the fourth freshman to earn a starting spot under Coach Smith. For most of his freshman year, the spotlight was on future NBA players James Worthy and Sam Perkins.
Images
Jordan showed his tongue hanging out which ois what he did when entering the NBA.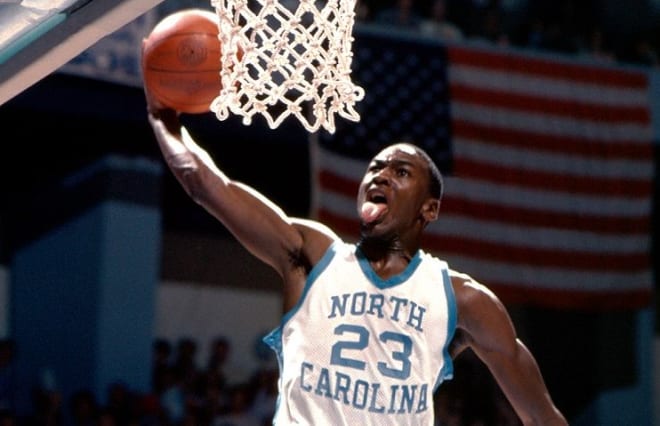 He is the picture that showed Jordan's clutchness. This shot was the game winning in 1982 against Georgetown.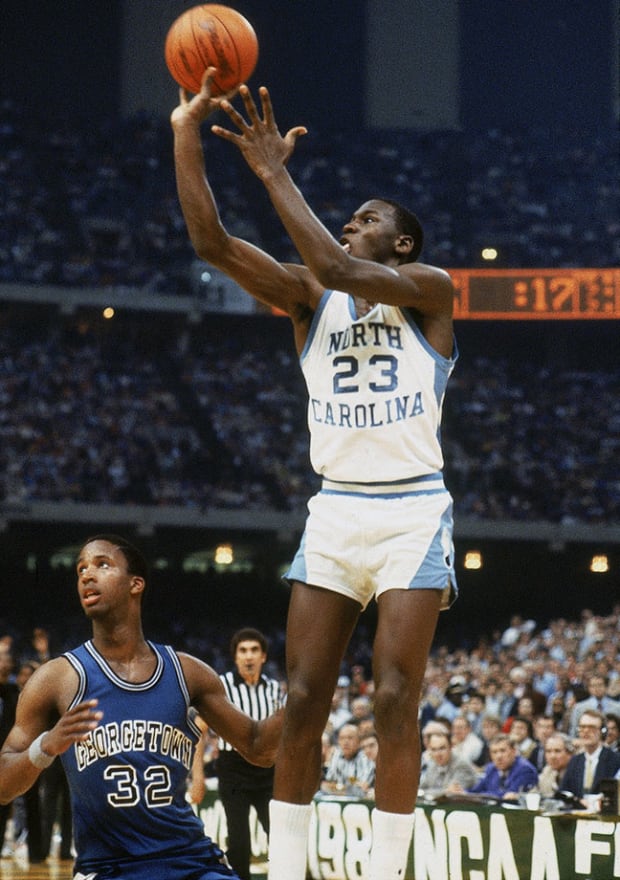 While at UNC, Jordan played with future NBA player Sam Perkins.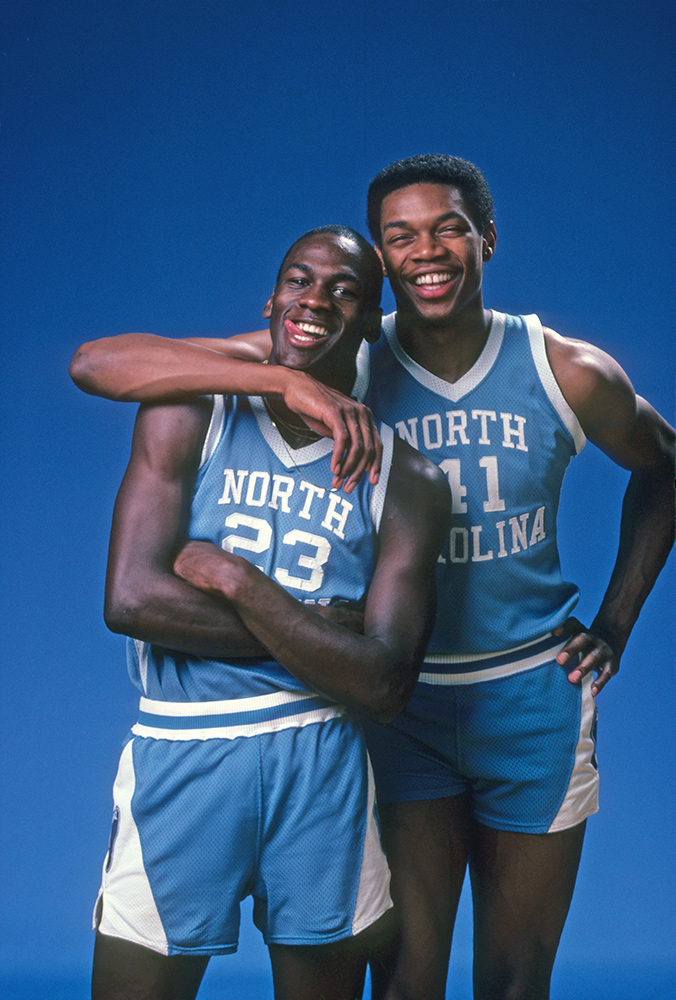 Jordan and his UNC family. Teammate James Worthy and head coach Dean Smith.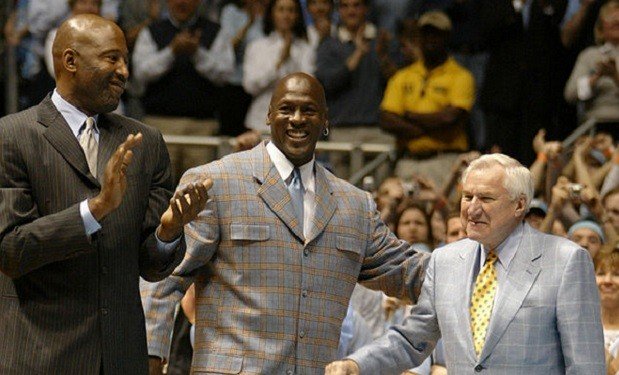 Backstory and Context
As a freshman, Jordan hit the game winning shot in the 1982 NCAA championship game against Georgetown. He was a consensus National Player of the year during his junior year. Michael was named ACC Freshman of the Year after he average over 13 points per game on 53.4% shooting. During his three years as a Tar Heel, he averaged almost 18 points per game on 54% shooting to go along with five assist a game.
Jordan was selected to the NCAA All-American First Team during his sophomore and junior seasons. He won the Naismith and the Wooden College Player of the Year awards in 1984. Michael led the Tar Heels to a 88-13 record, and they went 38-4 in ACC. The Tar Heels went 14-0 ACC in 1984 and then Jordan declared for the NBA draft. Mike was selected to play in the 1984 Summer Olympics, where he was a part of the US Olympic Basketball Team under Coach Bobby Knight. Michael Jordan led the US team to victory with a record of 8-0 to snatch up the Olympic Gold.
After eight games, Michael Jordan's stats were as follows: 60- 110 field goals for a .545 field goal percentage, 17-25 for free throws, and average of 17.1 points per game, 3.0 rebounds per game, a total of 16 assists, 12 steals, and 7 blocks as a main contribution to the U.S.'s Gold Medal victory.
Michael's accomplished during his career at UNC include:
Member of the NCAA Championship team in 1982.
A unanimous selection as a First Team All-American in both 1983 and 1984
Picked as the NCAA College Player of the Year in both 1983 and 1984
Winner of the John Wooden Award in 1984
Winner of the Dr. James Naismith Award in 1984
Most points scored by a sophomore at UNC at the time (721) over 36 total games (1982-1983)
Set his personal career high for points in college during his sophomore year with 39 points against Georgia Tech on January 29th, 1983
Set his personal career high for points against Duke on January 22nd, 1983 with 32.
Sources
Jones, Andrew. North Carolina: Michael Jordan, TarHeelIllustrated. June 2nd 2019. Accessed April 6th 2020. https://northcarolina.rivals.com/news/north-carolina-michael-jordan.
Michael Jordan College Career, Sneakerfiles. Accessed April 11th 2020. https://www.sneakerfiles.com/michael-jordan-college-career/.
These are Michael Jordan's college stats, averages and awards from The University of North Carolina, Interbasket. Accessed April 11th 2020. https://www.interbasket.net/news/michael-jordans-college-stats-and-achievements/19685/.
Additional Information