House of Eugene v. Debs
Introduction
This location was the home of the labor leader and presidential candidate, Eugene V. Debs. He is integral in the history of labor struggles throughout the state of Indiana and the country. Things that we take for granted like the eight-hour workday and the weekend were championed by him and many others in the state of Indiana and across the country.
Images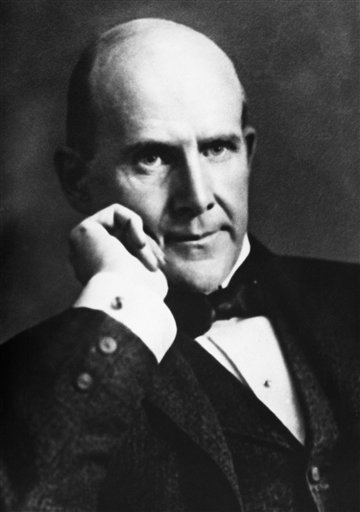 Backstory and Context
Eugene V. Debs's home was the place he had spent most of his time in his final days. Suffering a nervous breakdown after leaving prison in 1921, he left the spotlight for much of the rest of his life, only coming out to support strikes once or twice. Debs grew up in Terre Haute, IN, and lived there much of his life when he was not in prison. Debs, at age 16, went out and worked as a fireman on the railroads between Terre Haute and Indianapolis. There, he first started to become interested in the struggle of working people. In 1880, he worked in multiple positions for the Brotherhood of Locomotive Firemen until 1893. He then moved onto working for the American Railway Union where he was one of the leaders during the Pullman Strike in Chicago, for which he was arrested and put in jail. During this time in jail, he read more leftist theory like the works of economist and philosopher, Karl Marx and became a Socialist. As historian James Madison said in his book Hoosiers: A New History of Indiana, he stated that "By the end of the [19th] century, Indiana was one of the strongest labor union states, and organized workers, particularly in the skilled trades, had begun to see improvements in their conditions of labor." This helps us to understand the context of the struggles of labor that Debs was living through and fighting for. He spent the next two decades as a labor organizer and activist while also running for president five times, the last of which from prison. In 1918 he gave a speech that spoke out against WWI, which in turn got him arrested and sent to prison. He stayed there and ran for president, while also continuing his activism until 1921 when newly elected President Warren G. Harding pardoned him. In October of 1926, he became ill and died on the 20th of the month due to heart failure. Many of the stops along this tour follow his life in more detail and examine the legacy of his activism.
Sources
"SKETCH OF DEBS' LIFE: DEATH CLOSES LONG CAREER OF EUGENE V. DEBS LED 1894 RAIL STRIKE; IN PRISON DURING WAR." 1926.Chicago Daily Tribune (1923-1963), Oct 21, 1. https://proxyiub.uits.iu.edu/login?qurl=https%3A%2F%2Fsearch.proquest.com%2Fdocview%2F180692871%3Faccountid%3D11620.
"EUGENE V. DEBS SINKING.: SOCIALIST LEADER STILL IN COMA AND GROWING WEAKER." 1926.New York Times (1923-Current File), Oct 20, 25. https://proxyiub.uits.iu.edu/login?qurl=https%3A%2F%2Fsearch.proquest.com%2Fdocview%2F103795015%3Facco
Madison, James H. Hoosiers: A New History of Indiana. Bloomington, IN & Indianapolis, IN: Indiana University Press & Indiana Historical Society Press, 2016.
Image Sources
Anonymous. "Eugene V. Debs." Edited by R4 RO. XCJ, September 6, 2012. https://search-ebscohost-com.proxyiub.uits.iu.edu/login.aspx?direct=true&db=apg&AN=972c5701f1144f71866b89ce3393ff1d&site=ehost-live&scope=site.