Wabash River (Gibson Plant)
Introduction
Coal mining began on the Wabash River, and the Gibson plant is one of the largest in the state. So, it felt fitting to have that as the location for our tour to go. The Gibson plant has been operating since 1972, but coal in Indiana was booming before that. The coal industry has been a main staple of Indiana for centuries, and its importance is shown by the shear amount of coal plants in the state.
Images
Map of Coal Plants in Indiana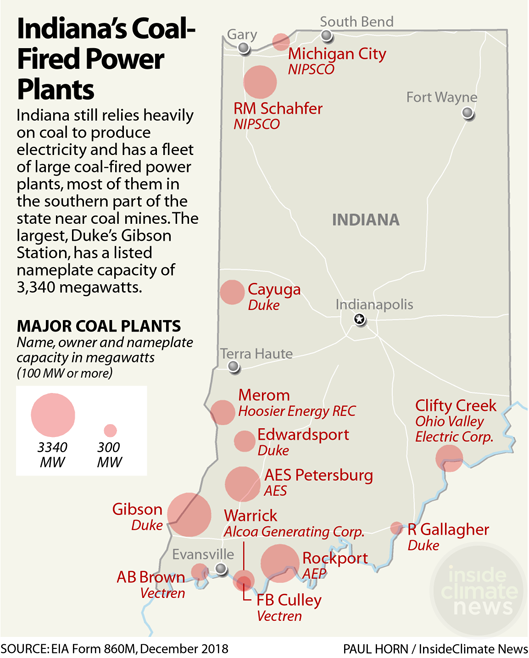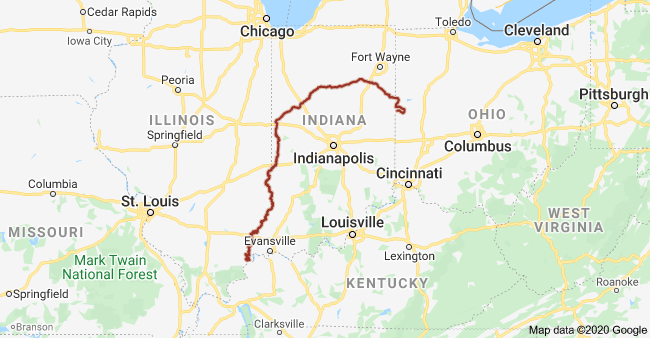 Backstory and Context
Coal in Indiana was first discovered in Southern Indiana near the Wabash river in 1736. However, an organized effort to develop Indiana's coal resources did not start until the 1830s. With the influx of Europeans coming to mine Indiana had the work force for it to operate these coal mines. The Wabash did not just serve as the stomping ground for mining coal, but it was also perfect for transporting the resource in and out of the mines. Having the rivers to transport the coal allowed Indiana to sell the valuable resource to more people and bring in more funding for the state. It was also because of this coal operation that Indiana was able to continue to power the state, due to the gas wells drying up from overuse. This brought up the demand for coal, and where there is demand there is work. More and more coal mines started to open up and bring work to Hoosiers. It was around the 1920s that Indiana had around fifty to sixty mines operating at once, many of them being deep underground mining operations. Eventually in the 1970s, deep underground mining operations were given up due to the high fatality rates, shifting the work force towards a surface level, or strip mining, practices. This shift caused the industry to downsize and for work to shift in Indiana once again towards the hot new craze, natural gas.
Sources
"Coal in the U.S. and Indiana." IGS. Indiana University Bloomington. Accessed April 5, 2020. https://igws.indiana.edu/Coal/.
Giorgio, Mary. "The Down & Dirty History of Indiana Coal Mining." OrangeBean Indiana. Orangebean, December 11, 2019. https://orangebeanindiana.com/2019/12/11/indiana-coal-mining/.
Image Sources
https://insideclimatenews.org/news/26042019/coal-power-plant-shut-down-cost-saving-renewable-energy-indiana-nipsco-vectren-pruitt

https://www.google.com/maps/place/Wabash+River/data=!4m2!3m1!1s0x886c8117dfa803d1:0x7c903bced8a24c1f?sa=X&ved=2ahUKEwiPtqvY-dHoAhVBaM0KHa6hC9YQ8gEwEnoECA0QAQ

Additional Information