Columbian Enameling & Stamping Plant Strike of 1935
Introduction
This site is the location of the Columbian Enameling & Stamping Plant. The plant produced products used in cooking that was made from enamel. The site of a major labor struggle during the Great Depression in the 1930s it helps us to look at how people viewed unions in Indiana at the time and how while workers might've viewed them favorably, the government in Indiana did not.
Images
Inside the Columbian Enamel Company in 1939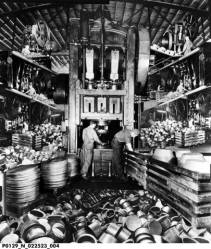 Outside the plant in the present day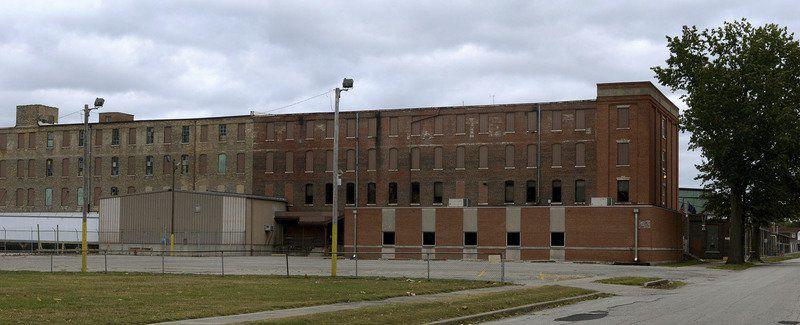 Backstory and Context
On this site in March of 1935, 600 workers of the Columbian Enamel and Stamping Company went out on strike to demand that the company become a closed shop and asked for better wages. During that time on strike, the workers ended up attacking the plant after they had hired armed guards, leading to $15,000 worth of damage, which is around $300,000 in today's money. Then, on July 17th the company sent in 50 non-strikers to the plant. The strikers thought they were strike-breakers/scabs, which led them to call for a general strike throughout Terre Haute. This call to action came to fruition on July 22nd, when many of the workers in Terre Haute went on strike in solidarity with the Stamping Company workers. Almost all workers represented by a union went out, except those who were in the press and worked to keep the power and water running. The local union boasted that they had shut down about 90% of the city due to this strike. This news was so important that it reached newspapers like the New York Times and the Washington Post. The local government was not able to keep order, so the Indiana Governor Paul V. McNutt sent in 2,000 members of the National Guard and declared martial law for Terre Haute and the surrounding county. All forms of assembly were prohibited, which led to the use of tear gas on the crowds at the plant and the arrest of 55. By July 23rd the strike had ended and a truce was made between the company and the employees. We can look at this event in the broader context of labor and work struggles in Indiana and the U.S. throughout the Great Depression, where workers were being paid less and laid off more often. Many people at this time according to the historian Madison thought that some type of revolution might come because of the hardships that the working class had to go through throughout that decade (Hoosiers: A New History of Indiana). The General Strike of 1935 was a point in Indiana history where the labor movement was still strong. In the next coming decades, the power that they had would be greatly diminished, especially during the 1980s during the Reagan administration, which actively suppressed union activity according to sociologists David Jacobs and Linsey Myers (Union Strength, Neoliberalism, and Inequality).
Sources
By the United Press. 1935. "General Strike Ends Quietly in Terre Haute After 2 Days." The Washington Post (1923-1954), Jul 24, 1. https://proxyiub.uits.iu.edu/login?qurl=https%3A%2F%2Fsearch.proquest.com%2Fdocview%2F150708136%3Faccountid%3D11620.
Jacobs, David, and Lindsey Myers. "Union Strength, Neoliberalism, and Inequality: Contingent Political Analyses of U.S. Income Differences since 1950." American Sociological Review 79, no. 4 (August 2014): 752–74. doi:10.1177/0003122414536392.
Madison, James H. Hoosiers: A New History of Indiana. Bloomington, IN & Indianapolis, IN: Indiana University Press & Indiana Historical Society Press, 2016.
Special to The New York Times. 1935. "Terre Haute Put Under Troop Rule In General Strike: 2,000 Guardsmen Move Into City As Governor McNutt Orders Martial Law. Tie-Up Held '90 Per Cent' Union Men Quit In Sympathy With Enamel Plant Strikers -- Food Shortage Feared." New York Times (1923-Current File), Jul 23, 1. https://proxyiub.uits.iu.edu/login?qurl=https%3A%2F%2Fsearch.proquest.com%2Fdocview%2F101407362%3Faccountid%3D11620.
Image Sources
"Composite Photograph Made for Columbia Enameling Company." Martin Photo Shop. Accessed April 4, 2020. http://images.indianahistory.org/cdm/singleitem/collection/P0129/id/1629/rec/4.

Joseph C. Garza, Columbian to Close, digital, Columbian Home Products, Tribune-Star file photo, April 6, 2020. https://www.tribstar.com/news/columbian-home-products-to-shut-doors/article_453665c2-2e5b-11ea-b440-6fe68bb74db3.html.