Standard Ultramarine & Color Company (1912-1964)
Introduction
Located on the north side of Fifth Avenue and Twenty-Fourth Street, Standard Ultramarine & Color Company was once one of Huntington's largest industrial plants. The company was founded by Omar T. Frick in 1909 and was originally based in Tiffin, Ohio. In response to a damaging flood and Ohio's high natural gas prices, Frick and his business partner, French engineer Henri Dourif, moved their company to Huntington in 1912. There, Standard Ultramarine rapidly grew from a modest half-acre facility into a sprawling twenty-acre plant that employed over five hundred people and produced a wide range of pigments. After Frick passed away in 1949, Dourif served as president of Standard Ultramarine until his retirement in 1964. Over the following years, the Standard Ultramarine plant changed hands several times, until Flint Group Pigments announced that the facility would be shut down in 2017. The property was purchased by the Huntington Municipal Development Authority in 2018 and sold to Marshall University in 2019. The former Standard Ultramarine plant is now the site of the future Thundering Herd baseball stadium, which is scheduled for completion in 2021.
Images
The sprawling Standard Ultramarine & Color Co. plant in Huntington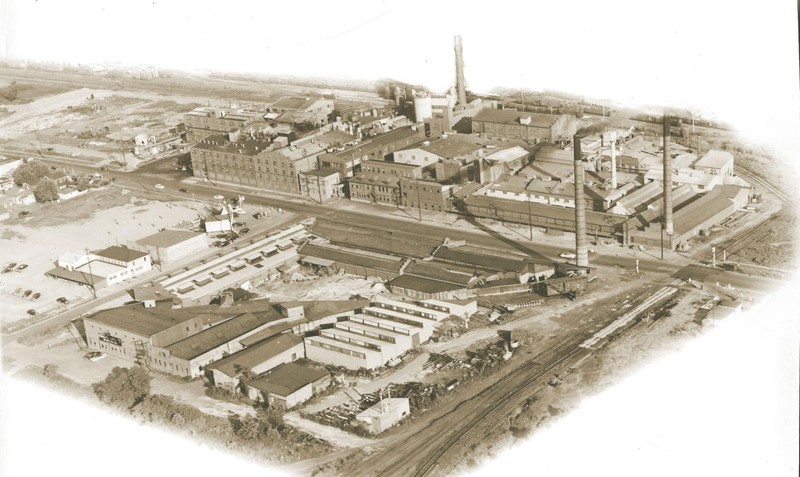 Standard Ultramarine & Color Co., circa 1913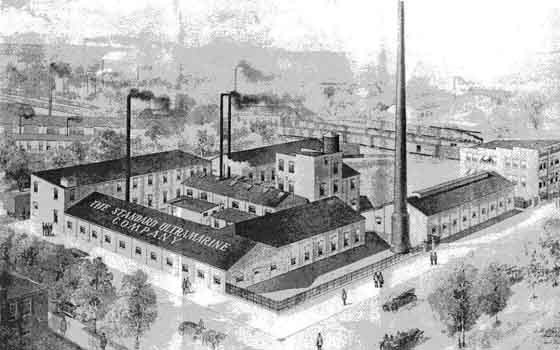 Omar T. Frick, founder of Standard Ultramarine & Color Co.

Henri Dourif, co-founder of Standard Ultramarine & Color Co.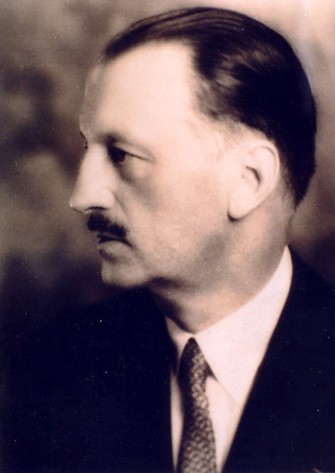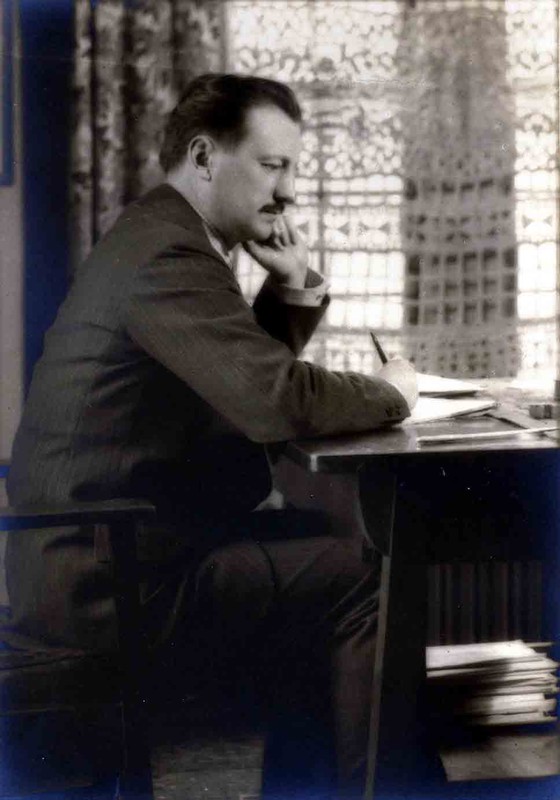 Original Product of Standard Ultramarine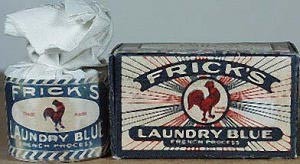 Flood of Jan. 1937, from Rotary Park, with C&O shops in foreground and ultramarine plant with high stack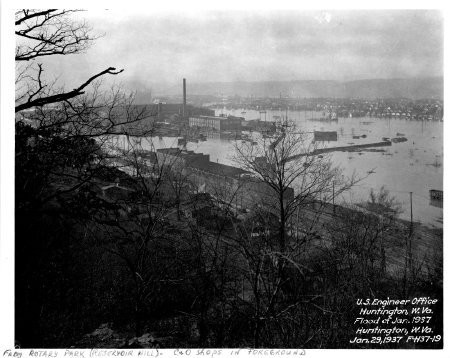 Aerial photo of the plant in 1998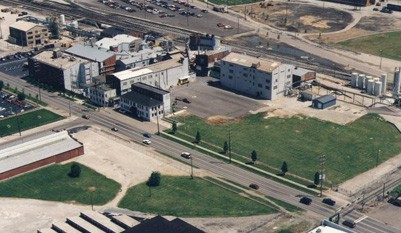 The Flint Group Pigments plant, circa 2017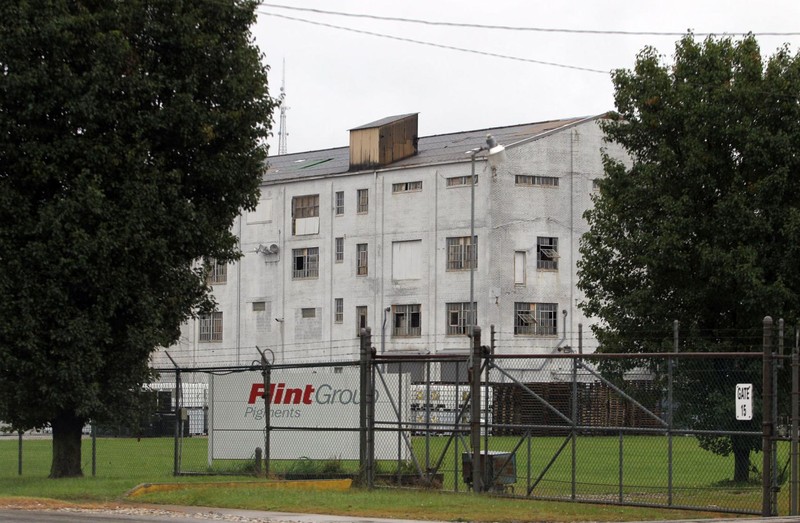 A sign at the former plant advertises the site of the future Marshall baseball stadium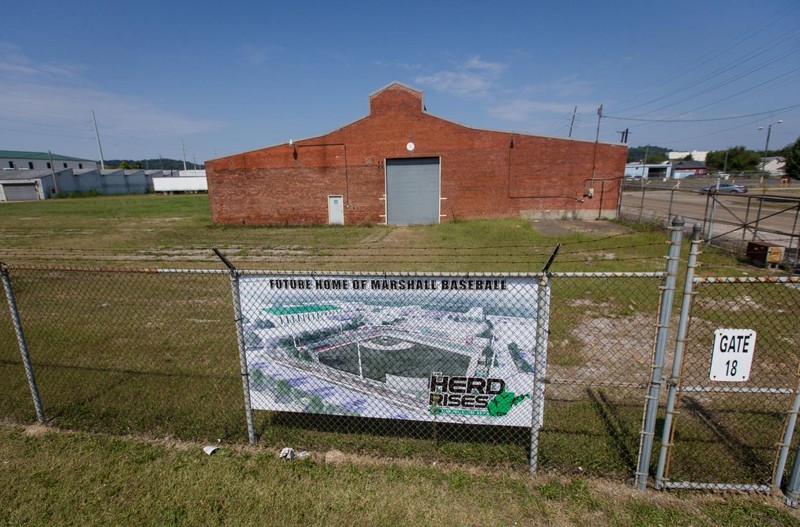 2019 rendering of the Marshall University baseball stadium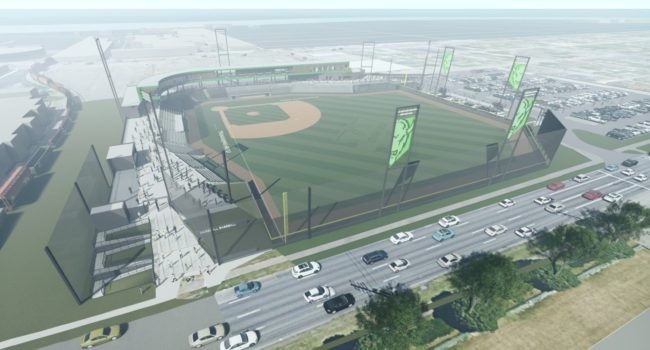 Backstory and Context
Omar Theobold Frick was born in Evansville, Indiana on December 17, 1870. His parents were Peter and Susan Frick, the former of whom was born in Switzerland and came to the United States in 1868. Frick received his education in Evansville before starting his career as an assistant bookkeeper with Standard Oil. He then moved to Chicago, where he worked for Marshall Field's merchandising emporium and later as a salesman for the S.P. Shotter Company, a naval stores exporter. In 1894, Frick was married to Margaret B. Shelly, with whom he had a daughter, Marcia. In 1902, Frick and his family moved to Savannah, Georgia to work for the American Naval Stores Company. He went on to become General Sales Manager of the company. 
Frick founded the Standard Ultramarine & Color Company in Tiffin, Ohio in 1909. Ultramarine is a blue pigment that was widely used at the time as laundry bluing, which has a whitening effect on laundered items. The manufacturing process had technical problems that Frick's chemist could not solve, leading Frick to engage the services of Henri Dourif, a young French chemist who was experienced in ultramarine manufacture. After Dourif solved the issues, Frick encouraged Dourif to join him in a business partnership. Born in France on April 15, 1881, Dourif had previously been an engineer with Deschamps Freres, a company that produced ultramarine blue, and had also worked in the same industry in England. The partnership that Dourif entered with Frick would last for decades, as the former's technical skills complemented the latter's business development and management expertise. 
Frick and Dourif began looking for a new production site after the Sandusky River overflowed and flooded the Tiffin plant. Lured by the cheaper cost of natural gas in West Virginia, the company and its twenty employees relocated to Huntington in 1912. The new plant was built on a half-acre site on Fifth Avenue just east of the Baltimore & Ohio Railroad crossing. Over the following years, Standard Ultramarine - or SUCO, as it was generally called - rapidly grew into one of the community's biggest and best known industries. Dourif was placed in charge of the plant in 1920, and named vice-president in 1925. He and Frick worked closely to introduce new pigment production lines and expand the plant, which occurred in 1921 and 1931. By the mid-1920s, the facility encompassed twenty acres of land and employed over five hundred workers. It spread across both sides of Fifth Avenue, often causing traffic to stop while a trolley carried workers across the road. As the company grew, Standard Ultramarine also began producing a greater range of pigments in a variety of colors. The company started manufacturing Alkali Blue, which is commonly used as a toner, in 1925, making it one of the oldest Alkali Blue manufacturing sites in the world. The company's growth also led to a number of labor issues over the years. After a labor union was formed in 1937, its organizer succeeded in securing a contract for a 40-hour, five-day work week. Later, in 1942, 350 employees walked out to protest the firing of a union member.  
Just as Standard Ultramarine became a fixture in the community as a major employer, its founders were leading figures in Huntington's civic and social life. Frick was a founding member of the Rotary Club, established in 1916, and helped form the Huntington Manufacturers Club. He also served as vice-president of the West Virginia Manufacturers Association, director of the Union Bank & Trust Company, and president of the Huntington Community Chest. In addition, Frick was a founding member of the First Church of Christ Scientist in Huntington and served as the congregation's president for several years. He served as president of the Huntington Symphony Association between 1938 and 1943. Dourif was also involved in Huntington's civic and social scene, although he gained renown for more than his local involvement. During World War I, Dourif took leave from the company to serve in the French Aviation Service and was awarded the Croix de Guerre, the highest French military honor. After the war ended, Dourif returned to Standard Ultramarine and was naturalized as an American citizen. Recognized widely as an expert on the development and manufacture of industrial colorants, Dourif was also a patron of the arts who helped establish the Huntington Galleries (now the Huntington Museum of Art) and served on its board of directors.
After decades with Standard Ultramarine, Frick and Dourif's business partnership ended when Frick passed away on October 20, 1949. Dourif, who had held the title of executive vice-president and technical director, became president of the company upon Frick's death. In 1955, the Department of Justice charged six companies in the dry-color field, including Standard Ultramarine, with violation of the Sherman Antitrust Act. Standard Ultramarine pleaded guilty and was fined $5,000. Dourif retired in 1964 and passed away three years later, on February 21, 1967. Upon Dourif's retirement, Standard Ultramarine was sold to the Chemetron Corporation of Chicago and merged with Holland Color & Chemical to form Holland-SUCO Color Company. In 1969, the company's name was changed to the Pigments Division of Chemetron. In 1971, explosions damaged a section of the plant, igniting a fire that burned for six hours. A fire captain died of a heart attack at the scene and seventeen firemen were injured. In 1979, Chemetron sold the plant to BASF Wyandotte, who owned and operated the facility until it was purchased by Flint Group Pigments in 2005. 
In June 2017, Flint Group Pigments announced its plans to shut down the former Standard Ultramarine plant. The closure was a result of declining demand worldwide for alkali blue, which was the only pigment still in production at the plant. At the time, the facility had approximately fifty employees. In September 2018, the Huntington Municipal Development Authority (HUMDA) agreed to purchase the property for $1.2 million, provided that an environmental report would be conducted to determine the site's readiness for redevelopment. In February 2019, the City of Huntington and Marshall University announced that the former industrial plant would be the location of the Thundering Herd's new baseball stadium. Previously, the school's baseball team played home games at George T. Smailes Field at the YMCA Kennedy Center, and Conference USA home games at Appalachian Power Park in Charleston and Linda K. Epling Stadium in Beckley. In September 2019, Marshall University officially purchased the property from HUMDA. Construction of the stadium was set to begin in March 2020, with a projected completion date in spring 2021. 
Sources
Baptista, Robert J. Omar T. Frick Biography, ColorantsHistory.Org. February 12th 2005. Accessed April 1st 2020. http://www.colorantshistory.org/OmarFrickBiography.html.
Baptista, Robert J. Henri Dourif Biography, ColorantsHistory.Org. September 22nd 2006. Accessed April 1st 2020. http://www.colorantshistory.org/HenriDourifBiography.html.
Casto, James E. Lost Huntington: Standard Ultramarine, Huntington Herald-Dispatch . June 5th 2017. Accessed April 1st 2020. https://www.herald-dispatch.com/special/lost_huntington/lost-huntington-standard-ultramarine/article_bec6af4a-a9bf-5e34-a666-2e2d1620a85b.html.
Crum, Travis. HMDA agrees to buy Flint Group property, Huntington Herald-Dispatch. September 19th 2018. Accessed April 1st 2020. https://www.herald-dispatch.com/news/hmda-agrees-to-buy-flint-group-property/article_83897c88-e277-58ec-b9dd-f0e9ba06b5f9.html.
Pace, Fred. Flint Group Pigments to close Huntington facility, WV MetroNews. June 26th 2017. Accessed April 1st 2020. https://www.wvnews.com/statejournal/flint-group-pigments-to-close-huntington-facility/article_e0107d3f-2334-50fd-85b6-309712e2f855.html.
Standard Ultramarine and Color Company Huntington, West Virginia, ColorantsHistory.Org. 2009. Accessed April 1st 2020. http://www.colorantshistory.org/StandardUltramarine.html.
Stephens, Tim. Marshall announces land purchase for baseball stadium, Huntington Herald-Dispatch. February 21st 2019. Accessed April 1st 2020. https://www.herald-dispatch.com/_zapp/marshall-announces-land-purchase-for-baseball-stadium/article_c7f88d90-3623-11e9-8532-13e3fea08baf.html.
Image Sources
https://www.herald-dispatch.com/special/lost_huntington/lost-huntington-standard-ultramarine/article_bec6af4a-a9bf-5e34-a666-2e2d1620a85b.html

http://www.colorantshistory.org/StandardUltramarine.html

http://www.colorantshistory.org/OmarFrickBiography.html

http://www.colorantshistory.org/HenriDourifBiography.html

http://www.colorantshistory.org/StandardUltramarine.html

http://www.colorantshistory.org/StandardUltramarine.html

https://marshall.pastperfectonline.com/photo/32B4EF49-83E0-46D2-A92E-983109197375

http://www.colorantshistory.org/StandardUltramarine.html

https://www.herald-dispatch.com/news/hmda-agrees-to-buy-flint-group-property/article_83897c88-e277-58ec-b9dd-f0e9ba06b5f9.html

https://www.herald-dispatch.com/news/marshall_university/land-sale-finalized-for-mu-baseball-stadium/article_188e8575-7685-5184-a850-3a6a67054bf6.html

http://wvmetronews.com/2019/10/28/excitement-abounds-over-new-marshall-baseball-stadium/

Additional Information