Franklin County Courthouse
Introduction
Franklin County Courthouse, built in 1913, is historically significant for its architecture and association with local government affairs. A fine example of Second Renaissance Revival, it reflects the important status Pasco had achieved in the early 1900s. Interesting features include a grey-buff brick exterior with light-colored terra cotta decorations, a large dome with four clocks facing each cardinal direction (the interior side of the dome features a glass design), arched windows with terra cotta keystones, and a portico main entrance with two Ionic columns and a large eagle sculpture perched in the pediment above. Inside, the courthouse is ornately decorated, especially the rotunda. The courthouse continues to operate as the seat of county government. It was added to the National Register of Historic Places in 1978.
Images
Franklin County Courthouse was built in 1913 and is a beautiful example of Second Renaissance architecture.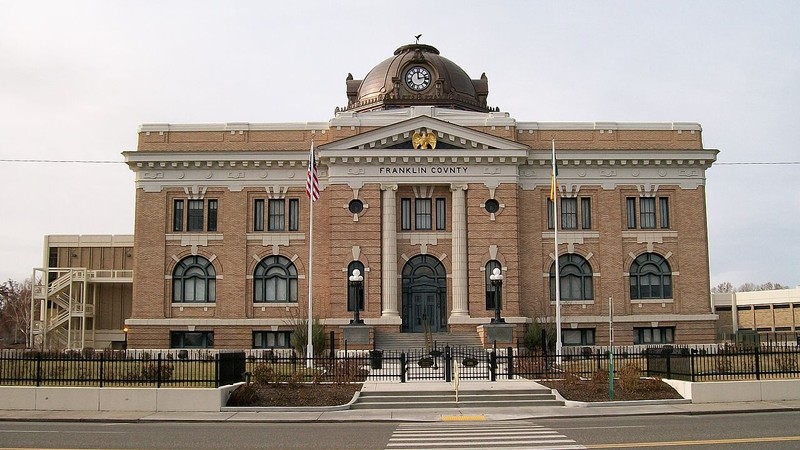 Backstory and Context
The first county courthouse was built in 1884, a year after the county was established. At that point the county seat was designated to a community called Ainsworth, which was located a couple miles to the south where Sacajawea State Park is now. It was established in 1879 by the Northern Pacific Railway, which built a depot there. For a few years Ainsworth was the terminus of one of the Northern Pacific's branch lines. However, in 1884, the company built a depot at what would become the town of Pasco. As a result, the community, which was primarily comprised of Chinese and Irish railroad laborers, moved to Pasco, which became the county seat in 1885. Ainsworth was abandoned and became a ghost town.
In Pasco, a small courthouse and jail were built in 1889. The need for a new facility was apparent by 1911, prompting the local Chamber of Commerce to call for a new courthouse. Its efforts were successful as the building was completed in 1913. After World War II, the courthouse was expanded to accommodate the growing needs of the city. The additions were torn down in 1971 and replaced by the current modern buildings attached to the old courthouse.
Sources
Gibson, Elizabeth. "Franklin County - Thumbnail History." HistoryLink.org. September 14, 2005. https://historylink.org/File/7452.
Kershner, Jim. "Pasco - A Thumbnail History." HistoryLink.org. May 1, 2008. https://historylink.org/File/8604.
Newell, Geneva. "Franklin County Courthouse." National Park Service - National Register of Historic Places Nomination Form. February 8, 1978. https://npgallery.nps.gov/GetAsset/0d28a172-6914-4b4f-9c1a-eca06c8d994c.
Image Sources
Wikimedia Commons: https://commons.wikimedia.org/wiki/File:Franklin_County_Courthouse_in_Pasco,_Washington.JPG

Additional Information