Bolivar Heights Battlefield
Introduction
In September 1862, a Union garrison of 14,000 soldiers under Col. Dixon Miles occupied Harpers Ferry. Knowing that Stonewall Jackson was encroaching, Miles occupied higher ground at Boivar Heights to potentially combat at Schoolhouse Ridge. On September 10, 1862, General Stonewall Jackson left Frederick, MD and approached Harpers Ferry on three sides: Maryland Heights, Loudoun Heights, and Schoolhouse Ridge. The town was effectively surrounded, but the rivers were an inconvenient barrier with no bridge granting access across.
Images
Bolivar Heights - National Park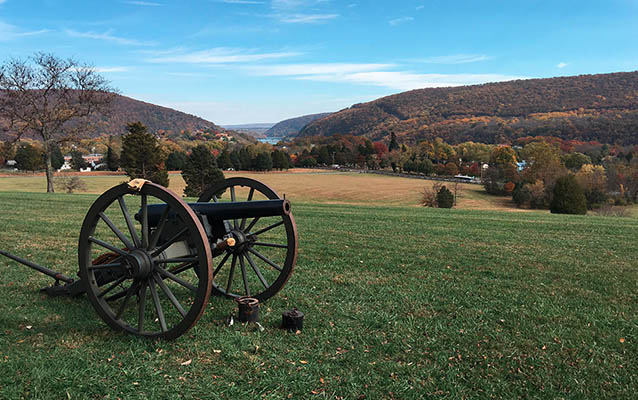 Backstory and Context
Bolivar Heights witnessed more battle action than any other location at Harpers Ferry during the Civil War. The first battle took place on October 16, 1861. a Confederate force with Col. Turner Ashby attacked Union men under Col. John Geary's charge at Bolivar Heights. Geary held the location and forced a Confederate retreat.
It is General Stonewall Jacksons' presence in the area, though, that is best known. During his Valley Campaign, Jackson had routed all Union soldiers in the Shenandoah Valley, except for those at Harpers Ferry. Because of Jackson's sweeping success, Brig. Gen. Rufus B. Saxton was sent to Bolivar Heights to reinforce the Union position. On May 30, 1862, the second battle of Bolivar Heights took place when Jackson attacked Saxton on Camp Hill. Jackson retreated as Saxton held.
The third battle involving Bolivar Heights took place on September 12-13, 1862 and is referred to as the Battle of Harpers Ferry. Again involving Jackson's men, Jakson forced a final stand at Bolivar Heights with the Union forces. Jackson had Harpers Ferry and Bolivar surrounded from Maryland Heights, Loudoun Heights, and School House Ridge. By sending Commander A.P. Hill around to the southern flank of Bolivar Heights on September 14, Jackson forced a surrender of the Union garrison. The formal surrender included 12,700 Union soldiers adn is considered the largest capitulation of Union forces in the Civil War.
Sources
Harpers Ferry - Bolivar Heights, National Park Service. Accessed March 31st 2020. https://www.nps.gov/places/harpers-ferry-bolivar-heights.htm.