Nazareth Heights Infirmary
Introduction
Nazareth Heights was built as an infirmary for retired members of the Congregation of Sisters St. Agnes in 1965. The facility sat on a bluff along the Niagara Escarpment overlooking Lake Winnebago. In 1998, residents moved to the new facilities of St. Francis Home and Nazareth Court and Center near St. Agnes Hospital. A year later, the building was re-purposed as the temporary motherhouse for the congregation as they built their current motherhouse nearby on Route K.
Images
Nazareth Heights, c. 1965.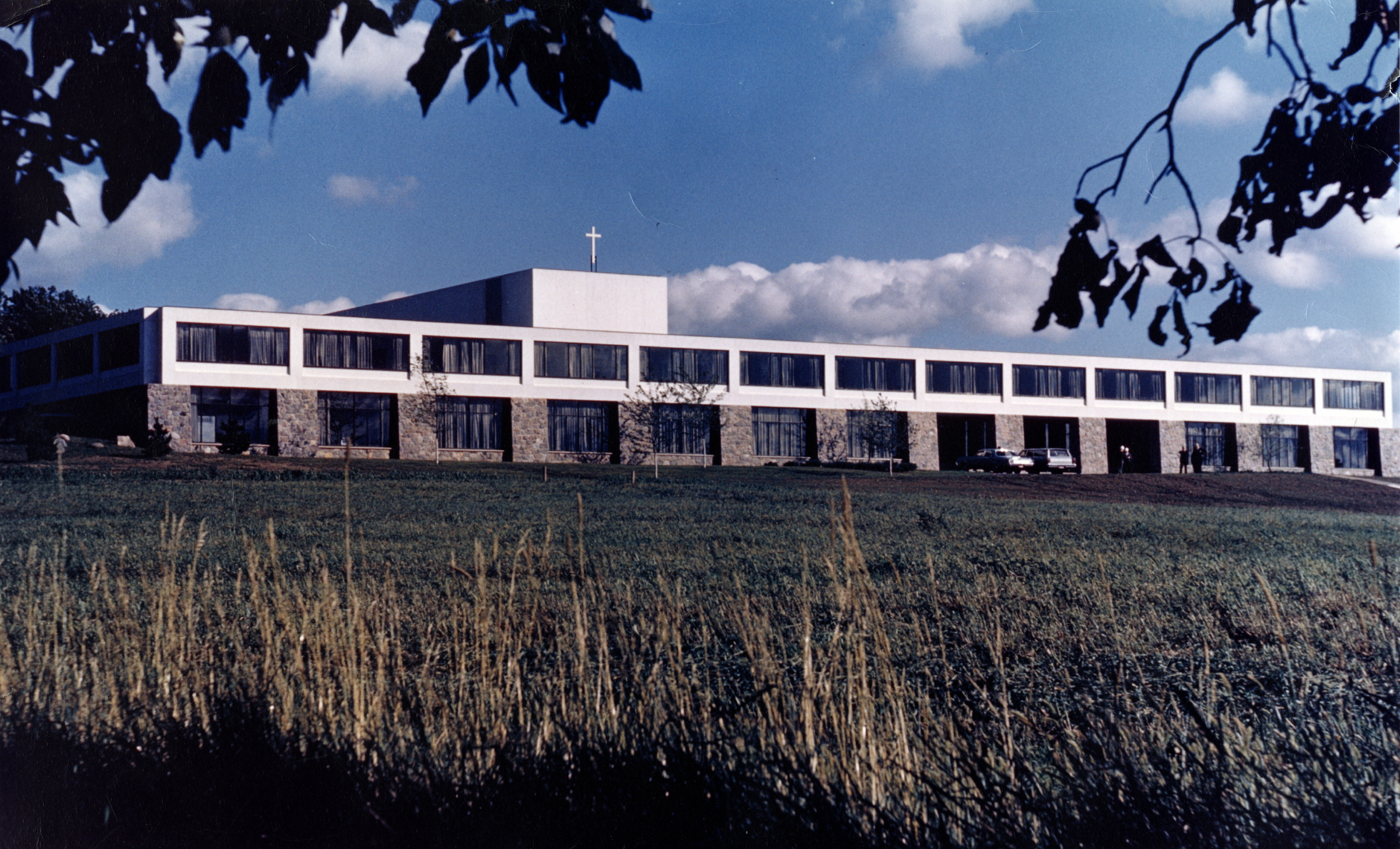 Aerial view of Nazareth Heights, 1960s.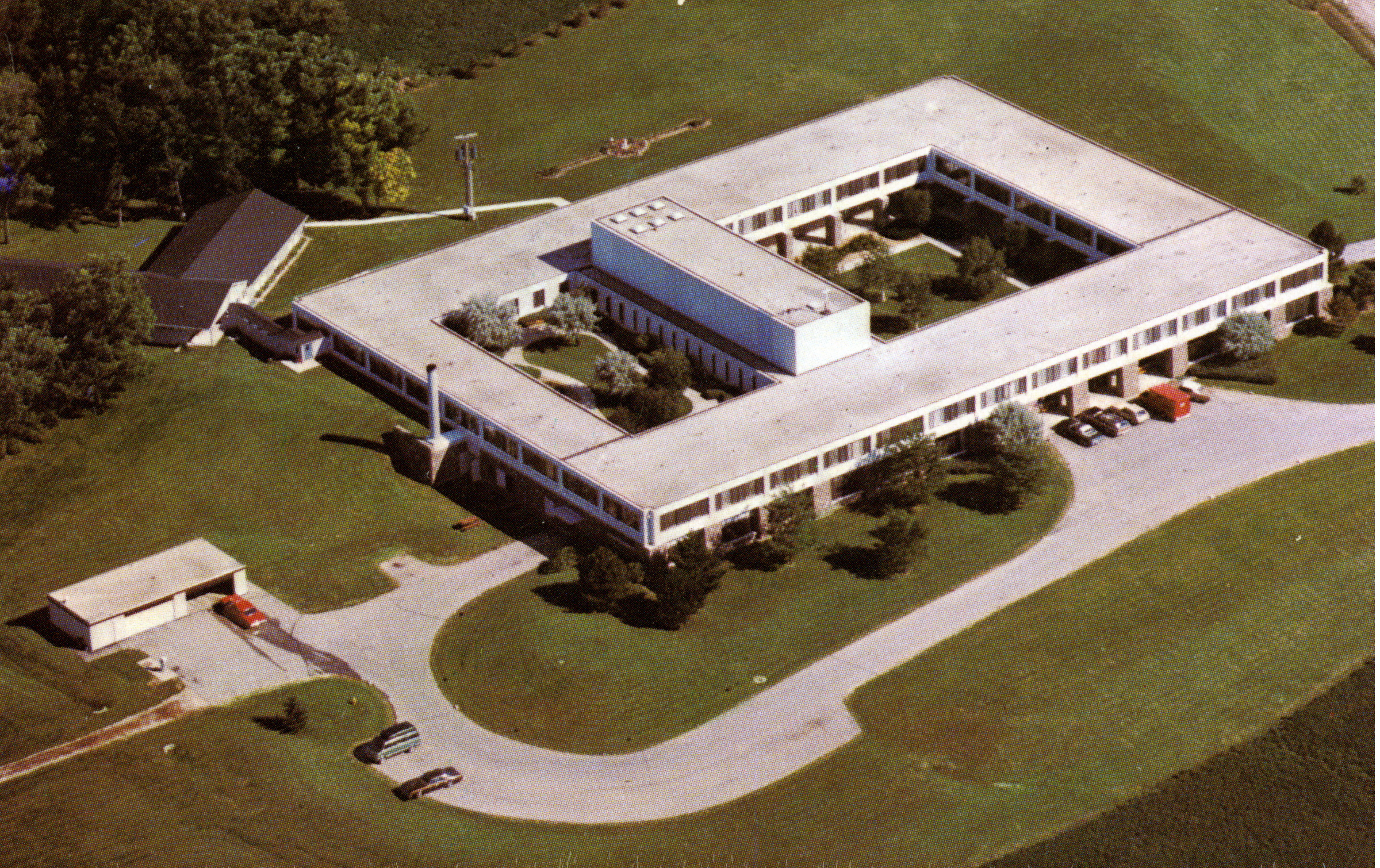 Residents of Nazareth Heights, 1997.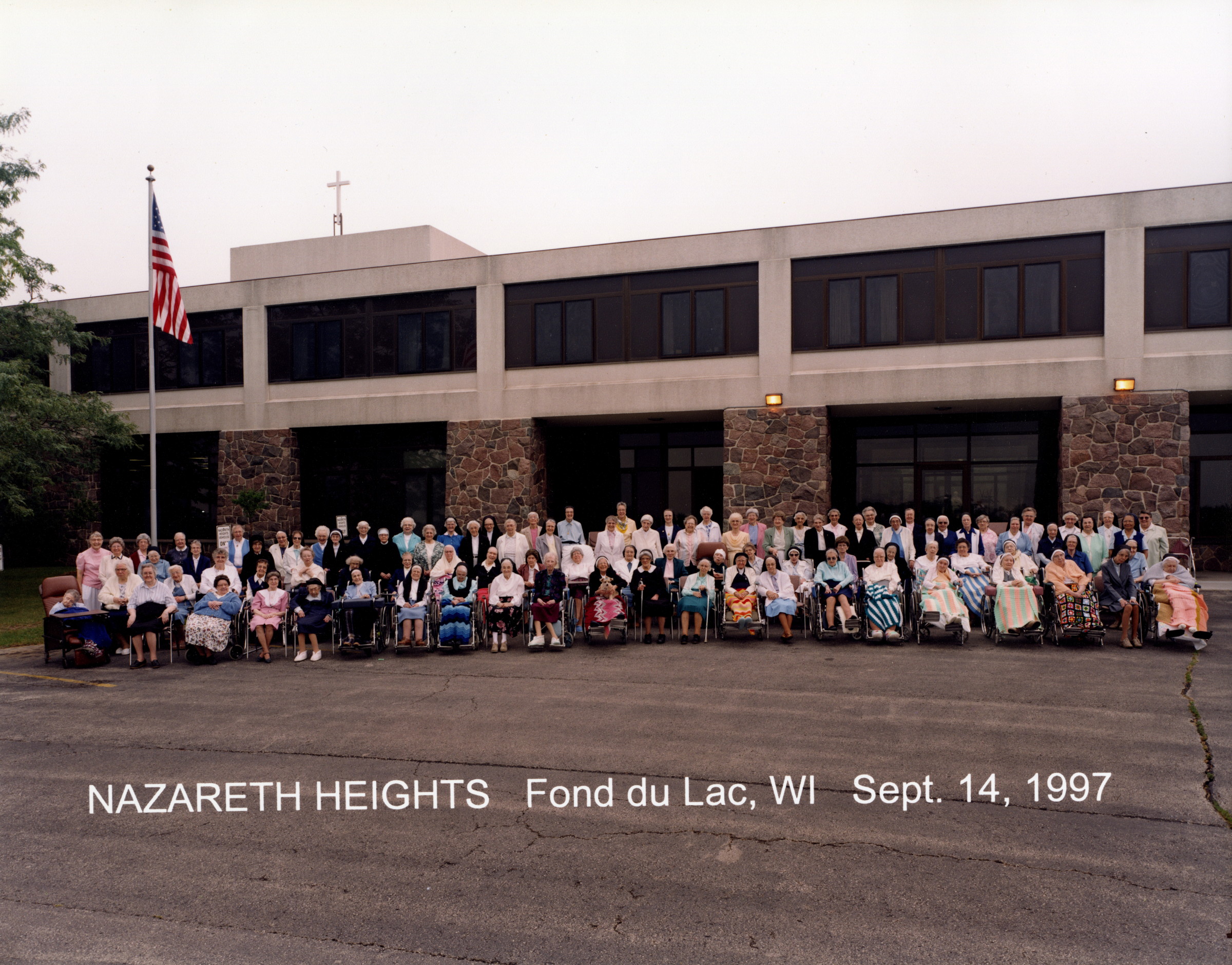 Sisters Timothy Diedrich, Carole Gurdak, Mother Rosita Handibode, and Sister Gilmary Lawlor with members of the Agnesian Auxiliary on the dedication of Nazareth Heights, September 8, 1965. The Auxiliary funded decoration of the chapel at Nazareth Heights.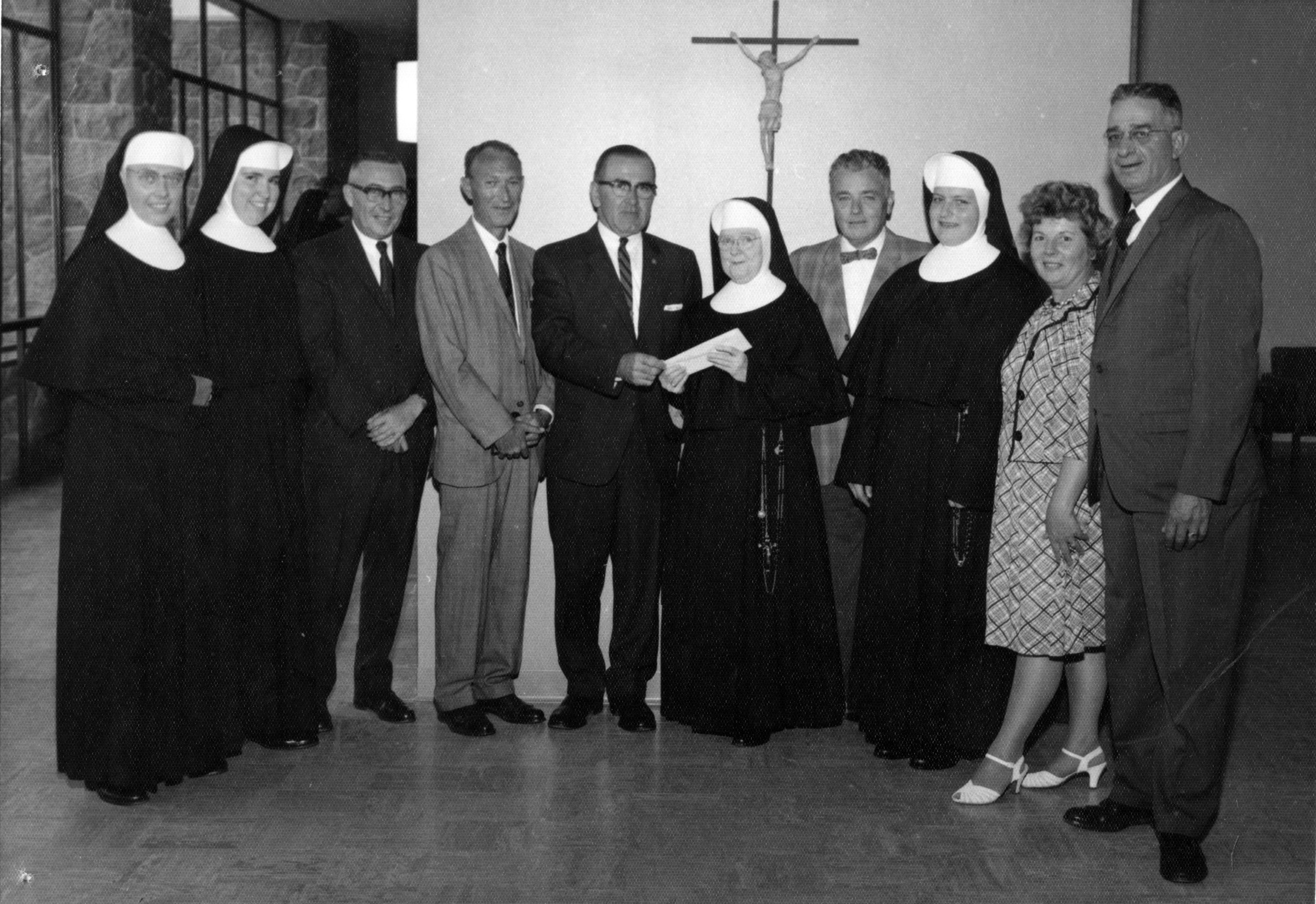 Backstory and Context
In 1963, the Congregation of Sisters of St. Agnes determined there was need to build a retirement home to bring together the retired, sick, and infirm sisters who were now housed at the motherhouse, St. Agnes Hospital, and St. Clare Hospital in Monroe.
The home, Nazareth Heights Infirmary, was constructed on the Niagara Escarpment near St. Mary's Springs Academy overlooking Lake Winnebago to the west. 
Architectural firm Schmidt, Garden, and Erikson designed the facility for 100 residents. Building began on April 1, 1964, by Hutter Construction Co. The 63,000 square foot convent infirmary was completed for a cost of $1.5 million and dedicated on September 1, 1965, by Archbishop William Cousins. It provided the sisters a place to pray and facilitated activities that encouraged the sisters to remain independent and contribute to the community.
Two inner courts of the rectangular building were populated with a variety of flora including white birch, flowering crabapple, Juneberry, Russian olive, mountain ash, and Cotoneaster. Conrad Schmitt Studios designed the chapel's stained-glass windows which depicted the Stations of the Cross.
Nazareth Heights was used as the sisters' retirement home until 1998 when the new Nazareth Court and Center assisted living facility, adjacent to St. Agnes Hospital, was completed. The Heights was then transformed into the temporary CSA motherhouse when the previous building at 475 Gillett Street was torn down for hospital expansion. In 2002, a new motherhouse was constructed on the west side of County Road K and Nazareth Heights was razed. The land is now a restored prairie and site of CSA's hermitages which are available to individuals seeking retreats.
Sources
Congregation of Sisters of St. Agnes Archives.
Lorimer, CSA, Margaret. Ordinary Sisters: The Story of the Sisters of St. Agnes, 1858-1990. Fond du Lac, Wisconsin. Congregation of Sisters of St. Agnes, 2007.
Image Sources
Congregation of Sisters of St. Agnes Archives

Congregation of Sisters of St. Agnes Archives

Congregation of Sisters of St. Agnes Archives

Congregation of Sisters of St. Agnes Archives

Additional Information