Hospice Home of Hope
Introduction
The hospice movement in the United States was in its infancy when Sister Anne Jude Van Lanen began exploring the feasibility of starting a program in Fond du Lac in 1977. It was approved by the State of Wisconsin in 1980 and hospice staff and volunteers began making home visits to individuals throughout the region. Inpatient care would become available in 1982 when St. Agnes Hospital provided five beds for hospice care, and in 2000, Hospice Home of Hope opened to provide 20 rooms for individuals seeking end of life care.
Images
Hospice Hope pamphlet, 1999.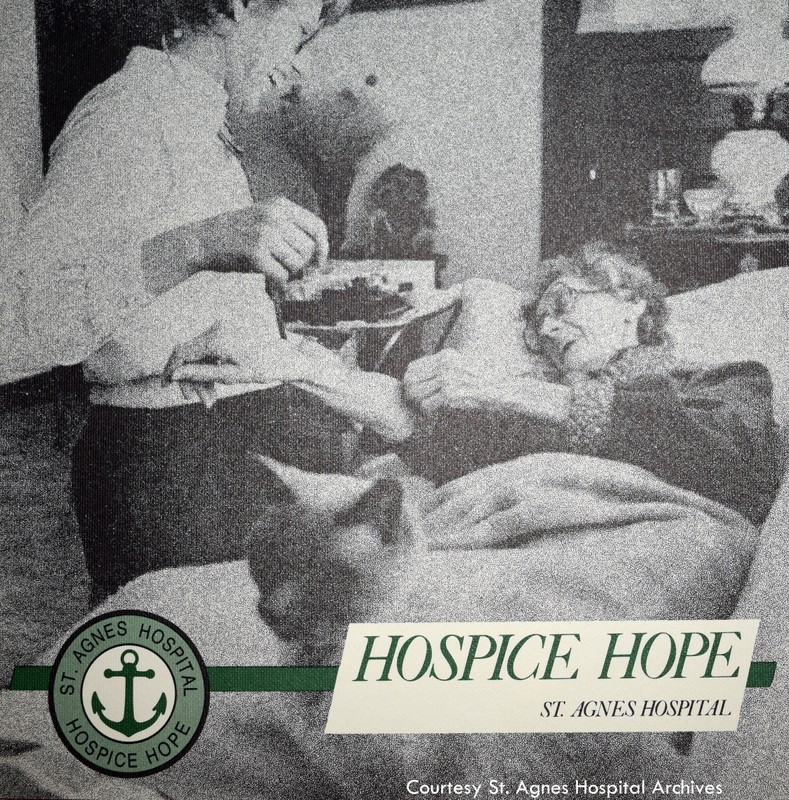 Tree planting at Hospice Home of Hope celebrating 120 years of Agnesian Healthcare, 2006. Left: Sisters Anne Jude Van Lanen and Mary Mollison; far right: Sister Mary Agreda Touchette.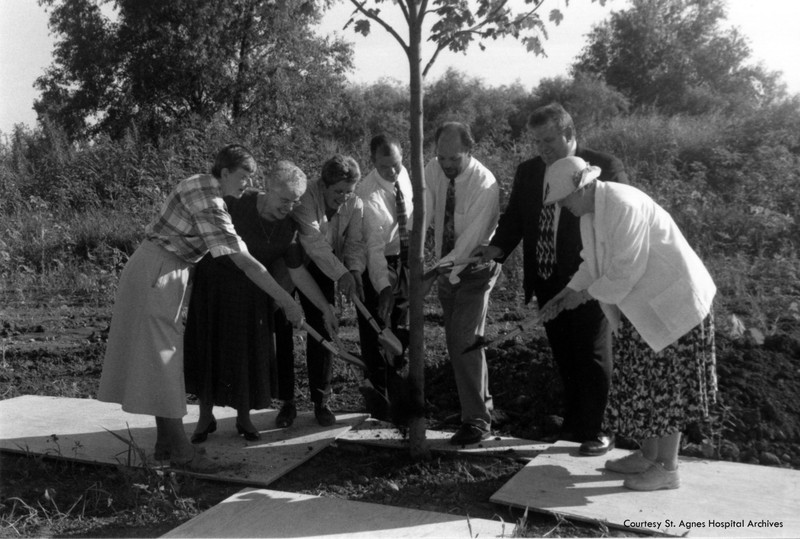 Blessing of Hospice Home of Hope addition, 2017. Left to right: Michael Schaefer, Sister Anne Jude Van Lanen, Char Bohnsack, RN, Sister Jean Steffes, Karen Kraus, and Sister Amy Golms.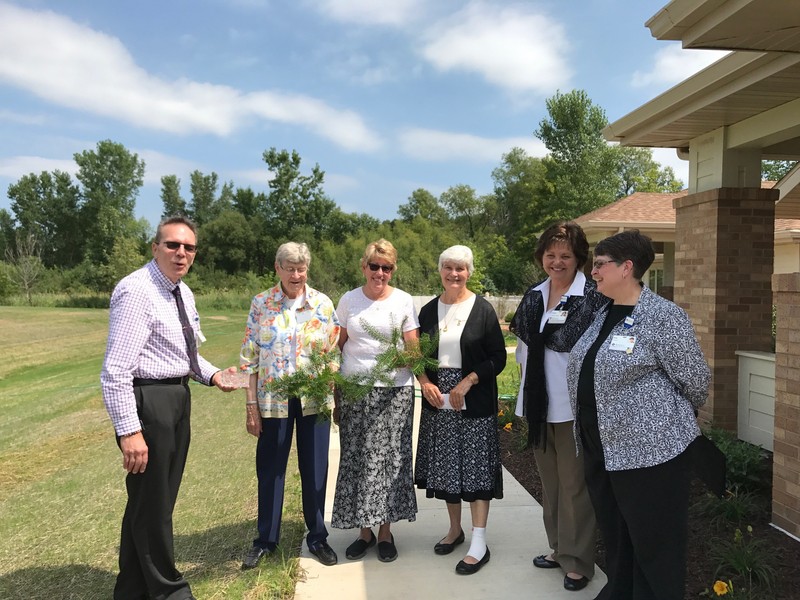 Sisters of St. Agnes volunteering at Hospice Home of Hope, 2017: Sisters Jean Braun, Caryl Hartjes, Jeannine Funk, and Marie Kees.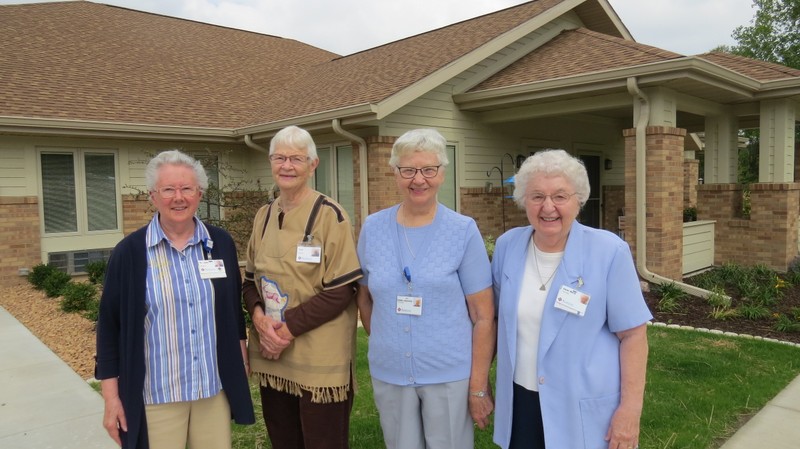 Entrance to Hospice Home of Hope, 2020
Backstory and Context
In 1977, Sister Anne Jude Van Lanen of the Congregation of Sisters of St. Agnes, approached her general superior, Sister Judith Schmidt, and requested permission to start a hospice program. Hospice was a fairly new idea, started in England in 1967 to provide physical, emotional, spiritual, and social support to patients with limited life expectancy — and to their families. Sister Anne Jude spent many years ministering with the indigenous people of Nicaragua and after her return to the United States, she saw firsthand the differences in the way each culture treated their sick and dying. She heard about the hospice movement in England and began researching the topic.
Just days after that conversation with Sister Judith, Frank Murphy, the hospital consultant for CSA, met with Sister Judith and said the congregation should consider starting a hospice program. Sister Anne Jude partnered with Sister Mary Agreda Touchett and Peg Cerny, a retired nurse, to study the need for the program in Fond du Lac and educate the community and medical personnel on the concept of hospice. Many people were initially skeptical of the program, thinking it was akin to euthanasia or would interfere with their providing medical services to patients.
In June 1980, the state approved the program and in August the team began home visits. In the first year, 67 patients were admitted to the program and 30 physicians, 70 volunteers, and the hospice staff of Sisters Anne Jude, Mary Agreda, and Mary Christopher Esler, and a part-time lay nurse participated in the care of patients. Services were provided regardless of ability to pay and by the mid-1990s, Hospice Hope annually served over 300 patients with 40 staff members and 200 volunteers making over 1000 home visits.
In 1982, St. Agnes Hospital set aside five beds for inpatient hospice care. In 1986, Hospice Hope had a reputation as the best program in the state and two years later Hospice Caring of Central Wisconsin merged with Hospice Hope.
The success of the program necessitated a new facility to care for inpatients. In 1999, Agnesian HealthCare leased land on the west side of County Road K from the congregation to provide a peaceful natural setting for a hospice building.
Groundbreaking for Hospice Home of Hope occurred in June 1999, and the building was dedicated on March 3, 2000. An addition was completed in 2017. The 18,600 square-foot facility includes 20 private rooms, a sunroom and porch, chapel, and large common areas. The interdisciplinary staff and volunteers, including six Sisters of St. Agnes, strive to bring physical, emotional, and spiritual comfort to those in need of its services.
Sources
Lorimer, CSA, Margaret. Ordinary Sisters: The Story of the Sisters of St. Agnes, 1858-1990. Fond du Lac, Wisconsin. Congregation of Sisters of St. Agnes, 2007.
Van Lanen, CSA, Anne Jude, interview with Jenny Lukomski, July 14, 2017, transcript, Congregation of Sisters of St. Agnes Archives.
Image Sources
St. Agnes Hospital Archives

Congregation of Sisters of St. Agnes Archives

Congregation of Sisters of St. Agnes Archives

Congregation of Sisters of St. Agnes Archives

Sister Jean Hinderer, CSA

Additional Information