Josiah Bartlett House
Introduction
Josiah Bartlett was born in Amesbury, Massachusetts in 1729. He was the fourth son of Stephen Bartlett, who came from England during the seventeenth century. Bartlett studied medicine, and was a practicing physician in New Hampshire. He became involved in politics and was an elected member of the Colonial Legislature. He was known to not give in to pressure from the Royal Governor Wentworth, and was active in the goal for American Independence. He was a signer of the Declaration of Independence.
Images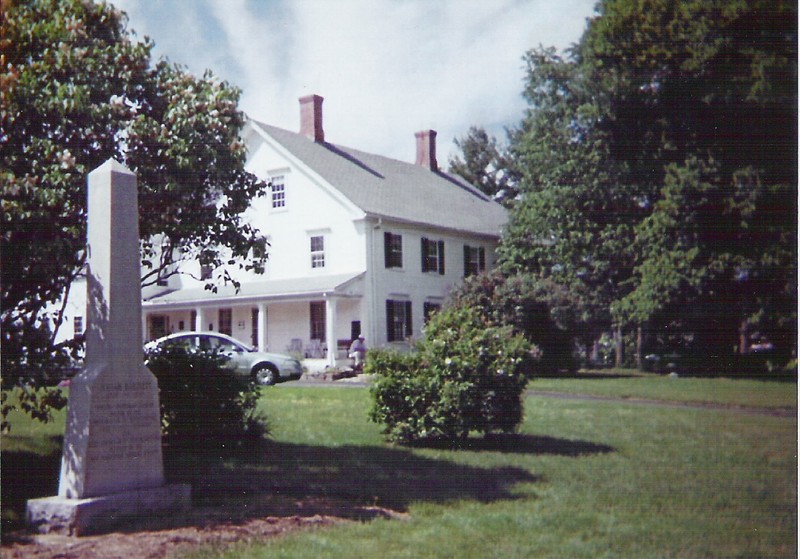 Bartlett's Signature on the Declaration of Independence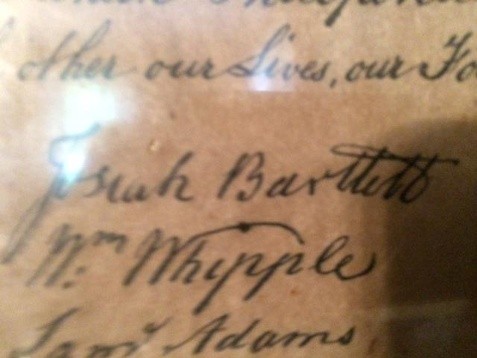 Backstory and Context
Josiah Bartlett, born in 1729, received some formal education in Amesbury and studied Greek and Latin under a relative, Reverend Doctor John Webster. When Bartlett was sixteen, he began to study medicine under Dr. James Ordway. Ordway had little scientific background, but provided Bartlett with instruction on basic practices. When Bartlett was 21, he moved to Kingston, New Hampshire and began to practice medicine. He arrived there with a little number of possessions on him: a small amount of apparel, about $30, a small horse, a bill of medicine, a pocket case of surgeon's instruments and some instruments for pulling teeth.

Upon arrival, Bartlett lived with Rev. Joseph Seccombe. Living with Seccombe, Bartlett had the opportunity to explore a vast and valuable library where he was able to improve in medicine. Bartlett's expertise and concern for his patients led to him becoming a popular and prosperous doctor. In 1752, Bartlett experienced a life threatening fever and treated himself. Years later, he treated patients for diphtheria, which killed 114 people in Kingston. He successfully treated his patients (including his own children), with a new procedure: Peruvian bark (quinine). His success in combating this plague, earned him respect.

Growing in popularity, Bartlett was elected town selectman in 1757. In 1765, he was chosen to represent Kingston in the New Hampshire Provincial Assembly. By 1774, Bartlett had become an active patriot and firm supporter of colonial interests. Bartlett became head of the then illegal Committee of Correspondence of the Provincial Assembly. Here, he was in communication with Samuel Adams and other patriots. Bartlett was chosen to be the representative of New Hampshire in the First Continental Congress, but he was unable to accept because his home had been burnt down by loyalists who opposed his patriotic endeavors. He immediately rebuilt his home on the same site and it stands there to this day.

On July 2, 1776, when voting for independence, it was said that "He made the rafters shake with the loudness of his approval." On July 4, he was the first to vote in favor of adopting the Declaration of Independence and a month later, he was the second person to sign it.
Sources
http://www.dsdi1776.com/signers-by-state/josiah-bartlett/ http://colonialhall.com/bartlett/bartlett.php http://www.wmur.com/news/photos-tour-josiah-bartletts-home-for-sale/26982400 http://www.ushistory.org/declaration/signers/bartlett.htm
Additional Information