First Baptist Church
Introduction
Situated at the corner of 6th Street and Yakima Avenue, the former First Baptist Church is significant in the areas of architecture and religion. It was built in 1900 and is a striking example of Richardsonian Romanesque architecture. The church features a robust heavy stone exterior (consisting of basalt, granite and sandstone), stained glass windows (two of which are circular in shape), a large tower on the southeast corner and a smaller one on the east facade, and a crenellated parapet running atop the towers and a portion of the exterior wall that gives the church a castle-like appearance. As for religion, the church served the First Baptist congregation for several decades and reflects the growth of the congregation during 20th century. The church was added to the National Register of Historic Places in 2016. As of March 2020, it appears to be vacant.
Images
The former First Baptist Church was built 1909 and is an excellent example of Richardsonian Romanesque architecture.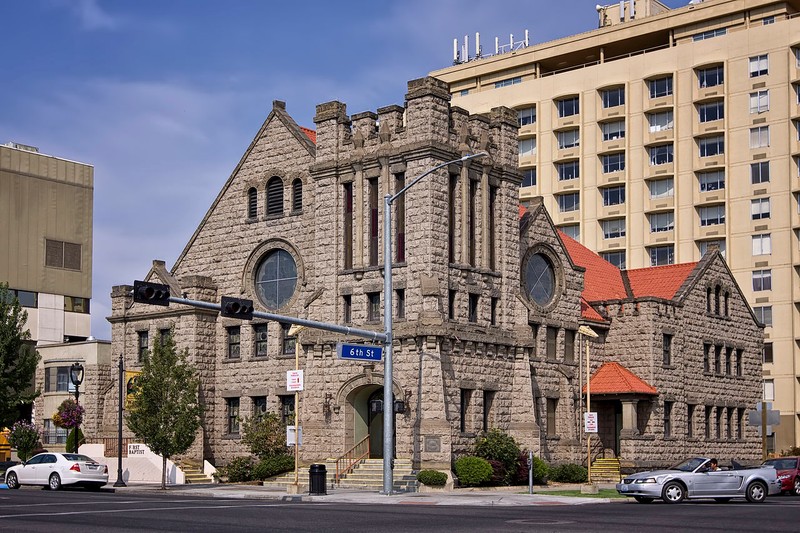 Backstory and Context
Founded in 1883, Yakima was small but growing community of 400 residents. The town grew more rapidly after the Northern Pacific Railroad built a train station (the town actually relocated to where the station was built, four miles to the north; the original site of Yakima is now Union Gap). By 1900, the population had grown to over 3,000; by the time the church as built, the city boasted around 14,000 people.
As the city grew, religious institutions were established. First Baptist Church incorporated in 1890 with nine founding members. In its early days the congregation met in several locations including a school, the county courthouse, and a drug store. They built their first church, a wood-frame structure, in 1892. In 1906, the congregation started to make plans for the present church. Construction began in 1908 and was finished in early 1909. An educational wing was added in 1948. In the coming years, the church was remodeled a few times to stay-up-to date and to accommodate the needs of the congregation.
The congregation started to consider selling the church in 2008. By then, it was difficult for many of the elderly members to go up and down stairs to attend church gatherings. A new owner bought the church in 2015 with plans to open a restaurant or other commercial use. The current status of the building is unclear.
Sources
Edwards, David. "New owner of Yakima Avenue church wants to put business there." Yakima Herald. June 18, 2015. https://www.yakimaherald.com/news/business/local/new-owner-of-yakima-avenue-church-wants-to-put-business/article_70e9c88e-1624-11e5-b0d5-6bf7f21fd585.html.
Johnson, Susan. "First Baptist Church." National Park Service - National Register of Historic Places Nomination Form. April 5, 2016. https://www.nps.gov/nr/feature/places/pdfs/16000147.pdf.
Image Sources
Steven Pavlov, via Wikimedia Commons: https://commons.wikimedia.org/wiki/Category:First_Baptist_Church_of_Yakima

Additional Information