Vashon High School
Introduction
Vashon High School was established in 1927 at 3026 Laclede Avenue to serve St. Louis' African American Mill Creek Valley neighborhood, relieving overcrowding at Sumner High School in The Ville. After most of the Mill Creek neighborhood was demolished in the late 1950s as part of an urban renewal program, Vashon was relocated to the Hadley Vocational-Technical High School building at 3405 Bell Avenue in 1963. In 2002, Vashon moved to its present location at 3035 Cass Avenue. Today, the original building continues to serve the St. Louis community as part of the Harris-Stowe State University campus. Vashon is best known around the U.S. for its top-ranking boys' basketball program.
Images
The original Vashon High School building at 3026 Laclede Avenue in the Mill Creek neighborhood. Today, this building is part of the Harris-Stowe State University campus.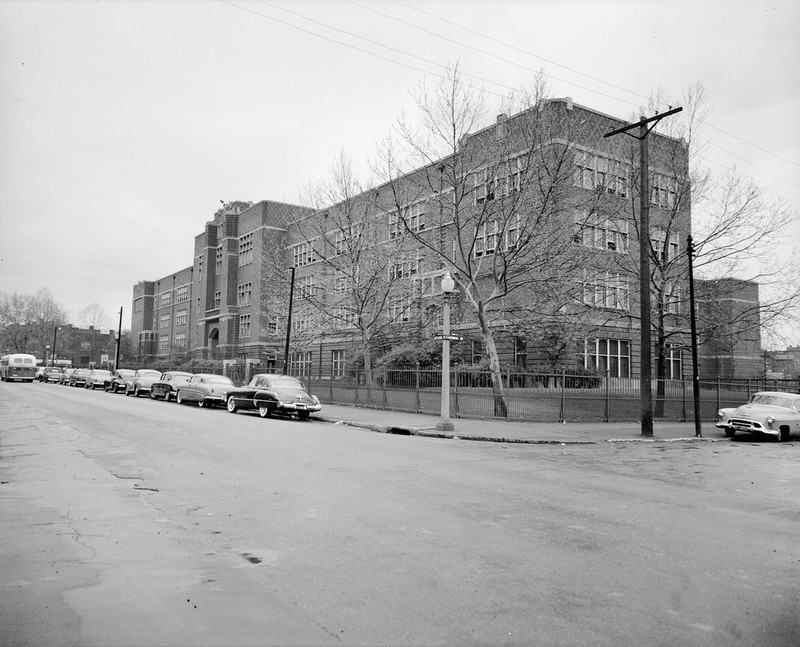 Vashon High School's first graduating class, 1928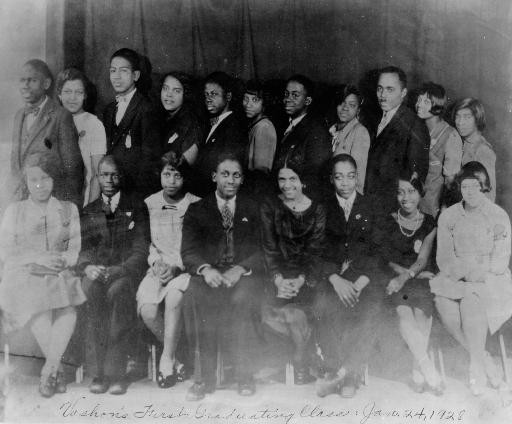 Vashon High School Students at a hobby show looking at collectible salt and pepper shakers, 1941.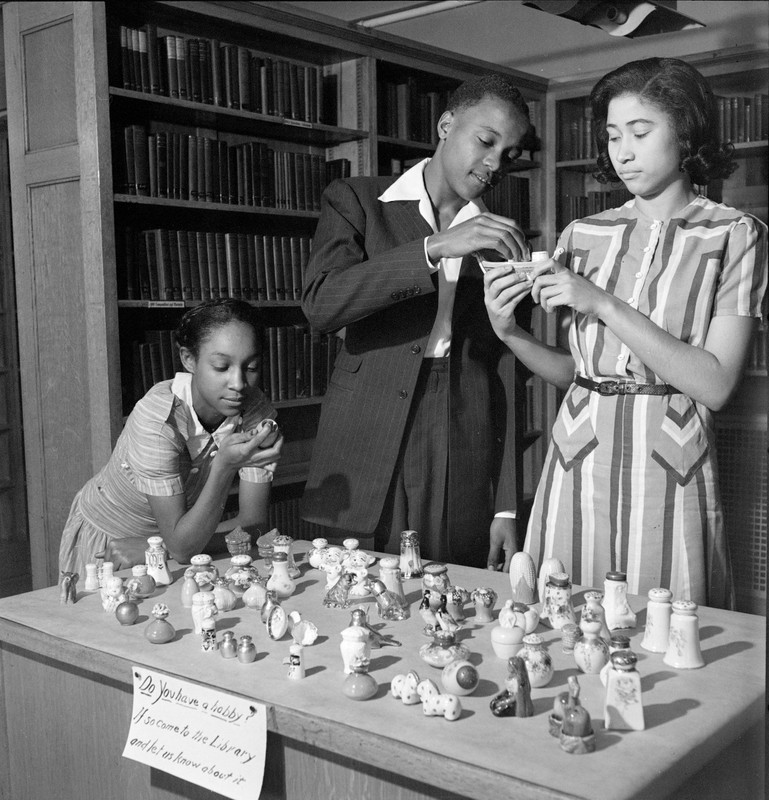 Vashon's second location at the Hadley Vocational-Technical High School building, 3405 Bell Avenue.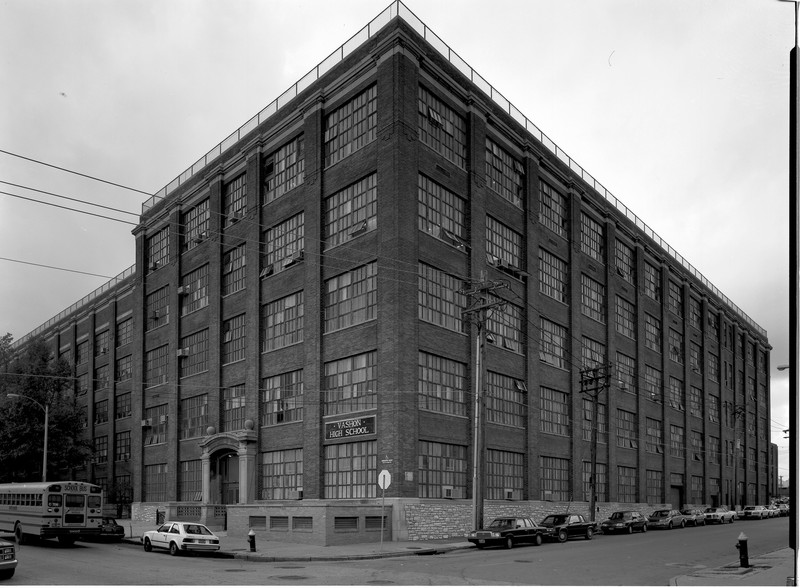 Vashon High School at its present location.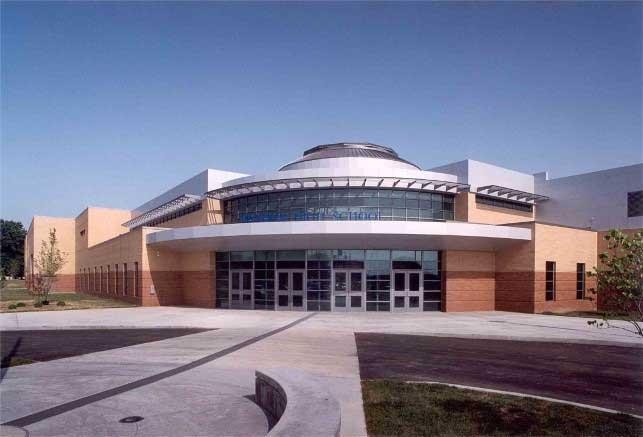 Backstory and Context
Established in 1875 in St. Louis' historic Ville neighborhood, Sumner High School was the first high school for African American students west of the Mississippi River. By the 1920s, Sumner was suffering from severe overcrowding and was difficult for many Mill Creek Valley students to easily access. In 1922, a group of concerned residents along with The Central School Patron Association made plans for a second African American high school in Mill Creek Valley. Thanks to their efforts, Vashon High School opened its doors in 1927, named after John B. Vashon and his late father George, both outstanding local African American educators. For the next 36 years, Vashon served as a top-rated educational institution, known for its academic curriculum and its athletic programs. 
Following the 1954 Brown v. Board of Education decision to desegregate public schools, many African American residents of St. Louis were resistant to integration because they felt it would weaken their prosperous, thriving community there. Even though St. Louis' public schools were segregated, both White and African American schools received comparable funding, and all students were taught using the same curriculum and textbooks, organized by a biracial committee of educators. Local NAACP representatives struggled to persuade members that integration would provide a better education for their children. African American parents were also concerned for their children's safety if they were to attend an integrated school.
In 1954, St. Louis housed nine high schools, seven for White students and two for African American students: Sumner and Vashon. Only 591 out of 4,275 African American high school students chose to attend an integrated school after the Brown decision. Of those students, 425 switched to the predominantly African American Soldan-Blewett High School in St. Louis' Cabanne area near The Ville. After segregation, most African American students remained within their original school districts, and most African American schools remained open. St. Louis' vibrant African American community acted as a safety net for students and teachers.
Unfortunately, by the 1950s, St. Louis residents voted in favor of tearing down large areas of the Mill Creek Valley neighborhood as part of an urban renewal plan. Although many considered Mill Creek to still be a thriving commercial and residential neighborhood, it was demolished in the late 1950s and families were forced to move. Vashon was relocated to the Hadley Vocational-Technical High School building at 3405 Bell Avenue in 1963. From 1974 into the 1980s, Vashon's boys' basketball team, under coach Floyd Irons, became one of the top teams in Missouri history, earning four state championships. By 1990, the Board of Education considered closing Vashon High or relocating it due to the need for major building renovations. Because of alumni support and the success of the boys' basketball team, the Board decided against closing the school and opted for a partial building renovation. In 1994, the boys' basketball team won another state championship under Coach Irons.
In 1998, the state passed Senate Bill 781, containing a provision that required the City of St. Louis to increase taxes for additional funds in order to renovate existing schools and build new ones. With support from community organizations like the Save Vashon Committee, the tax increase paved the way for a new Vashon High School building, which opened in 2002 at its third and current location of 3035 Cass Avenue. At the cost of $40 million, the new building had space for 1,300 students, 13 science and computer labs, four early childhood rooms, and a large library and media resource center. New basketball courts and a swimming pool were also built on the new campus. Vashon's boys' basketball team continues to win state competitions, its most recent state championship in 2017.
Sources
Garb, Margaret. n.d. Visualizing Urban History: St. Louis's Mill Creek Valley. St. Louis:
   Washington University Press.
Gordon, Colin. 2009. Mapping Decline: St. Louis and the Fate of the American City.
   Philadelphia: University of Pennsylvania Press.
Holder, Ashley, and Molly Calvo. n.d. "Extant Buildings in the Mill Creek Valley; Past, Present,             
   and Future." Decoding the City. Accessed Mar. 28, 2020. http://www.decodingstl.org/extant-
   buildings-in-the-mill-creek-valley-past-present-and-future.
McCulley, Jessica. 2010. "Black Resistance to School Desegregation in St. Louis During the Brown Era."
The Confluence. Accessed May 30, 2020. https://www.lindenwood.edu/files/resources/the-confluence-fall-
winter-2010-mcculley.pdf.
Naffziger, Chris. 2018. "The Forgotten Schools that Hold an Answer Key to Today's St. Louis."      
   stlmag.com, Sept. 13, 2018. https://www.stlmag.com/history/architecture/forgotten-schools/.
Panagidis, Andreas. 2019. "Inequality and Racism in 20th Century U.S. Urban Planning: The
   Case Studies of Radburn, New Jersey and Mill Creek Valley, St. Louis." andreaspanagidis.
   com. Accessed Mar. 28, 2020. http://www.andreaspanagidis.com/text/inequality-and-racism-
   in-20th-century-u-s-urban-planning-the-case-studies-of-radburn-new-jersey-and-mill-creek-
   valley-st-louis/.
Vashon High School. 2020. "A History of Vashon High School." St. Louis Public Schools.
   Accessed Mar. 28, 2020. https://www.slps.org/domain/2956.
Image Sources
Missouri History Museum

Missouri Historical Society

Missouri History Museum

Missouri History Museum

http://stlcityschools.org/s/vashon-high-st-louis-mo-1334

Additional Information