Pennsylvania Military Museum
Introduction
This museum depicts the military history of the Commonwealth of Pennsylvania with emphasis on the 20th century roles of Pennsylvania based units and of Pennsylvanians who have served in all branches of the armed forces. Throughout the grounds you can find a walking path that walks you through larger artifacts and memorials to Pennsylvania's military heritage.
Images
Pennsylvania Military Museum - Outside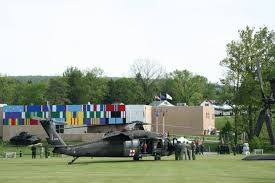 Pennsylvania Military Museum - Inside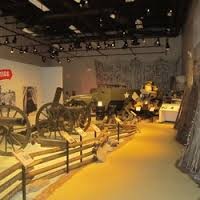 Backstory and Context
The location of the museum was part of Theodore Davis Boal estate. Boal was a wealthy man that established a machine gun company on his land for service with the Pennsylvania National Guard in World War I. Upon return of the division in 1919 Boal held a reunion at his estate where he dedicated a memorial to the fallen troopers in the machine gun company. This simple ceremony is now known as the 28th Infantry Division National Shrine. Boal always had a goal of creating a museum on the property to honor the Pennsylvania soldiers.
The construction to the museum building itself began in 1967. The structure sits on top of a hill overlooking the parade grounds of the Shrine. The building itself depicts military defensive position. Inside the museum retained the World War I focus then exemplified by the 28th Division Shrine.
It was announced in 1999 that the museum would be renovated to allow proper storage of collections. The complete makeover began in 2003. The innovative military ribbon design on the front of the building has won an award by the American Institute of Architects. The updated museum can better tell the stories of the Commonwealth citizen soldier, airmen, sailor, and Marine in the 20th and 21st centuries. Boal's goal lives on and continues to grow and honor Pennsylvanians.
Sources
http://www.pamilmuseum.org/ http://www.visitpa.com/pa-museums/pennsylvania-military-museum http://www.happyvalley.com/state-college-pa-things-to-do/state-college-stories/2364-pa-military