Confederate Mound
Introduction
Standing 30 feet over Oak Woods Cemetery, the Confederate Mound is the only Confederate monument in the entire city of Chicago. It was dedicated in 1895, though the land it rests on was bought some three decades prior. The monument commemorates the nearly 4,000 victims of the infamous Camp Douglas, a Union civil war prison camp located about five miles north of the Mound. Funded by both the federal government and numerous Confederate Veterans' advocacy groups, the Confederate Mound has attracted controversy since its construction, as some view it as glorifying the Southern cause as opposed to honoring the victims of Chicago's unnecessarily cruel prison camp.
Images
The Confederate Mound at Oak Woods is surrounded by cannons and has an American flag flying over it.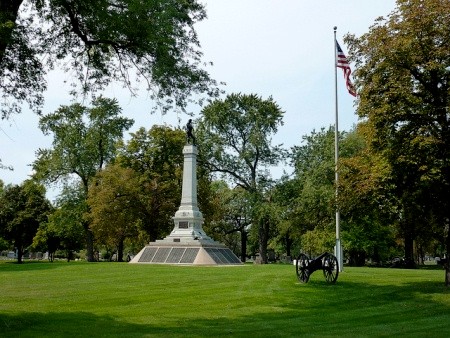 These cannons are likely meant to symbolize the American Civil War that motivated the imprisonment of Southerners in Camp Douglas in the first place.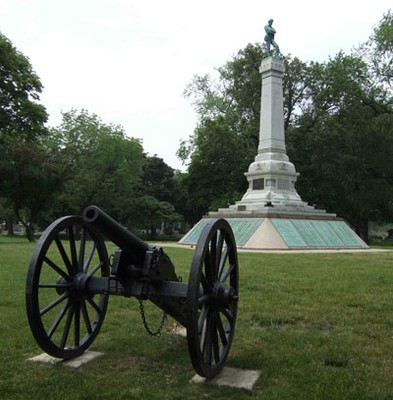 Exposure to cold conditions like those shown here was a primary killer of many Confederate P.O.W.s at the Camp.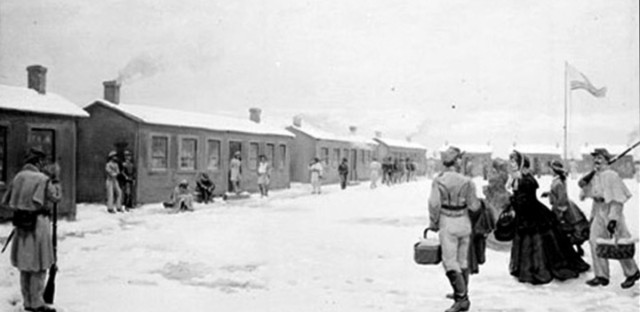 Backstory and Context
The Confederate Mound was built above the remains of more than 4000 Confederate soldiers, all of whom died at Camp Douglas. It is phenomenally appropriate to collectively call American Civil War prison camps one of the worst stains in American history, and Camp Douglas was no exception. Camp Douglas was a makeshift prison; consequently, it had poorly kept barracks, horrendous sanitary conditions, few if any adequate shelters from poor weather, and a far greater population than it had any right to have—at least double its maximum capacity. The 4,039 Confederates beneath the Mound died from disease and/or exposure in the three years Camp Douglas saw operation. While not the deadliest P.O.W. camp in the war, Camp Douglas was the North's deadliest prison camp and still abhorrent on its own merit.
With this level of unnecessary devastation, it comes as little surprise that numerous groups and governments wanted a memorial to the victims. Some may wonder why the monument is located more than five miles south from where Camp Douglas originally stood. Although suspicious sounding at first, the distance from the original camp is not without reason. According to the National Park Service, the lease for Camp Douglas forbade the dead from permanent on-site burials. They were first kept in the closer City Cemetery, but had to be moved in 1866 when constant flooding forced the cemetery to close. A lot in Oak Woods was eventually selected and, by 1895, the monument was finished.
This monument was hardly limited to city-wide attention. In truth, the monument received fair attention from the Federal government as well. The monument itself was created thanks to pressure from numerous national Confederate groups. According to the V.A.'s page on the monument, "Their efforts were rewarded when President Grover Cleveland and his entire cabinet attended the dedication… on May 30th, 1895." [4] When it was discovered in 1911 that the monument was beginning to sink into the ground, Congressman James Mann introduced successful legislation to have the Federal government pay nearly $4000 to have the monument restored, alongside an annual $250 payment for maintenance. Even the National Park Service's website included their page on the Mound as part of a group called "Civil War Era National Cemeteries: Honoring Those Who Served" [3]
The monument is not without modern controversy. Some view it as a symbol of racist sentiments against Afro-Chicagoans as it glorifies the Southern cause, a sentiment that is neither unjustified considering the monument's presentation nor entirely new. The night before the monument was dedicated, vandals defaced it. Ninety-seven years later in 1992, protest was made against its inclusion as a historic landmark. With controversy against Confederate monuments gaining steam, it will be only a matter of time before debate once again swirls around Chicago's Confederate Mound.
Sources
[1] "Honors the Fallen Foe: Bill to Improve Confederate Mound at Oakwoods." Chicago Daily Tribune, August 18, 1899: 10. https://search.proquest.com/docview/172948823?accountid=28733.
[2] Knight, Meribah. "Chicago's Forgotten Civil War Prison Camp." Last modified September 3, 2017. https://www.wbez.org/shows/curious-city/chicagos-forgotten-civil-war-prison-camp/92844206-a9bc-4f62-8786-d5afef093379.
[3] National Park Service. "Confederate Mound at Oak Woods Cemetery Chicago, Illinois." Accessed February 28, 2020. https://www.nps.gov/nr/travel/national_cemeteries/Illinois/Confederate_Mound_Oak_Woods_Cemetery.htm
[4] U.S. Department of Veterans Affairs. "National Cemetery Administration: Confederate Mound." Last modified August 28, 2017. https://www.cem.va.gov/cems/lots/confederate_mound.asp.
Image Sources
U.S. Department of Veterans' Affairs, https://www.cem.va.gov/cems/lots/confederate_mound.asp

National Park Service, https://www.nps.gov/nr/travel/national_cemeteries/Illinois/Confederate_Mound_Oak_Woods_Cemetery.html

WBEZ, https://www.wbez.org/shows/curious-city/chicagos-forgotten-civil-war-prison-camp/92844206-a9bc-4f62-8786-d5afef093379

Additional Information