Andrew Jackson May/Latta Family House
Introduction
The May-Latta House, built 1917-18, is a prime example of a Craftsman-style American Foursquare dwelling. Its builder and owner, later-Congressman (and Chairman of the House Military Affairs Committee) Andrew Jackson May, gained notoriety for revealing secret information that may have led to the deaths of 800 submariners during World War II. After the war, he was convicted of taking bribes to direct munitions contracts to the Garsson brothers' "paper companies" and served several months in jail; he was pardoned by President Truman in 1952.
Images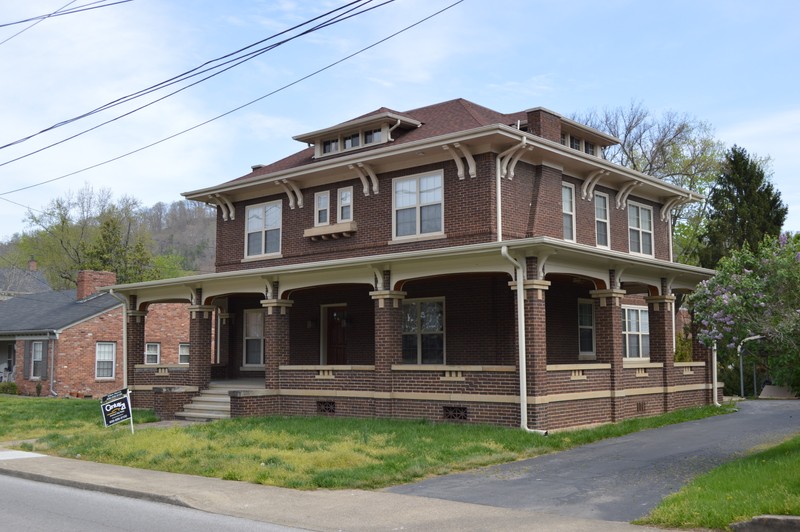 Congressman Andrew J. May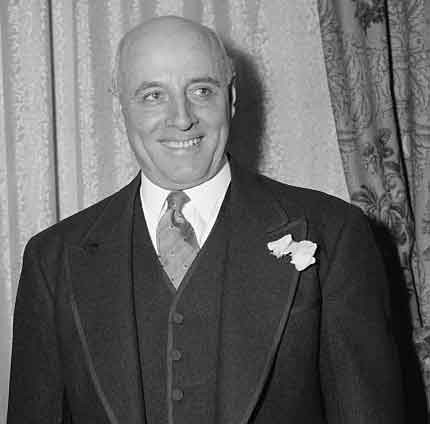 Backstory and Context
Andrew Jackson May was born in 1875 in rural Floyd County. He taught in area schools for several years before attending Southern Normal University Law School, from which he graduated in 1898. He opened a law practice in Prestonsburg, May & May, with his twin brother the same year. His career was quite successful, and, in addition to law, he had interests in farming, coal, and banking. In 1917, he began construction of a home on North Arnold Avenue. A flood delayed work, but the house was completed in 1918. It is a fine example of an American Foursquare dwelling. Sometimes called an architectural style but more accurately a type of house, American Foursquare was very popular and incredibly widespread from the late 1800s until around 1930. It is an eclectic form but was characterized by a plain, boxy, two-story frame with a full-width porch and a hipped roof with dormers. Its simple format lent itself to customization; foursquares can be found in Prairie, Arts & Crafts/Craftsman, Colonial Revival, and even Spanish Revival styles. Plans and decorative pieces and accents could be ordered from catalogs; it is believed that this was the case with the May house. The house also features significant Arts & Crafts/Craftsman influence, most noticeably in its Spanish tile roof, its veranda, and its overhanging eaves with decorative support brackets. (Its doors and windows, on the other hand, are more reminiscent of Colonial Revival elements.)
May was also an active Democrat; he unsuccessfully ran for Congress in 1928, but ran again and won a seat representing Kentucky's Tenth District in the US House of Representatives in 1930. He was first known for his stringent opposition to the Tennessee Valley Authority and its plan to dam the Tennessee River, believing that these dams would destroy eastern Kentucky's agricultural bottom lands. However, he later became notorious for his actions during World War II. May served as chairman of the House Military Affairs Committee from 1938 to the end of his congressional career in 1947. In June 1943, after a junket to the Pacific Theater, he held a press conference where he revealed that American submarines were safe because Japanese forces were not setting their depth charges to detonate deep enough to cause any harm. Allegedly, the Japanese heard the news (which was published nationwide) and adjusted their tactics. After the war, Vice Admiral Charles Lockwood, commander of submarines in the Pacific Fleet, claimed, "I consider that indiscretion cost us ten submarines and 800 officers and men."[2] However, official US Navy reports on submarine warfare do not mention his disclosure or claim depth charges as the proven cause of loss of any of the ten submarines. 
In 1946, May was accused of taking bribes and abusing his power to direct contracts to Murray and Henry Garsson, brothers who were accused of mob ties and a diverse array of other crimes. As a result, May lost to his Republican challenger, ending his string of eight consecutive terms. During the trial in 1947, it was discovered that the Garssons had formed a "paper" munitions company and bribed May to contract it for war manufacturing before it physically existed. By the end of the war, they had been paid over $78 million by the government; May had received at least $53,000 in bribes, both direct and through Prestonsburg's Cumberland Land Company, which the Garssons purchased for that purpose. After conviction of bribery conspiracy, May served time in prison from December 1949 to September 1950. He was given a full pardon by President Harry Truman in 1952 and returned to practicing law in his hometown.
In 1957, a flood ripped through Prestonsburg, rising almost to the second story of the May house. May himself was bedridden and trapped upstairs, and neighbors delivered supplies to him from a boat. He died in 1959 and the house passed to his daughter, Olga May Latta, and was still in the Latta family at the time the house was listed on the National Register of Historic Places in 1989.
Sources
1) The American Foursquare, OldHouses.com. Accessed March 28th 2020. https://www.oldhouses.com/styleguide/american-foursquares.
2) Blair, Clay. Silent Victory: The U.S. Submarine War Against Japan. Volume I. Philadelphia, PA and New York, NY. J.B. Lippincott Company, 1975. p. 397.
3) Foursquare Style — 1895 to 1930, Antique Home Style. Accessed March 28th 2020. https://www.antiquehomestyle.com/styles/foursquare.htm.
4) Langeveld, Dirk. Andrew J. May: war crimes, The Downfall Dictionary. February 27th 2009. Accessed March 28th 2020. http://downfalldictionary.blogspot.com/2009/02/andrew-j-may-war-crimes.html.
5) MAY, Andrew Jackson (1875-1959), Biographical Directory of the United States Congress: 1774 - Present. Accessed March 28th 2020. https://bioguideretro.congress.gov/Home/MemberDetails?memIndex=M000272.
6) Newell, Seth. Andrew J. May Papers, ExploreUK (University of Kentucky Libraries Special Collections Research Center). Accessed March 28th 2020. https://exploreuk.uky.edu/fa/findingaid/?id=xt715d8nfz8b.
7) Poore, Patricia. American Foursquare Architecture & Interiors, Old House Online. October 26th 2018. Accessed March 28th 2020. https://www.oldhouseonline.com/house-tours/american-foursquare.
8) Soniak, Matt. Do Loose Lips Really Sink Ships?, Mental Floss. July 17th 2013. Accessed March 28th 2020. https://www.mentalfloss.com/article/51707/do-loose-lips-really-sink-ships.
9) Warminski, Margaret. May-Latta House, National Register of Historic Places Registration Form, Kentucky Heritage Council/State Historic Preservation Office. Accessed March 28th 2020. https://npgallery.nps.gov/GetAsset/bcff4c4e-efb3-4cef-8f87-d0bc8e0857df/.
Image Sources
Wikipedia - Public Domain (https://en.wikipedia.org/wiki/File:May-Latta_House.jpg)

Wikipedia - Public Domain (https://commons.wikimedia.org/wiki/File:Andrew_J._May_cropped.jpg)

Additional Information