Booker T. Washington Vocational School
Introduction
The Booker T. Washington Vocational School, also known as The Franklin School, was located at 814 N. 19th Street near the former Mill Creek Valley neighborhood. The Booker T. Washington Vocational School was the first vocational school for the Black population of St. Louis from its inception as a part of the St. Louis Public Schools policy of segregation. Black students went to Booker T. Washington for vocational studies and white students attended Hadley Technical High School less than two miles away. The building is an example of the 19th century and early 20th century Greek Revival style housed about 391 students within its walls
Images
BOOKER T. WASHINGTON VOCATIONAL HIGH SCHOOL, 814 N. 19TH STREE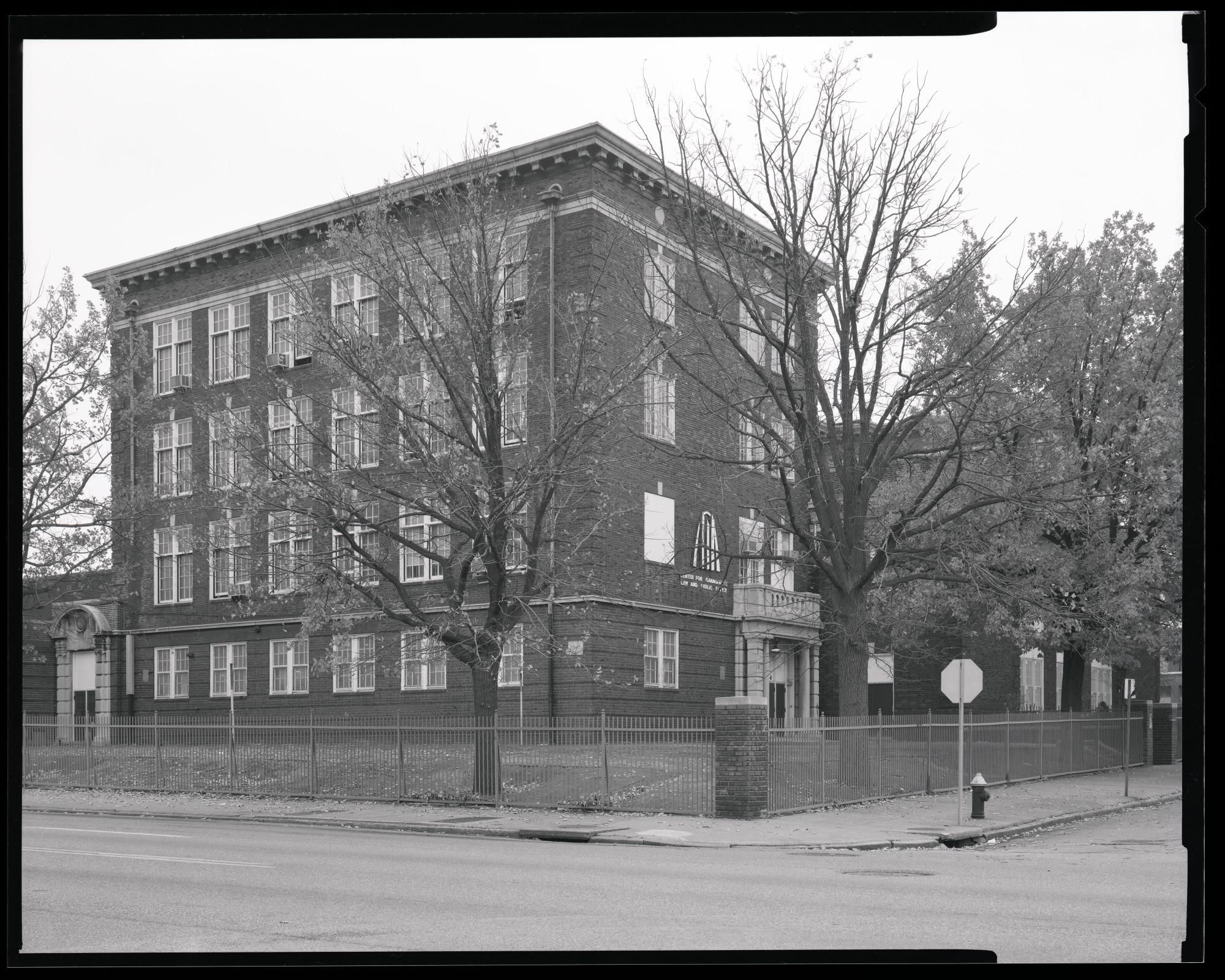 Backstory and Context
According to the Booker T. Washington School registration as a Historic Place, the master architect was William B. Ittner, who designed a U-plan with 24 classrooms instead of the typical 20. It featured four additional classrooms in the back and an auditorium that fits 1,213, a remarkable addition for a school of this size to have its own auditorium. In 1934 the building was formerly recognized as a school for the Black population of St. Louis having been used previously for the white residents of the area up until the 20th century. To adhere to the "separate but equal" law, the city of St. Louis needed a vocational school for Black residents like the vocational school for white residents. Instead of integrating Hadley Vocational High School, the town refitted Franklin school as the new Booker T. Washington School. 
The school was founded by the city of St. Louis and named after the principles of educator and African American leader Booker T. Washington, who founded the Tuskegee Institute based on his philosophy. Focused on his philosophy of educating the community in industry and technical skills in preparation for work in labor and agricultural pursuits. This emphasis on skills-related training for Black americans so they could be assimilated, or "accommodated," in white society. The school focused less on a typical "liberal arts" education and more on a readying workers for the factory. Booker T. Washington's principles of education did not focus on classical education but instead focused on industrial education. Racial uplift through industrial education and readying Black Americans for a future in an industry that would give them the tools to move up economically in the United States. The Washington method to racial uplift was in contrast to the technique focused on by W.E.B DuBois, who wanted a classical education for Black students, like Sumner High School located in the Ville neighborhood, another historically Black public school in St. Louis. 
 St. Louis Public Schools resisted integration and instead created new rules and guidelines for vocational enrollment. The St. Louis Race Commission surveyed Hadley and Washington schools and found unequal education opportunities for students in SLPS in 1948. The Commission said has followed "as emphatically as words can convey, that you [The Board of Education] take prompt and adequate action to equalize at least the facilities and personnel in both colored and white vocational training schools." This unequal access to education created an inability for job placement and further advancement. But they were in accordance with Missouri State Statues that upheld segregation in school has state-mandated law. It was at the center of the integration debate happening in St. Louis before the 1954 Brown v. Board of Education of Topeka decision made the decision for them.  
In 1956 the school was closed after the Brown vs. Board of Education decision to desegregate schools across the county. The city of St. Louis moved students from both Hadley and Booker, pushing students to the new O'Fallon Technical High School. Hadley remained open.
 From 1957 to 1980, it was again Franklin Elementary School redesigned by Shakofsky Construction Company. Then became the remained an elementary school until 1980, when it became home to the magnet Business, Management, and Financial Center for 6 years. It changed hands multiple times before being vacant for over 10 years. It is now Franklin School Senior Apartments. 
Sources
Bivens, Matthew. "Franklin School." National Register of Historic Places Inventory/Nomination Form. Landmark Association of St. Louis, August 20, 2004.
"Part I: The African-American Experience." A Preservation Plan for St. Louis Part I: Historic Contexts 8 - The African-American Experience. St. Louis MO Government Cultural Resources Office. Accessed March 24, 2020. https://www.stlouis-mo.gov/government/departments/planning/cultural-resources/preservation-plan/Part-I-African-American-Experience.cfm.
Spencer, Thomas M. The Other Missouri History Populists, Prostitutes, and Regular Folk. Columbia: University of Missouri Press, 2004
Schultz, David. BOOKER T. WASHINGTON VOCATIONAL HIGH SCHOOL, 814 N. 19TH STREET, Missouri: St. Louis, 814 N 19th St. 1993. Missouri Historical Society, Saint Louis, MO.
WEATHERSBY, CLAUDE. ANTI-BLACKNESS AND PUBLIC SCHOOLS IN THE BORDER SOUTH: Policy, Politics, and Protest in St. Louis, 1865-1972. CHARLOTTE: INFORMATION AGE PUB, 2019.
Wright, John A. (John Aaron), 1939. 2002. Discovering African American St. Louis: A Guide to Historic Sites. 2nd ed. St. Louis, Mo: Missouri Historical Society Press.
Image Sources
https://mohistory.org/collections/item/N21231