Grand Portage
Introduction
Grand Portage National Monument is located on the northern shore of Lake Superior in Minnesota. The Grand Portage is an 8.5 mile trail that was made to bypass the high waterfalls that lead into Lake Superior. The rapids in the river make it impossible for boaters to get through so the trail was necessary. The trail was made so trading furs and goods could still be possible. This trail was part of the trade route between the French-Canadian voyagers. The Grand Portage National Monument preserves the vital center path of fur trade and the Anishinaabeg Ojibwe culture. The trail is open year round from dusk until dawn and park staff are always on duty to answer questions.
Images
The Great Hall at Grand Portage National Monument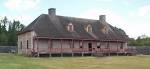 The depot and dock at Grand Portage.

Map showing where Grand Portage is located.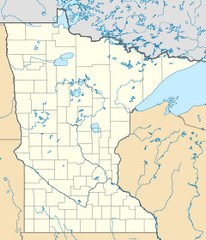 Backstory and Context
Grand Portage National Monument is located in the northeastern part of Minnesota near Lake Superior. In 1729 the first fur trade map was drawn to show traders and the French how to get to the western sea of Lake Winnipeg. Due to these accessible trails, Grand Portage became a popular trading route since it connected important interior and exterior traders. The trail traveled by many at Grand Portage was 8.5 miles long. Due to its remote spot many people from Canada would canoe to Grand Portage, dock, and then walk the fur to traders. Many people traded their furs for goods and supplies for families, and villages. Fort Charlotte was built at Grand Portage to serve as their trading fort for buyers and sellers. Grand Hall, pictured above, was also built on Grand Portage land and served as their meeting room, general store, and various other purposes.

The fur trade throughout Grand Portage began to flourish and the North West Company, who was the most successful trading company in North America set up a meeting in Grand Hall to discuss matters with Grand Portage representatives. During this meeting the NWC voted to move their summer fur trade more north of Grand Portage to Kaministiquia River. Due to United States interference the NWC decided to move their fur trade far north and off United States soil. Grand Portage was restored into a National Historic site in 1951 and was open for visitors. Shortly after, in 1958, it was declared a National Monument. Grand Portage is a 710 acre lot with many attractions available to see.

The 8.5 mile trail at Grand Portage still looks the same as it did in its historic times. Many visitors walk the trail to view Lake Superior and Pigeon River since the trail connects the two. The staff on duty dress the attire as it was the early 1900s. They explain to visitors what life was for the fur traders and those who resided on Grand Portage. A reenactment is held at Grand Portage in August yearly where they hold a pow-wow that attracts the local Indians and many more visitors. Due to Grand Portages popular attraction, they built a Heritage Center in 2007. Grand Portage sees around more than 70,000 visitors a year. The Heritage Center sits upon a rocky hill overlooking the now newly reconstructed fur trading post. It includes exhibits about the Ojibwe tribe culture and their role in the fur trade, and a souvenir shop. Grand Portage National Monument is a great place learn about the northern fur trade and culture about tribes surround the town.
Sources
http://www.nps.gov/history/stories.htm http://www.nps.gov/grpo/planyourvisit/accessibility.htm
Additional Information