Governor of Puerto Rico resigns after protests
Introduction
On July 24, 2019, Puerto Rico made history by forcing Ricardo Roselló to step down as the island's governor. This happened as a result of the massive protests that took place around the island and specificallly on a street called "La Fortaleza" outside the official residence of the governor. Roselló was forced to resign because a scandalous private chat in the Telegram social media platform between the governor and his inner administrative circle was leaked. This chat had homophobic slurs, improper comments about women and vengeful comments about government administrators. It included planned attacks on journalists by discrediting stories and threats to hand over political opponents to the police. When the content of this chat went public, many people said that they felt disrespected by the governor's comments in addition to other situations that happened during the time he was governor of the island. The people of Puerto Rico protested in huge numbers and Roselló officially stepped down on August 2, 2019.
Images
Puerto Ricans protesting in outrage becasue of the governor's behavior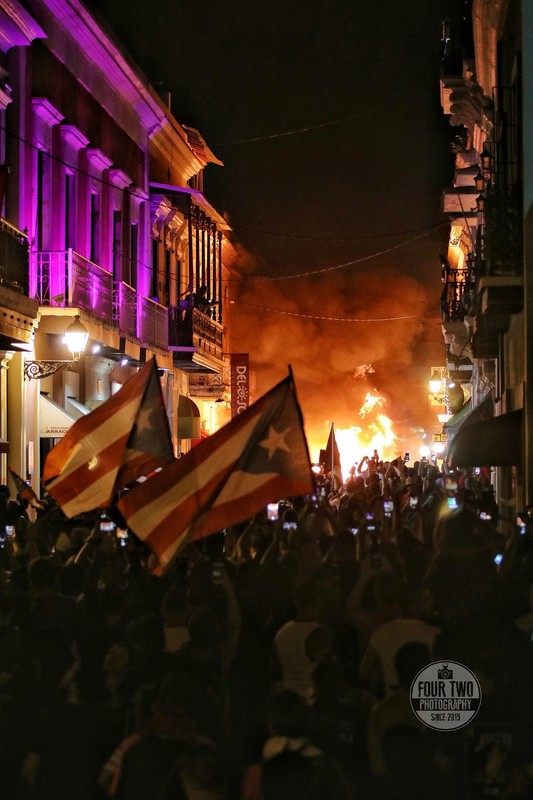 Thousands of Puerto Ricans in " La Calle Fortaleza" protesting against Governor Ricardo Roselló in July 2019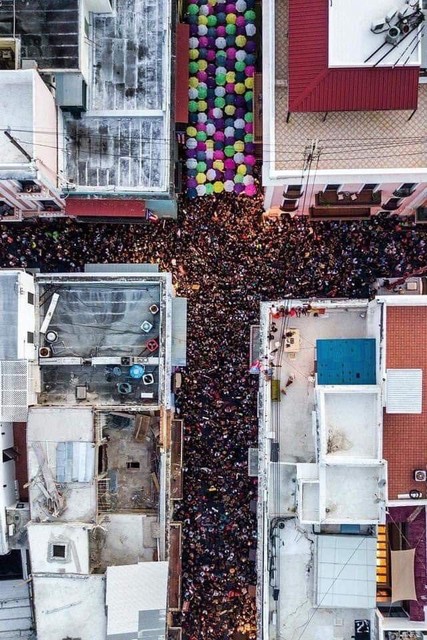 Fortaleza Street adorned with umbrellas and the governor's official residence in the background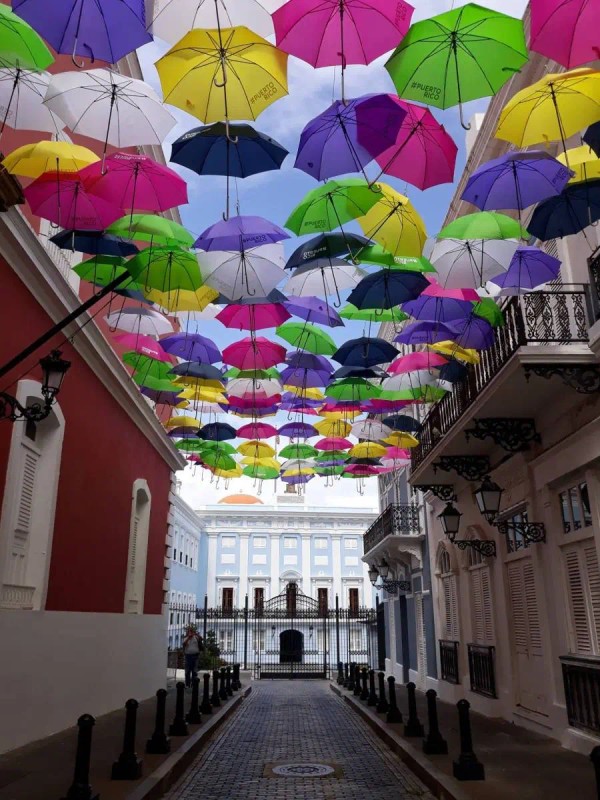 The Puerto Rican flag worn as a symbol of unity by one protester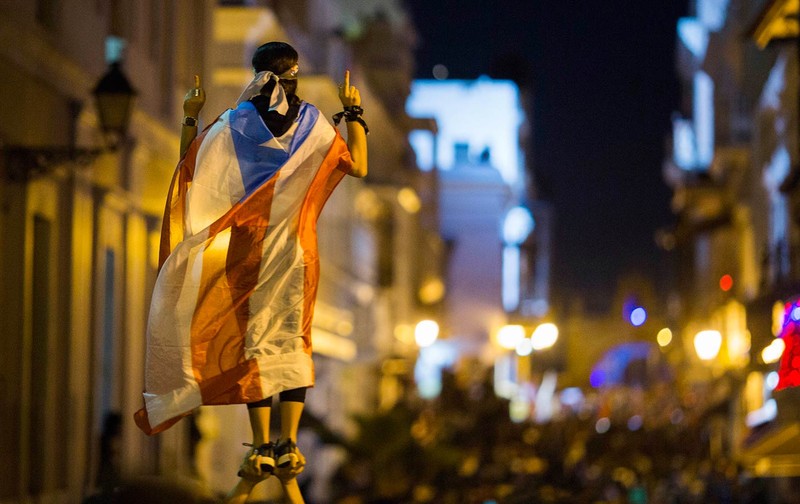 Protesters taking over "La Calle Fortaleza" and being stopped by a police barricade outside the governor's official residence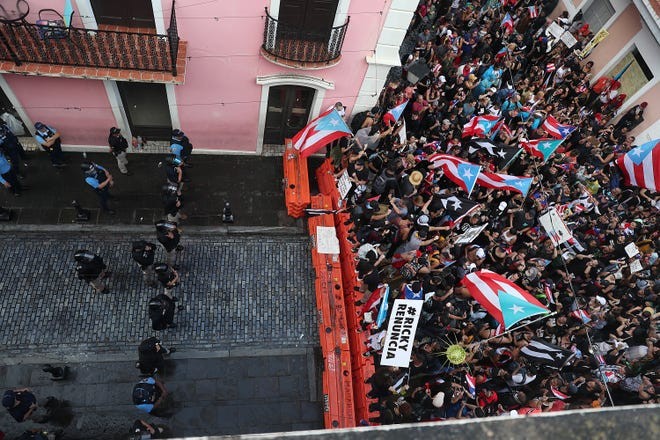 "La Calle Fortaleza" adorned with the flag of Puerto Rico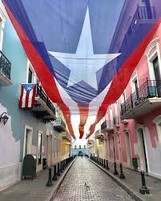 Backstory and Context
Puerto Rico, known as the island of enchantment (la isla del encanto) is a tropical paradise to visit, but the island also has places where people have fought for a common good and united for their rights. Before the events that triggered the 2019 protests happened, many in Puerto Rico had long been working to expose the corruption of officials who were not in positions of power for the good of the island, instead they were looking out for their own well-being and seeking ways they could fill their pockets regardless of the methods or the poeple they used to accomplish those goals.
 There is a Puerto Rican saying that translates as: "Everything comes out in the light," and this is what happened when the Telegram chat of Ricardo Roselló and his inner circle was leaked. When this happened, Puerto Ricans could see how the governor and the other members in the chat made fun of women and homosexuals by making inappropriate and homophobic comments. Those in the chat also talked about how they carried out partisan political work using public resources and how they controlled political narratives through the country's social networks and media. They made fun of journalists using profane language, and they make fun of the people that died after Hurricane Maria had devastated the island only to years previously. They make jokes of a sexual nature and motivated public derision of those who criticized the government, among other discriminatory messages posted on the chat. These comments were simply unacceptable to the majority of the public who rose up in protest. Protesters were launched into action by the leak from the Telegram chat, but thier dissatisfaction with governing officials had been mounting over the weeks before this happened, for example, when different public functionaries were arrested for corruption, including the secretary of education at the time, Julia Keleher. The FBI's announcement that the arrests would continue to happen only confirmed the beliefs of many Puerto Ricans that the ruling classes had been entirely corrupted.
Public outrage had already grown in response to to the ongoing exposure of corruption and increasing public knowledge about the injustices that politicians had contributed to. The Telegram leaks in 2019 became a culminating point for Puerto Ricans to come out and participate in large scale protests. In the summer of 2019, together as a country, Puerto Ricans took the streets to do justice and fight for a better Puerto Rico. The streets of old San Juan were crowded, and masses of people moved towards the official residence of Governor Ricardo Roselló, "La Fortaleza". For 15 days, Puerto Ricans used their right to protest and raised their voices to get Ricardo Roselló, the governor of Puerto Rico, to resign his position after the Telegram scandal surrounded his administration. At first, on July 11 of 2019, Roselló said that he was not going to resign, but on July 24, he announced that he was going to step down as Puerto Rico's governor. His words were:
"Today, I announce that I'm resigning the post of governor effective Friday, August 2, 2019 at 5pm" 1
After this announcement, the streets filled with expressions of joy and happiness because protesters had fulfilled their objective. A multitude of Puerto Rican flags were raised, different instruments sounded, people shouted "Oé! Oé Oé!" and fireworks lit the sky on that night. Protesters no longer shouted "Ricky renuncia" (Ricky resign) now they shouted "Ricky renunció" (Ricky resigned). Many felt that after years of financial mismanagement and insufficient responses in cases of national emergency (such as the events after Hurricane Maria), the island was ready for a new governor and a more accountable administration. 
Once Ricardo Roselló resigned, he informed that the person who was going to take his place was going to be the secretary of the Department of Justice, Wanda Vázquez. However, Pedro Pierluisi moved to take command of the island and was sworn in as governor in August 2, 2019. The Senate President, Thomas Rivera Schatz, sued and petitioned the Supreme Court to overturn Pedro Pierluisi's oath. With less than a week in office, Pedro Pierluisi's government was annulled on August 7, 2019 and Wanda Vázquez became the governor of Puerto Rico.
Sources
1 Protesters Celebrate As Puerto Rico Governor Ricardo Rosselló Announces Resignation | Nbc News. (2019). Retrieved from https://www.youtube.com/watch?v=8x-USBTd1wg
En manos del Tribunal Supremo de Puerto Rico el futuro de Pedro Pierluisi como gobernador, Orlando Sentinel. August 5th 2019. Accessed May 1st 2020. https://www.orlandosentinel.com/elsentinel/politica/os-es-tribunal-supremo-pedro-pierluisi-gobernador-20190805-k7sqavfxxfhtbllzyd3kwyfdiu-story.html.
Varela, Julio Ricardo. Puerto Rico's governor needs to step down, The Washington Post. July 16th 2019. Accessed May 1st 2020. https://www.washingtonpost.com/opinions/2019/07/16/puerto-ricos-governor-needs-step-down/.
Onyenacho, Tracey. Here's Why The Puerto Rican People Forced Governor Ricky Russello To Resign, Join Daily Newsletter. July 25th 2019. Accessed May 1st 2020. https://blavity.com/heres-why-the-puerto-rican-people-forced-governor-ricky-russello-to-resign?category1=politics.
Mazzei, Patricia and Robles, Frances. Ricardo Rosselló, Puerto Rico's Governor, Resigns After Protests, The New York Times. July 24th 2019. Accessed May 1st 2020. https://www.nytimes.com/2019/07/24/us/rossello-puerto-rico-governor-resigns.html.
Crisis en Puerto Rico: qué dicen los mensajes homófobos y sexistas que precipitaron la caída del gobernador Ricardo Rosselló, BBC. July 25th 2019. Accessed May 1st 2020. https://www.bbc.com/mundo/noticias-internacional-48997715.
Crisis en Puerto Rico: el escándalo del chat del gobernador Ricardo Rosselló que provocó una crisis institucional en la isla, BBC. July 14th 2019. Accessed May 1st 2020. https://www.bbc.com/mundo/noticias-internacional-48980097.
Image Sources
Santiago-Ortiz, A., & Meléndez-Badillo, J. (n.d.). La Calle Fortaleza in Puerto Rico's Primavera de Verano. Retrieved from https://www.societyandspace.org/articles/la-calle-fortaleza-in-puerto-ricos-primavera-de-verano

r/PuertoRico - Calle la fortaleza during the protest. (n.d.). Retrieved from https://www.reddit.com/r/PuertoRico/comments/ce0y3w/calle_la_fortaleza_during_the_protest/

The Colorful Umbrellas. (2018, August 18). Retrieved from https://viajeraymochilero.com/en/the-colorful-umbrellas/

Morales, E. (2019, July 22). Why Half a Million Puerto Ricans Are Protesting in the Streets. Retrieved from https://www.thenation.com/article/archive/puerto-rico-protests-scandal-rossello/

Raedle, J. (2019, July 23). A barricade set up along a street leading to the governor's mansion in Old San Juan. Retrieved from https://www.usatoday.com/story/news/nation/2019/07/23/puerto-rico-protests-photos-show-massive-san-juan-demonstrations/1802411001/

Pin de Miladysvega en Puerto rico en 2020 (con imágenes): Bandera puertorriqueña, Puertorriqueños, Puerto rico. (2020, February 14). Retrieved from https://www.pinterest.com.mx/pin/797277940273343132/

Additional Information