T.W. and Annie Haight Residence
Introduction
Annie Haight, who lived at 728 W. St. Paul Avenue with her husband, Theron Wilber (T.W.)., was one of the founders of the Beacon Lights Club of Waukesha. First organized as a reading group in 1885, the Beacon Lights Club quickly became one of Waukesha's most popular women's philanthropic clubs. Club meetings were frequently held in members' homes. The Beacon Lights Club remains an active part of Waukesha's local community today.
Images
Waukesha Public Library, Cutler Park, Waukesha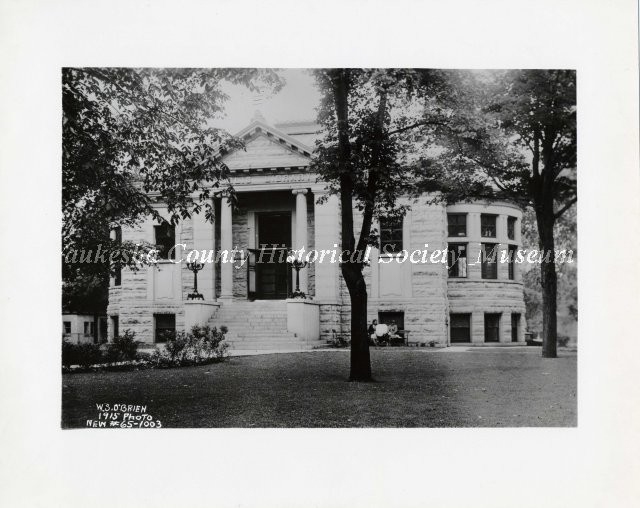 Backstory and Context
The Beacon Lights Club was first organized in Waukesha in 1885 as women's reading group by Anne Youmans Haight and six other women. The group operated informally for several years until it incorporated as the Beacon Lights Reading Club in 1893. The club's formal organization was, in part, a response to Theodora Winton Youmans' call for the women of Waukesha to organize themselves. Youmans, an influential journalist with the Waukesha Freeman and prominent leader in Wisconsin's women's suffrage movement, saw clubs and organizations as a means for local women to cultivate self-improvement and political influence.   
According to club histories, the name "Beacon Lights Club" was inspired by the book the group was reading when they first organized, John Lord's Beacon Lights of History. The Beacon Lights Club was a member of the General Federation of Women's Clubs from 1900 until 1958. After its formal organization, the club's activities quickly grew beyond that of a reading group. Over the years, meeting events expanded to include lectures, educational programs, picnics, and other social-cultural group outings. The Beacon Lights Club quickly became one of Waukesha's most rigorous women's clubs.
Club meetings were held weekly at club members' homes until 1933; attendance was considered mandatory unless a serious excuse, such as illness or death was provided. After 1933, meetings were reduced to twice a month, and then to once a month in 1974. 
As a community organization, the women of the Beacon Lights Club played a pivotal role in the founding of the Waukesha Public Library in 1896 and became deeply involved in a wide variety of civic and charitable causes both within and beyond the City of Waukesha. Over the club's lifetime, the organization has made donations to community institutions including: Carroll University, Waukesha Memorial Hospital, the Waukesha County Historical Society, among others. The club remains an active part of the Waukesha community today.
Sources
Beacon Lights Club Collection, 2020.020. Waukesha County Historical Society and Museum, Waukesha, Wisconsin.
McBride, Genevieve G. On Wisconsin Women: Working for Their Rights from Settlement to Suffrage. (Madison, WI: University of Wisconsin Press, 1993).
Image Sources
Waukesha County Historical Society and Museum

Additional Information