UCV Civil War Military Operations Marker #25: Keyes' Switch, April 6, 1865
Introduction
This is marker #25 in a series of obelisks erected in 1910 by the Jefferson County Camp, United Confederate Veterans to mark locations of engagements and other significant Civil War events in Jefferson County. The engagement at Keyes Switch on April 6, 1865 was the last cavalry raid in West Virginia of the Civil War. Company H of Mosby's Ranger under the command of Captain George Baylor surprised a camp of the Loudoun Independent Rangers, Unionist cavalry from Loudoun County, Virginia.
Images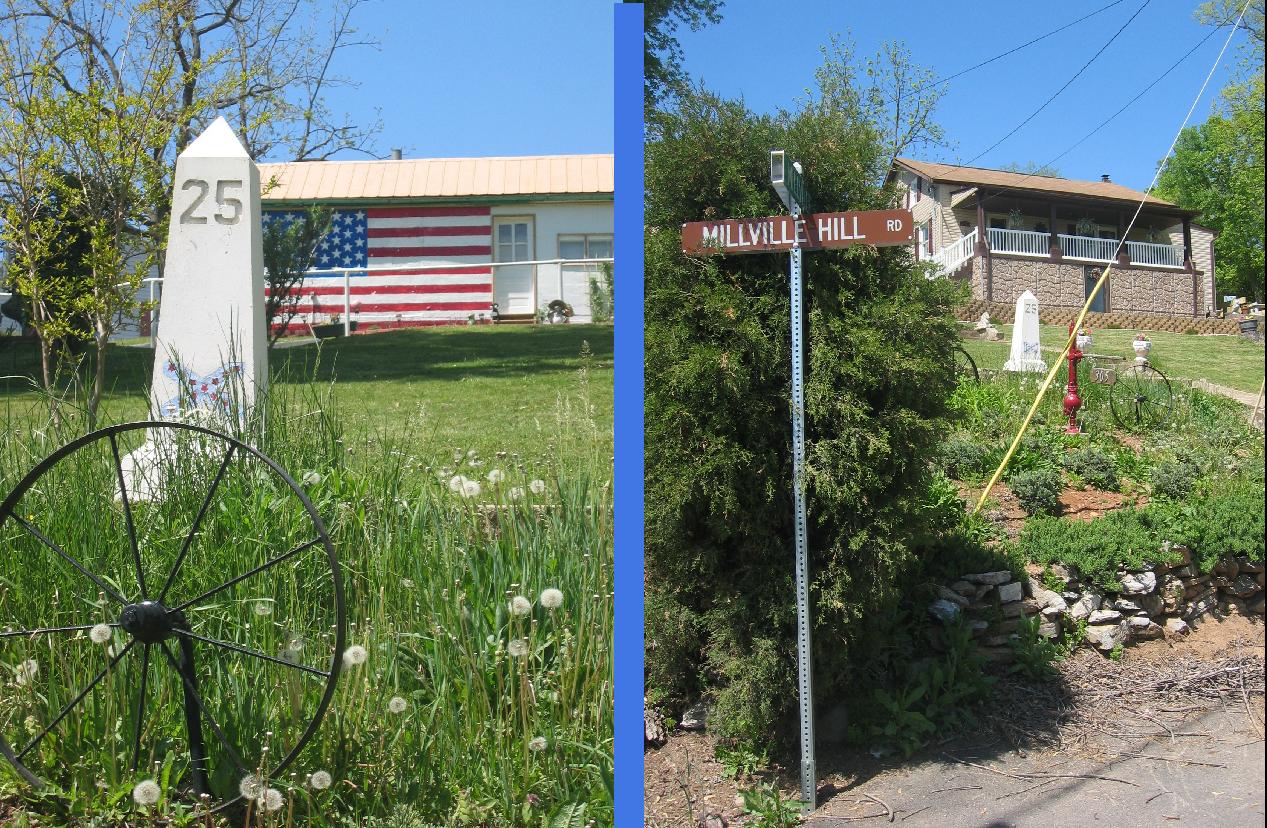 Captain George Baylor, Co. H, Mosby's Rangers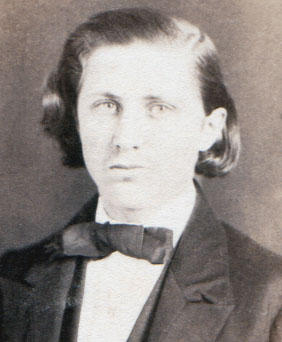 The Civil War Trails signs about Keyes' Switch are just down Millville Road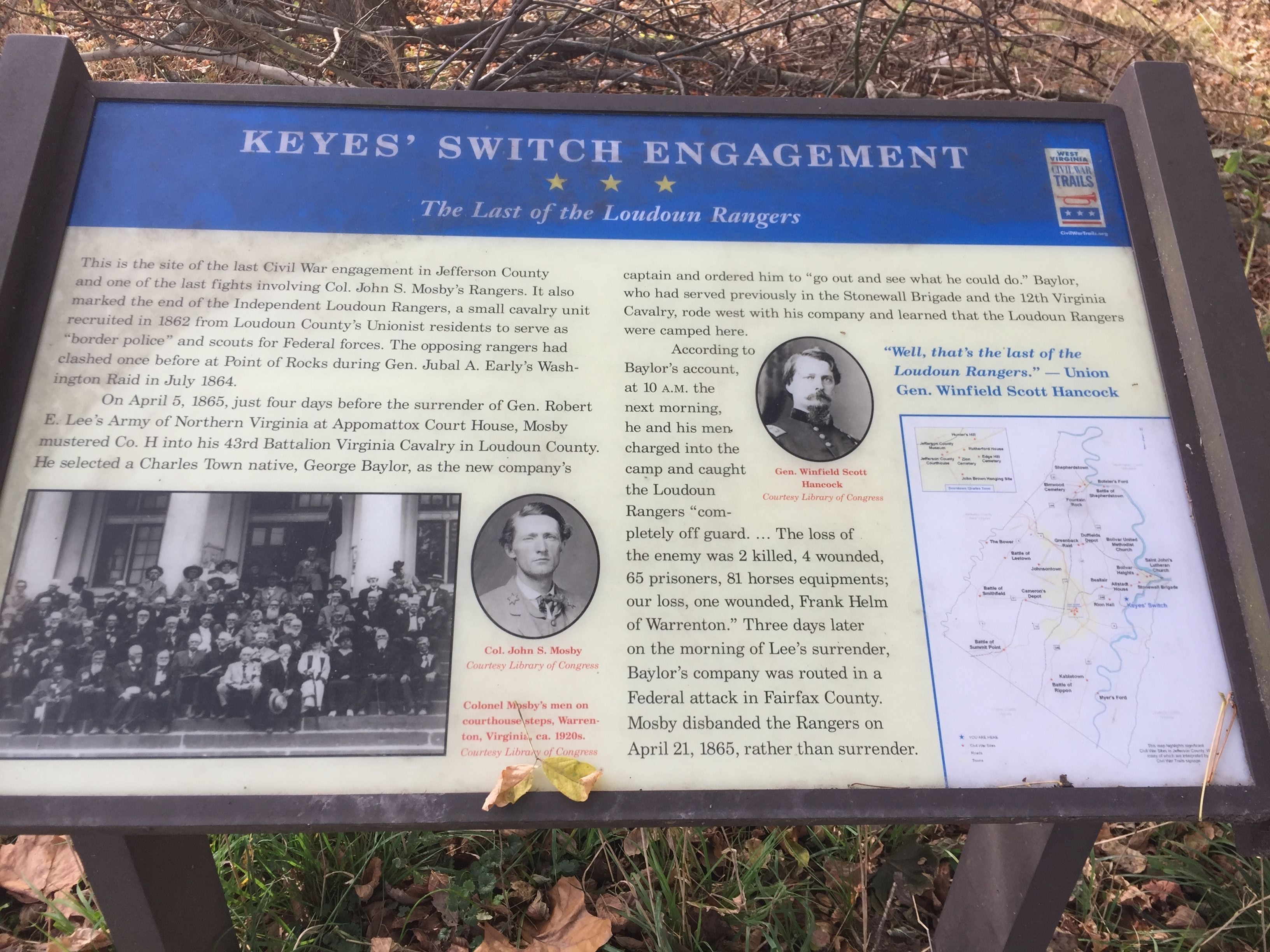 Backstory and Context
On April 5, 1865, Captain George Baylor (a native of Jefferson County) was given command of Company H of Mosby's Rangers. On April 6, Baylor led his company from near Snickersville, VA, crossed the Shenandoah River near Kabletown, and headed towards Charles Town. After evading Union forces stationed near Keyes Switch/Millville, Baylor decided to attack the Union camp nearby. Encamped there was the Loudoun Independent Rangers, independent cavalry comprised of Unionist Virginians from Loudoun County mustered in to serve as a home guard. Baylor launched a surprise attack on the Union camp. Union reports indicated that Baylor's men were wearing blue uniforms which helped them pass the forces at Millville and get close to the camp without issue. According to Baylor's account his men were able to capture 65 prisoners and 81 horses, with only one Confederate man wounded. Union accounts indicate that the number of prisoners captured was closer to forty. With the sounds of the skirmish, the nearby Union forces gave chase but Baylor's Rangers were able to evade the pursuers and recross the Shenandoah River. The captured men were held for about a week and then paroled.
This occurred in the context of the Appomattox Campaign leading to General Robert E. Lee's surrender on April 9, 1865. While many watching the events playing out between Petersburg and Appomattox, VA assumed that the war would soon be over, Colonel John S. Mosby was determined to keep fighting. In the aftermath of Lee's surrender, Mosby refused to surrender his men. Instead, Mosby disbanded his Rangers on April 21, 1865 but never officially surrendered. 
About the Monuments:
This series of monuments and accompanying tour pamphlet were part of an initiative from the Jefferson County Camp, United Confederate Veterans to commemorate the 50th anniversary of the Civil War. In 1910 Col. R. Preston Chew and the Jefferson County UCV raised the funds to place 25 concrete obelisks in Jefferson County to mark locations of engagement or other significant events. The following year the Camp published a pamphlet to accompany the obelisks and give more information about each location. This was Military Operations in Jefferson County, Virginia (Now West Virginia), 1861-1865 published in 1911. The pamphlet has been reprinted several times by the Henry Kyd Douglas Camp, No. 199 of the Sons of Confederate Veterans. Because the monuments and accompanying pamphlet were done by Confederate veterans it is likely that the locations and descriptions are biased towards or favor the Confederate view and experience of the war. 
Original Text from the 1911 Pamphlet:
"Marker Number Twenty-Five
Surprise of Loudoun Rangers at Key's Switch
On April 5th, 1865, Col. John S. Mosby organized Company "H", with George Baylor as Captain; E. F. Thompson, 1st Lieutenant; J. G. Wiltshire, 2nd Lieutenant; Jas. B. Carter, 3rd Lieutenant. On the day following, Baylor with his company crossed the Shenandoah river at Snickers Ferry and marched in the direction of Charles Town. In his report of this expedition he says:—
"On the way I learned that the Loudoun Rangers were camped near Millville (Keye's Switch, as it was then called), and that most of the Federal cavalry had gone up the Valley. The Loudoun Rangers were two companies of men from Loudoun county and the neighboring country, and Mosby's men had long been desirous of capturing them. Here was the opportunity; a regiment of infantry was camped just east of Halltown, picketing down to the river, and it was necessary to pass through this line of infantry pickets to reach the Ranger's Camp. The infantry picket was approached about 10 a. m., saluted, and passed without molestation, our men keeping perfectly in rank, and making no effort to capture of disturb them. This picket very politely gave us the usual military salute—"present arms"—but some of our boys, who took a sly glance at them, say it was the most tremulous salute they ever witnessed. Having safely passed the infantry picket line, we rode quietly to within fifty yards of the Rangers' Camp, and seeing them in their cavalry tents, horses tied to stakes and engaged in various diversions, ordered a charge. They outnumbered our force two to one, but we were playing a bold game, and the bold game generally wins in war as well as in cards. With two jacks and the poker in our hands, our opponents must yield. A general flurry and commotion followed our charge. A few seemed disposed to fight, but some to surrender. A few shots soon quieted the more pugilistic. Some ran for the bushes and made good their escape, but the greater part were made prisoners. The loss of the enemy was 2 killed, 4 wounded, 65 prisoners, 81 horses equipments; our loss, one wounded, Frank Helm of Warrenton. This was a pretty good beginning for company H, yet scarce two days old, and it felt proud of its achievement. Gathering up the prisoners, horses and equipments, the tents and wagons were fired, and company H rode off, while the Federal infantry in full view were sounding the "long roll" and falling into line. The river was crossed at Keyes' Ford, and pursuit was not attempted by the enemy."
Keyes' Ford,
On the night of March 22, 1864, George Baylor with seven men passed unnoticed through the enemy's infantry picket at Halltown, and got in rear of cavalry force at Keyes Ford, giving the Rebel yell they charged along the river road and dashed into the enemy's camp, where they found fifty horses and 13 men. The party consisted of 50 cavalry, the rest had taken to their heels and concealed themselves. Baylor and his party gathered up thirteen prisoners and 26 horses, leaving the other horses because they could not well manage them. Then they crossed the river and made their escape along the Blue Ridge Mountain road. This remarkable skirmish illustrates the terror troops feel when surprised and attacked in the night."
Sources
Bushong, Millard Kessler. A History of Jefferson County, West Virginia. Charles Town, WV: Jefferson Publishing Company, 1941.
"Colonel John S. Mosby and his Rangers in the Shenandoah Valley." Cedar Creek & Belle Grove. National Park Service. October 18, 2020. Accessed February 14, 2021. https://www.nps.gov/cebe/learn/historyculture/colonel-john-s-mosby-and-his-rangers-in-the-shenandoah-valley.htm.
Engle, Stephen Douglas. Thunder in the Hills: Military Operations in Jefferson County, West Virginia, During the American Civil War. Charleston, WV: Mountain State Press, 1989.
Military Operations in Jefferson County Virginia (and West Va.) 1861-1865. Published by Authority of Jefferson County Camp U.C.V. Farmers Advocate Print, 1911. Accessed January 20, 2021. https://babel.hathitrust.org/cgi/pt?id=uc2.ark:/13960/t4vh5gp6c&view=1up&seq=5.
Stone, Lee. The Independent Loudoun Virginia Rangers: The Roster of Virginia's Only Union Cavalry Unit. Waterford, VA: Waterford Foundation, Inc., 2016. 
Image Sources
Robertson, James Jr. "George Baylor." Radio IQ wvtf (Virginia's Public Radio). September 16, 2019. Accessed February 14, 2021. https://www.wvtf.org/post/george-baylor#stream/0.

"Keyes' Switch Engagement: The Last of the Loudoun Rangers." The Historical Marker Database. Accessed February 14, 2021. https://www.hmdb.org/m.asp?m=59417.

Additional Information