Copland House
Introduction
The Copland House, also known as Rock Hill was the studio and home where famous composer Aaron Copland lived from 1960 till 1990. Aaron Copland is regarded as one of America's most eminent composers who adapted traditional folk music and gave it a distinctly American voice. Along with Aaron Copland's own contributions to music he also started a program in his studio to encourage young composers to continue their work in music.
Images
A front yard view of Aaron Copland House (present day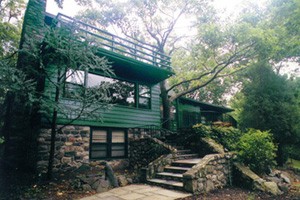 Aaron Copland studying music inside his studio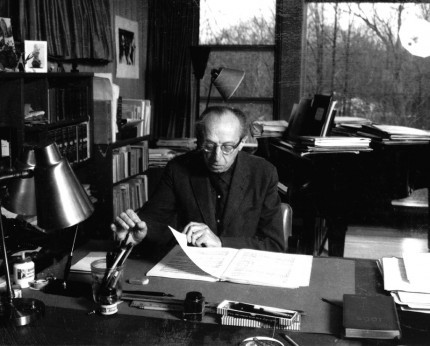 Recent image of Copland's studio, with piano, books, photographs, etc.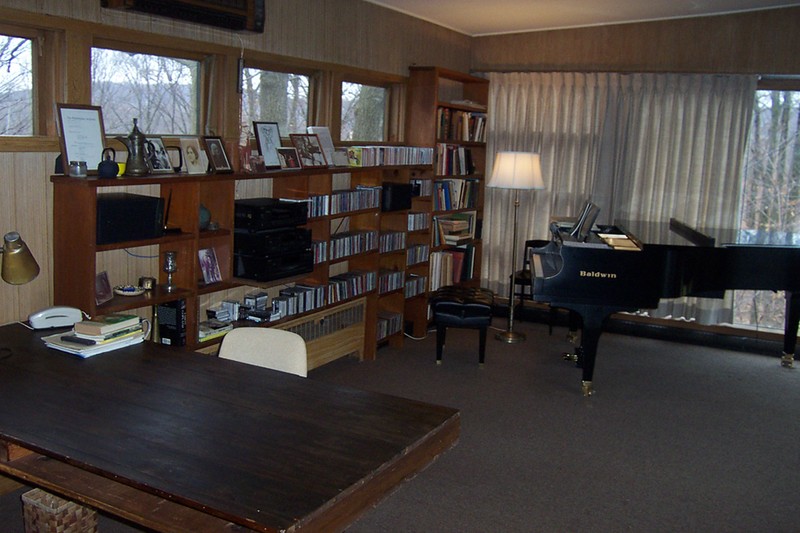 Backstory and Context
The Copland House, located at Washington Street, Cortland Manor, New York was home to the famous composer Aaron Copland from 1960 until 1990. In the 60s when Copland was looking for a studio in which to live and compose music he said, "One look at the grounds with the Hudson in the distance, the gardens and woods, and the house with the separate studio, and I was sold!" (1)
During the thirty years in which he lived and worked in the studio, Copland became known for his ballet scores which included Billy the Kid, Rodeo and Appalachian Spring, Lincoln Portrait, and Fanfare for the Common Man. Copland was known for incorporating different types of American music such as jazz and folk into his composition. (3) Most music critics had nothing but positive reviews of Copland's work. One critic included David Derby who said, "We now have a tradition, and he, more than anyone else, created it. No American composer can launch a career without hearing Copland's music in his head and drawing on it as a resource." (1)
In addition to Aaron Copland's contributions to music, he also was known for his assistance and generosity to many young composers who were looking to advance their careers. Some of these young music composers who went to the Copland House to work with him were Derek Bermel, Richard Danielpour, and Judith Lang Zaimont.(2) These musicians along with others in Coplands program went on to win awards and commissions in music. Copland also taught music as a teacher in Tanglewood and Harvard almost till the time of his death in December 1990. (3)
If you visit Aaron Copland's house today, most of it looks the same as when he lived there. When touring Copland's house you can still see his furniture, art, books, and personal memorabilia.
In 2003 Copland House got listed to the National Register of Historic Places. Five years later in 2008 the house was designated a National Historic Landmark. Currently the Cortland House is owned by the town of Cortland Manor. But it is rented and administrated by the Copland House Inc. (1)
Sources
Williams, Gray. Jackson, Kenneth T.. Picturing Our Past - National Register Sites in Westchester County. New York.
Hershenson, Roberta. "For Copland Musicians, 10th Season of Seclusion and Nurture." The New York Times November 2nd 2008. .
Aaron Copland - About the Composer, American Masters (PBS). July 11th 2005. Accessed March 23rd 2020. http://www.pbs.org/wnet/americanmasters/aaron-copland-about-the-composer/475/.
Copland House Residency Awards, Aaron Copland House. Accessed March 23rd 2020. http://www.coplandhouse.org/composers/copland-house-residency-awards/.
Image Sources
The official Aaron Copland House website (from source #4)

Also from the official Aaron Copland website (source #4)

Aaron Copland website (source #4)

Additional Information