First Baptist Church of St. Louis
Introduction
The First Baptist Church of St. Louis was the first African-American church west of the Mississippi River. The First Baptist Church and one of its founders, John Berry Meachum, made a large impact helping the enslaved population of St. Louis and helped to form the city that we see today. Founded in 1817 by two missionaries, the church has been able to survive through pre- and post-Civil War era Missouri and thrive into the twenty-first century with a strong congregation. Still functioning today, the First Baptist Church of St. Louis has a vibrant congregation which serves the local community. Although the church does not operate in the same building it originated in on Almond Street, the current building on Bell Avenue has been the church's home since 1952.
Images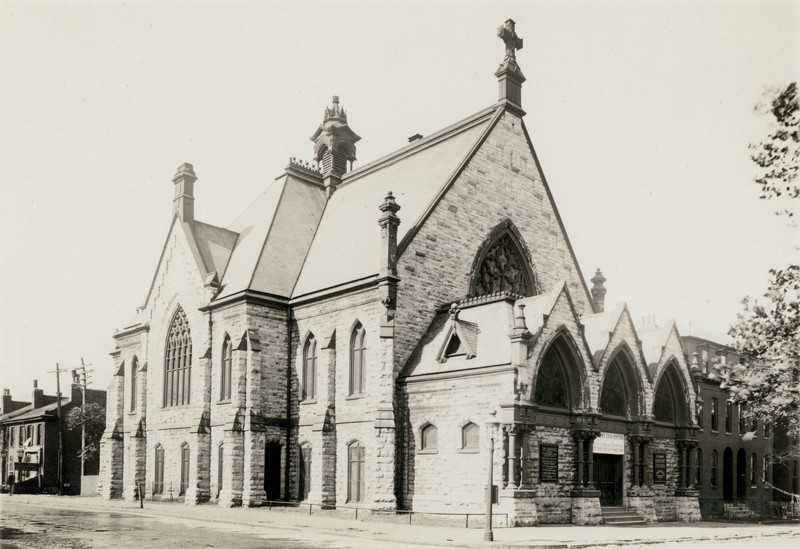 Backstory and Context
The First Baptist Church of St. Louis formed in 1817 when two Baptist missionaries, John Mason Peck and James E. Welch, came to St. Louis to form schools and churches for native populations within the area. In addition to their goal of serving Native Americans, both men felt it important to build institutions for the African population as well.  As a result, Peck and Welch formed the Sabbath School of Negroes. Among the men who had enrolled at the school was John Berry Meachum, a key figure in the establishment of the First Baptist Church. Born enslaved in Virginia, Meachum worked to pay for his own freedom as well as the freedom of his family before settling in St. Louis. Peck and Meachum forged a close relationship leading to Meachum's ordainment in 1825. 
Shortly after, Meachum formed the First African Baptist Church under the supervision of Peck until 1827 when the church became independent. In 1829, a plot of land near the present-day Arch grounds in downtown St. Louis was purchased to erect the first church building. Initially the congregation consisted of less than twenty people. As Meachum grew to be a more prominent figure within the area, the congregation grew to over two hundred people, the majority of which were enslaved. While working as a preacher for the church, Meachum also ran small businesses to employ enslaved congregation members to help them buy their freedom, as well as utilizing the church as a stopping point along the Underground Railroad. In 1854, Meachum died while preaching to his congregation, which is appropriately reflective of how he lived his life. Meachum's dedication to serving his religious community and the enslaved population of St. Louis helped create a strong foundation for the First Baptist Church enabling it to continue into the twenty-first century. 
First Baptist Church remained at its first location on Almond Street, Market Street today, until 1885. The church moved to its present location on Bell Street in 1882 until the original structure burned down in 1942. The church rebuilt in the same location and has remained there since then. Today, First Baptist Church remains a vibrant piece of the local community and continues the same trend that Meachum started in the nineteenth century. The church has outreach programs for causes within St. Louis and events related to African American history. Archival material relating to the church, Meachum, and other prominent members are kept by the church for the public to use in research. Although First Baptist Church does not have the same focus on education as it did under Meachum, the church has altered its goals and programs to best serve the current needs of the local community.
Sources
Wilbon , Roderick . First Baptist Church of St. Louis, oldest African-American church west of the Mississippi celebrates 200th anniversary, St. Louis American . April 28th 2017. Accessed March 20th 2020. http://www.stlamerican.com/news/local_news/first-baptist-church-of-st-louis-oldest-african-american-church/article_52102f1c-2c1a-11e7-9379-c7067d5e7f4b.html.
Moore, Gwen . A Brief History of First Baptist Church , Missouri Historical Society . April 26th 2011. Accessed March 20th 2020. https://mohistory.org/blog/a-brief-history-of-first-baptist-church .
First Baptist Church of St. Louis , Accessed March 24th 2020. https://www.fbcstl.org.
Fletcher, Griffin . "More than 50 African American who carved a place in St. Louis history ." St. Louis Post-Dispatch (St. Louis) July 15th 2019. .
Meachum , John Berry . An Address to All the Colored Citizens of the United States . Philadelphia , PA. King and Baird , 1846. http://www.umsl.edu/~virtualstl/phase2/1850/people/1850meachum.html.
Tabscott , Robert . Commentary: John Berry Meachum defied the law to educate Blacks , St. Louis Public Radio . August 25th 2009. Accessed March 24th 2020. https://news.stlpublicradio.org/post/commentary-john-berry-meachum-defied-law-educate-Blacks#stream/0.
Image Sources
Missouri Historical Society

University of Missouri St. Louis