Lincoln Memorial-Spokane
Introduction
While representations of Lincoln often portray him as a great U.S. President and orator, the twelve-foot-high statue located in Spokane shows Lincoln as Commander in Chief, the role that consumed the bulk of his time as President. Dedicated on Armistice Day, November 11, 1930, 40,000 people witnessed the raising of two flags via balloon, which also removed the covering over the statue. The balloons were triggered when President Hoover pressed a golden telegraph key at the White House that was connected to the device that held the balloon.
Images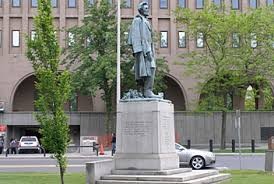 1931 photo via Spokesman-Review archives.
Backstory and Context
Seattle sculptor Victor Lewis created the The Lincoln Statue, which depicts Lincoln reviewing his troops in battle during the Civil War. Lincoln is most often portrayed as a noble president or master orator, such as when he gave his Gettysburg Address. Most think of Lincoln in the White House while his generals, such as Ulysses S. Grant fought. But, Lincoln did take time to visit the troops and he spent most of his time exercising duties related to his role as Commander in Chief.

Though he did not own a West Point education. or serve as U.S. Secretary of War as Jefferson Davis (Confederate States of America President), Lincoln dedicated his time to reading military books and learning from military figures -- he understood that winning the war was the most important aspect of his presidency.
Lincoln uniquely exists as the only President whose term is bounded by war. During his four years as U.S. President, he spent the bulk of his time in the war room's telegraph room. Moreover,
from May 7-9, 1862, Lincoln and some of his cabinet members traveled to Norfolk, Virginia and took direct control of army. President Lincoln arranged a battle and ordered his field officers regarding strategic actions that resulted in the Confederates evacuating the city -- one the South deemed vital to its strategy for winning the war.

The statue represents that aspect of Lincoln - the war general and commander in chief. As reported by the Spokesman-Review,
Lewis spent two years transforming four tons of clay into Lincoln's likeness. However, money proved difficult to raise, thus the model remained in his studio for several years until Spokane organizers managed to raise the balance of the $25,000 owed to him.
Sources
McPherson, James M. "A. Lincoln, Commander in Chief." In Our Lincoln: New Perspectives on Lincoln and His World, edited by Eric Foner, 19-36. New York: W.W. Norton & Company, 2008).

Prager, Mike. "Lincoln statue a proud monument." The Spokesman-Review(Spokane), February 07, 2009. http://www.spokesman.com/stories/2009/feb/07/lincoln-statue-proud-monument/



Additional Information