Fort Lincoln Cemetery
Introduction
This cemetery holds one of the greatest and courageous football players in History. Federick Douglass "Fritz" Pollard. He was the first-ever African American to play in the Rose Bowl for the Brown University. He led the Pros to the first NFL championship in 1920. Also was the first African American in NFL history becoming the coach for the Akron Pros in 1921.
Images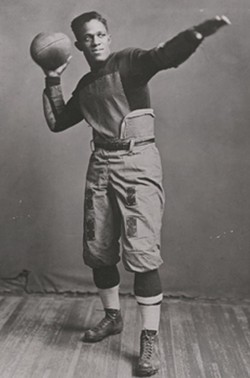 Backstory and Context
Frederick Pollard was a man of many things but what made him a man was his challenge, achievements and life lessons he gave. He was born the seventh out of eight kids. His mother was an Native American and his dad boxed professionally during the civil war.  With him only being 5-9 and a 165 pounds it was easy for people to think he was weak or he wasn't fit to play football the way he did but the way he played was amazing and he used hated to fuel him for success. He led Brown to the pro bowl in 1915. Became pro in 1919 joining the Ohio team after serving time in World War I. In 1920 the pros joined in with the American Professional Football Association, later renamed National Football League. The first season Pollard led his team to an undefeated season to win them their first trophy.
Sources
Accessed March 23rd 2020. https://www.findagrave.com/memorial/10479895/frederick-douglass-pollard.