Schmidt House
Introduction
The Schmidt House is a historic home in the Tumwater Historic District of Olympia, which is located south of downtown. It was built in 1904 by German immigrant Leopold Schmidt, the founder of the Olympia Brewing Company. A fine example of Colonial Revival architecture, it features a portico with Doric columns, a palladian window and other decorative elements. It is located next to the old Olympia Brewery Schmidt built in 1896. The historic district was added to the National Register of Historic Places in 1978. The Olympia Tumwater Foundation owns the house and offers guided tours inside. The house is also available to rent for weddings and other events.
Images
Leopold Schmidt (1846-1914) founded the Olympia Brewing Company. He built the house in 1904.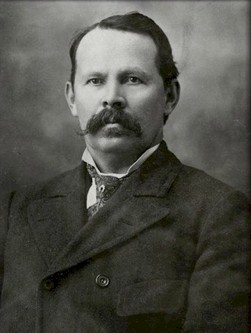 The Schmidt House, built in 1904 by brewer Leopold Schmidt, is one of Olympia's most historic homes.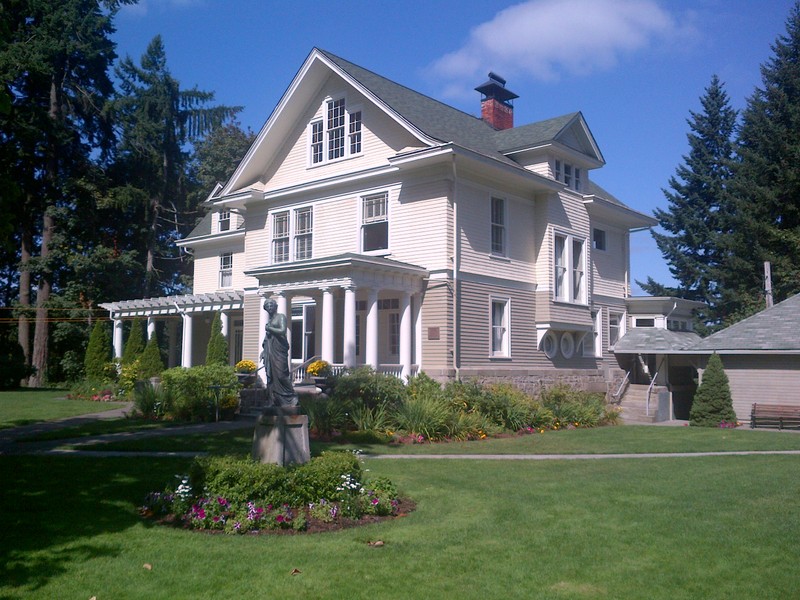 Backstory and Context
Leopold Schmidt was born on January 23, 1846 in Germany. At the age of 14, he enrolled in the Hamburg Seaman's School, where he learned how to sail; he eventually became an apprentice seaman. During the next several years, he worked for the Hamburg-American Packet Company (a major shipping company in the 19th and 20th centuries), traveling to Sweden, the Mediterranean, Brazil, and the United States. At the age of 20 (1866), he decided to stay in the United States. He had arrived in New York City and planned to sail in the Great Lakes to study English and learn new sailing techniques. In the fall, he was going to return to the company and assume the position of 2nd Mate on the company's new ship—the world's largest at the time—but saw the potential for a successful life in America. It was a fateful decision because the ship sunk, taking the lives of onboard.
Schmidt settled in Missouri where his father, a mining engineer and superintendent of mines, was working. There, Schmidt became an apprentice carpenter at a factory that made musical instruments. In 1871, he and his younger brother, Louis, who had arrived in Missouri in 1868, relocated to Montana after hearing gold was found there. They finally arrived in Helena after a three-month journey. Schmidt worked as a carpenter and Louis worked as a handyman and cook. Schmidt next went to Butte, where he and others constructed 30 buildings.
This is when Schmidt's career in the brewery business began. While in Butte, Schmidt became friends with a French brewer by the name of Peter Valiton. He asked Schmidt to manage his brewery while he traveled to Europe for health reasons. Valiton eventually decided to stay and sold the brewery. For his part, Schmidt liked the brewery business and co-founded a company called the Centennial Brewery in 1876. In September 1878, he went to Germany to study beer making. During that time he met and married his wife, Jacobina; they came back to the United States in April 1879. They would eventually have six children (five sons and one girl).
As Schmidt's stature grew, he got involved in politics, serving in a number of positions during the coming years. These included county commissioner, a member of the Montana Constitutional Convention and two terms in the state House of Representatives. He also was a member of the Capitol Building Commission.
In 1896, Schmidt founded the Olympia Brewing Company (it was originally named Capital Brewing Company). During the previous year or so he had been on the lookout for a new brewery site and discovered this location along Tumwater Falls (he first came to Tumwater on a business trip in the early 1890s). The company was an immediate success, eventually producing 100,000 barrels at its peak in 1914. This newfound prosperity enabled Schmidt to build the house in 1904. Previously, the family had lived in smaller home in Portland. Schmidt expanded the new house in 1910.
Schmidt passed away on September 24, 1914. Apparently, his health had been fading since Jacobina died a few years prior. During the last years of his life, his sons had been assuming more control over the business. Their son, Peter, and his wife moved into the house and lived there until 1960, when the Olympia Brewing Company bought it. In 1983, the house was donated to the Olympia Tumwater Foundation by the Pabst Brewing Company, which bought Olympia Brewing Company that year.
Sources
Dodge, John. "This old house is his baby." The Olympian. July 11, 2010. https://www.theolympian.com/news/local/news-columns-blogs/soundings/article25258426.html.
Flynn, Gary. "Leopold Frederick Ludwig Schmidt." BreweryGems. 2004. https://www.brewerygems.com/schmidt.htm.
Millhorn, Kathryn. "Walking Through History at Tumwater's Schmidt House." Thurston Talk. Accessed March 25, 2020. https://www.thurstontalk.com/2014/09/11/walking-history-tumwaters-schmidt-house.
"Our Story." Olympia Brewing Company. Accessed March 24, 2020. https://theoriginalolympia.com/pages/ourstory.
"Schmidt House." Olympia Tumwater Foundation. Accessed March 24, 2020. https://olytumfoundation.org/what-we-do/schmidt-house/#!/history.
Stevenson, Shanna. "Tumwater Historic District." National Park Service - National Register of Historic Places Nomination Form. May 22, 1978. https://npgallery.nps.gov/GetAsset/0f3f29e7-7b32-4ddf-b2c7-25407eb7306e.sch
Additional Information