May-Hartwell Site
Introduction
Historical research in wills, deeds, and maps dating to the colonial period led to historians identifying the remains of this late-seventeenth-century house uncovered by archaeologists. This site in the "New Towne" section of Jamestown was owned by William May, an attorney and vestryman, beginning in 1661. Another Jamestown attorney and businessman, Henry Hartwell, acquired the property in 1688 and most likely built the structure that once stood here. A Colonel White later owned the building and land, Ultimately Richard Ambler, who built Ambler Mansion, purchased it around 1745. The house no longer stands beyond a few fragments, and was likely pulled down by Ambler.
Images
May-Hartwell Site HIstorical Marker by Bill Coughlin on HMDB.org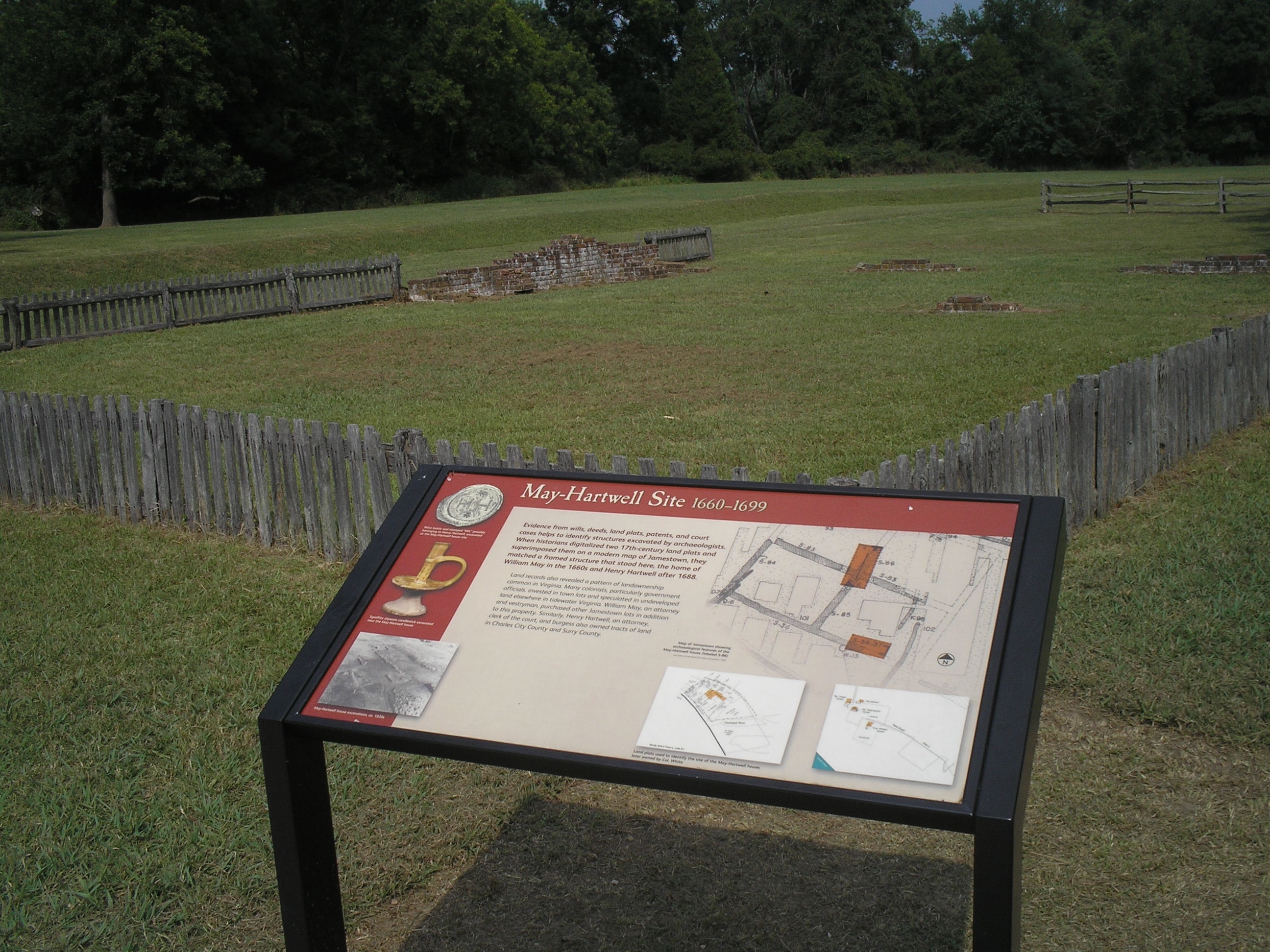 Backstory and Context
This structure emerged from a time of prosperity in Jamestown, when it was the center of colonial government and an active port. Colonists invested in land both in town and out in more rural areas. William May purchased large tracts of land in and around Jamestown, including this one, which he bequeathed to Nicholas Meriwether, another attorney, in 1671. Henry Hartwell, who owned adjoining lots, acquired this land from Meriwether in 1688. Hartwell was also an attorney in addition to being a burgess, clerk of the court, and businessman. He also owned tracks of land in Charles City and Surry Counties.
Hartwell most likely is the person who built the structure on this site. The building was a one-story framed clapboard structure over a full cellar, measuring 30' 5" x 20' 5". It is possible that it was a storehouse or other commercial structure rather than a residence. The Historic American Building Survey offers the possibility that the building had a sales room in the front with a counting-room and storage in the back and cellar.
Richard Ambler acquired the property in 1745, shortly before he built Ambler Mansion nearby. The Historic American Buildings Survey argues that Ambler's workmen disassembled the house, and notes that there is also evidence that the house burned.
The house is no longer extant beyond a few remnants of the exterior walls. Archaeologists excavated the site in the 1930s. Few artifacts emerged from the site, but notably archaeologists did find some wine seals marked "HH," most likely belonging to Hartwell. The Historic American Buildings Survey documented the ruins in 1958.
The digitization of two 17th-century plat maps led to the identification of this site as where the May-Hartwell house once stood. The plat maps were superimposed over a current map of Jamestown in order to make the identification.
Sources
Coughlin, Bill. May-Hartwell Site 1660-1699, Historical Marker Database. June 16th 2016. Accessed March 22nd 2020. https://www.hmdb.org/m.asp?m=17310.
Historic American Buildings Survey. Architectural Remains, Project 103, Structure 123, Library of Congress. 1958. Accessed March 22nd 2020. http://www.loc.gov/pictures/collection/hh/item/va0613/.
National Park Service. May-Hartwell Site 1660-1699, Historic Jamestowne. February 25th 2015. Accessed March 22nd 2020. https://www.nps.gov/jame/learn/historyculture/new-towne-may-hartwell-site-1660-1699.htm.
Image Sources
https://www.hmdb.org/PhotoFullSize.asp?PhotoID=56916