Alderson Train Station
Introduction
Constructed in 1896 by the Chesapeake and Ohio (C&O) Railway, and located in the middle of downtown Alderson, this train depot has connected the small West Virginia town to the larger world for many generations. The depot was restored between 2001 and 2004 and continues to serve the community as a depot on Amtrak's Cardinal route.
Images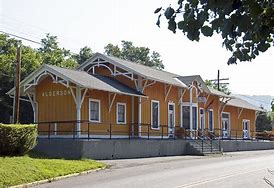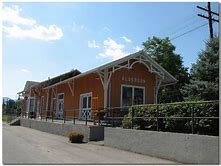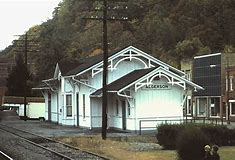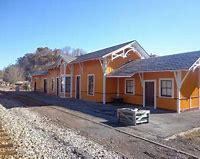 Backstory and Context
The Alderson station is comprised of a platform and shelter that is adjacent to the historic depot. Originally built in 1896 by the Chesapeake and Ohio (C&O) Railway, this depot resembles the stations that were built for small communities from 1890-1914 and were usually one-story wood structures. The interior was a combination of simple and stately with decorative brackets and woodwork and plenty of space on the protected platform. Originally, the depot had offered spaces for passengers, baggage, and a ticket office. 
The nearby freight building was later demolished and this train station also began to take on the responsibilities of freight service. The structure was enlarged in 1924, as more room was needed for the growing train depot. The train depot is a contributing property in the National Register Alderson Historic District.
In 2001, the aging depot was temporarily closed to allow for some minor renovations. It was at this time that the outside of the building was changed from white to the orange color that you will see today. In 2004, the depot reopened and the station was re-added to the Amtrak timetables.
Alderson may be best known for its federal prison for female inmates. Located just up the road from the train depot, this prison camp was home to Martha Stewart for five months after she was convicted for obstruction of justice.
Sources
Alderson, WV (ALD), The Great American Stations. September 10th 2013. Accessed March 21st 2020. https://www.greatamericanstations.com/stations/alderson-wv-ald/.
Zoukis Consulting Group.. Federal Prison Camp Alderson | FPC Alderson, Zoukis. Accessed April 12th 2020. https://www.prisonerresource.com/resources/federal-prison-profiles/mid-atlantic-region-mxr/federal-prison-camp-alderson-fpc-alderson/.
Additional Information